Early 1990's, gentleman racer Dr. John Wittner helped Moto Guzzi develop their big V-twin into the racer and GT they knew it could be.  This Colorado example has been updated and maintained by a super-fan, and looks great.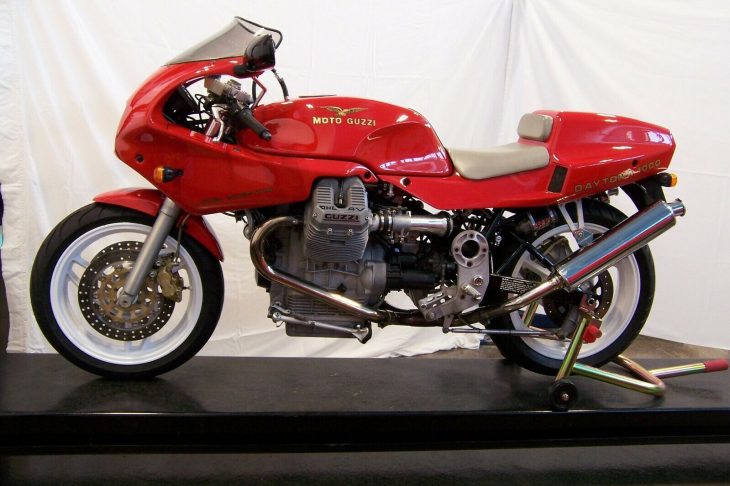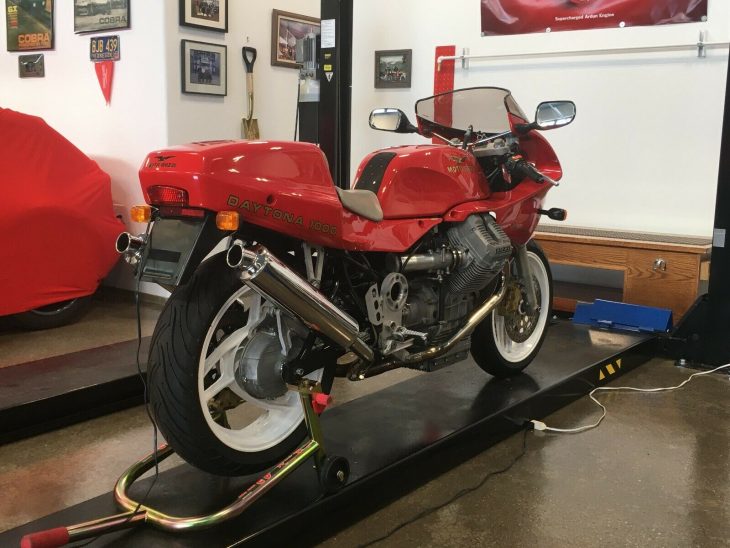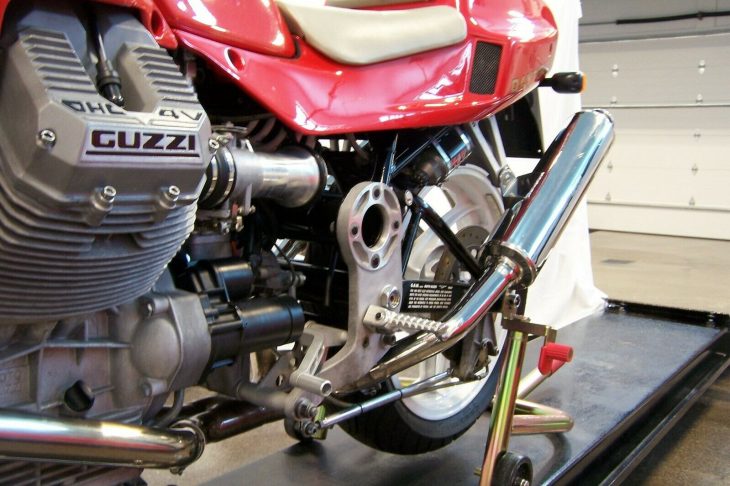 Like BMW, Guzzi wanted to breathe 4-valve life into their liter, and found a similar solution with cams mounted high in each cylinder, with timing belts driven off a gear above the crankshaft.  The compact arrangement claimed 95 hp and a healthy 72 ft.-lbs. torque, fuel injected for flexibility around town.  Dr. Wittner provided his chassis expertise in the lighter weight chrom-moly backbone with massive alloy frame connectors.  Adjustable suspension is at both ends, with conventional Marzocchi forks and WP monoshock.  As found on most of its European competitors, 320mm Brembo brakes are however without the usual Guzzi front-rear linkage.  Moto Guzzi tradition stipulates a driveshaft, but the Daytona has a parallelogram arrangement to limit the rear suspension extending under power.
Sounds like the seller is a serial Daytona owner, which almost guarantees one of being "a certain age".  This one has the sharp Staintune exhaust, impossibly long velocity stacks and just screens over the ends.  Little doubt you can hear the 1000 inhaling with this setup.  Overall condition looks excellent with just a couple of paint chips but new rubber, belts, brake pads and battery.  From the eBay auction:
Description:

Look at the photos – I disassembled the bike over the winter and cleaned and detailed chassis.
Recently changed timing belts – see photos
RH cylinder head had a lube issue and removed head and sent to famous Moe at Cycle Garden to improve oil passage and new valve seat and valves
Changed Engine oil with Motul (20/50)
Brand new Michelin Pilot Radial tires:

F: 120/70ZR17
R: 160/60ZR17

New NGK D9REA spark plugs
Yuasa battery in 2019 (with trickle charger harness)
New Front Brake Pads: Pagid HH
Powder coated factory wheels – white (OEM color).
New / checked wheel bearing

What comes with the bike?

Clean and clear title (in my company's name.)
2 keys and one spare Guzzi blank.
Rare repair manual for Daytona
Rare repair manual for the MGS-01 (helpful)
Receipts and documentation
Pit-stand; awkward to ship and you will have to pay for shipping or pick it up in person.  

Condition:

This is a very very nice Moto Guzzi Daytona!
Everything works as it should: choke, turn signal, horn, low beam, high beam, etc.
Never dropped!
It shows extremely well and turns heads and sounds amazing.
There are a few paint chips that I have photographed, and I will be happy to send you additional photographs.
There is hairline crack by one of the screws that holds OEM wind screen that has been there forever and is not changing.
Left side mirror – small de-silvering on the edge (not uncommon)
I would recommend to the winner of auction to renew brake fluid.
While never in serious competition with less reverential solutions, the Daytona 1000 was a smashing endcap to the DeTomaso years and a stepping stone to the V10 era.  Though it couldn't be termed a lightweight, as a GT the handling got applause from journalists and fans.  This example is almost curated by a Daytona fanatic.  With four days to go the bid is $12K but hasn't met the reserve, it'll be interesting to see where it's set.
-donn