Ducati called in stylist Leopoldo Tartarini to help them back from the 860GT mis-step, and beside the 900SS bevel, and he penned most of the sporty SS attributes into the unfaired SD Darmah.  Here's a very original SD with a recent powertrain rebuild, and very presentable survivor cosmetics.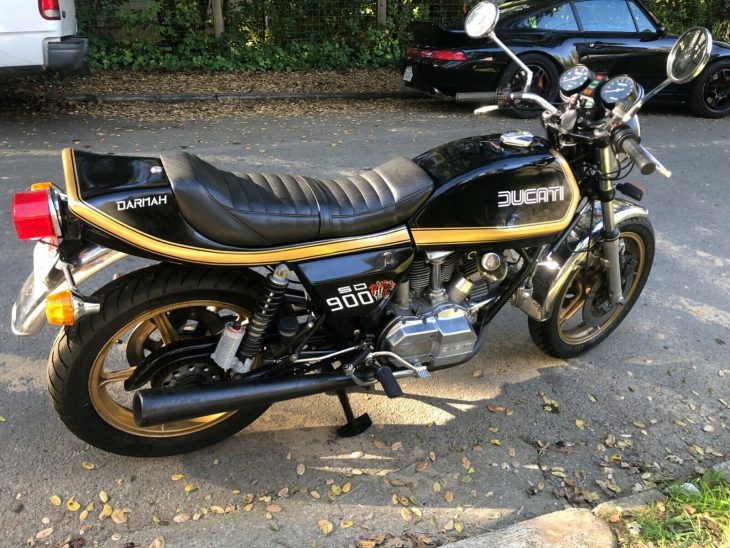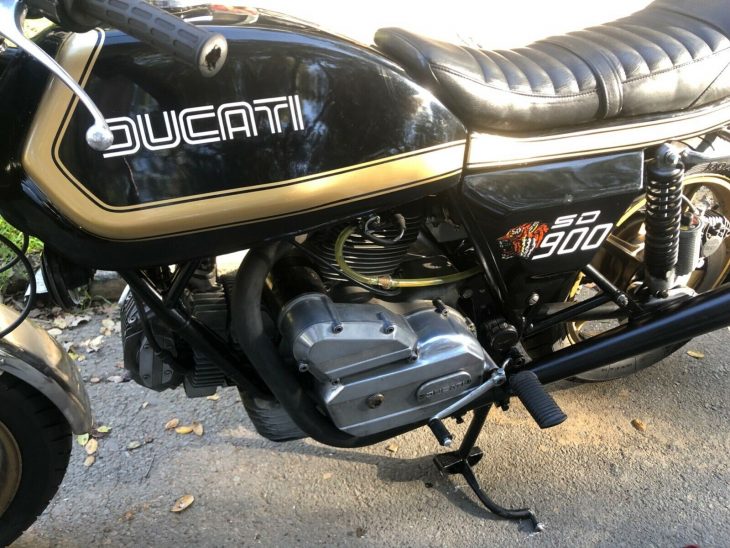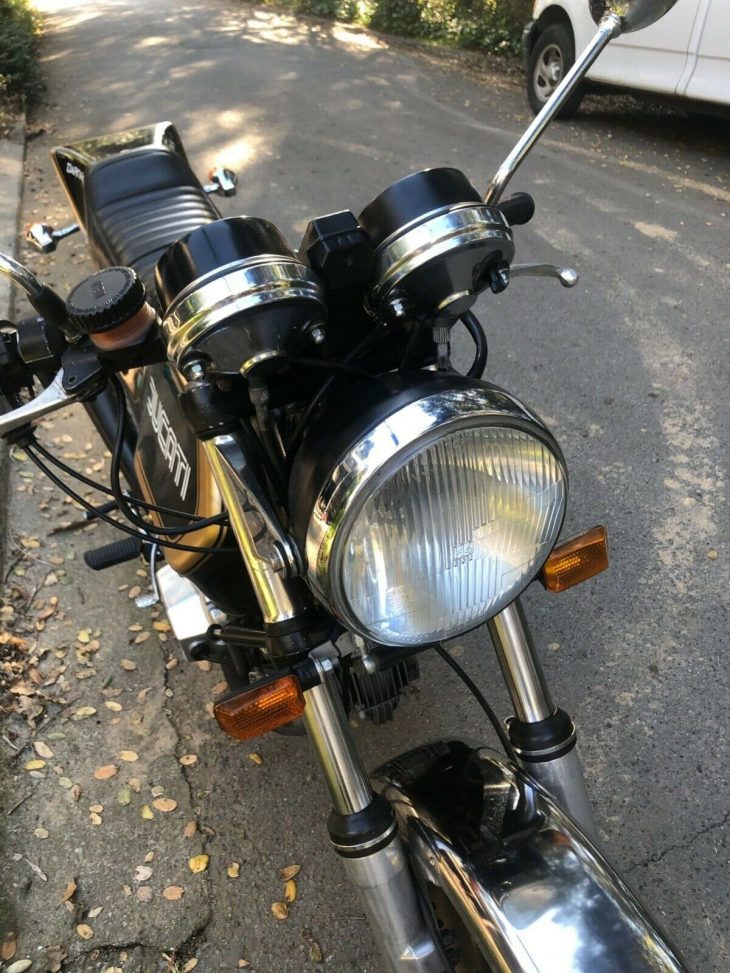 Ducati wasn't ready to abandon their 864cc L-twin, which laid down a torquey 65 hp, featuring 32mm Dell'Orto carbs with individual airboxes and single overhead cams.  The 5-speed and frame were fairly conventional, though the transmission got good marks for smooth shifting.  Marzocchi forks and monoshock provided a firm but not harsh ride, tailored well to the centrist performance.  Triple 280mm disks put a hurting on the 18-inch tires, but got the job done.  The factory seat was way over on the sporty side, but easily upgraded.  Nippondenso instruments and controls eyebrows some eyebrows, but worked every time.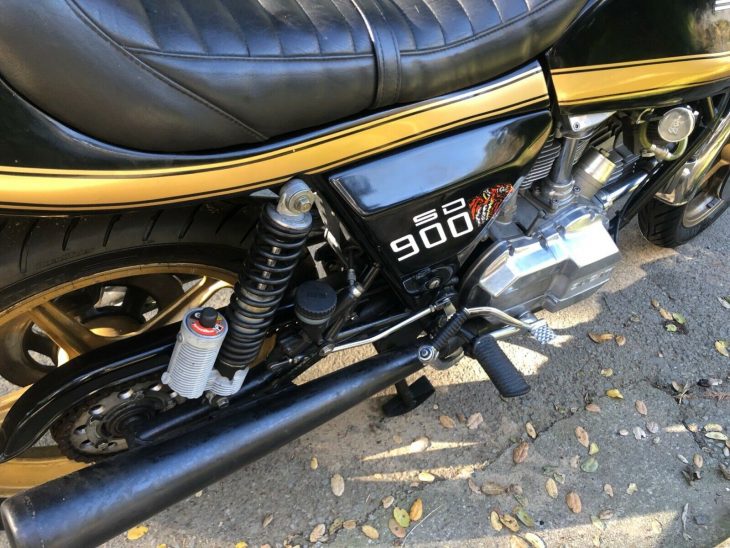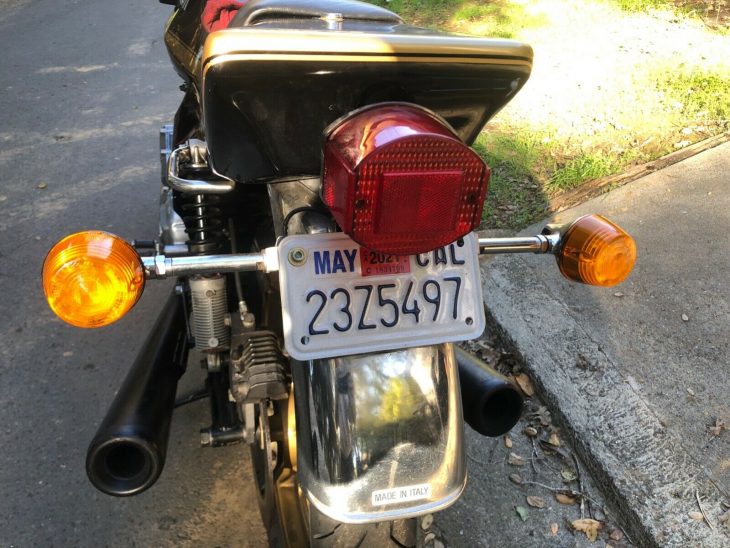 The seller delves into patina issues when the survivor condition is really quite good.  Darmah's pre-date all the age-proof paints and finishes we almost take for granted, but the originals here look great.  Longer stalk mirrors have been fitted and the factory seat re-stuffed.  The drivetrain rebuild is more of a story than the odometer change, and probably will account for quite a bit of the strike price.  Comments from the eBay auction:
The last affordable Bevel Head. Prior owner acquired the bike in 2012 and the speedo was inoperable and replaced with a NOS unit. By 2015 the prior owner had put 2,600 miles on the engine and that's when the motor was rebuilt. Odometer shows less than 5,000 miles now. What's wrong with it? 

It's a great original bike with with patina that comes with something that has always been cared for rather than something fixed up from a wreck. Clear coat by the gas cap peeled when the PO purchased the bike and has not progressed (maybe US gas ?), There is also clear coat peeling right side under brake fluid reservoir – maybe spills/ leaks at some time. Clear coat peel near rear seat lock. Hasn't been run by me in nearly 9 months.  Mirrors aren't original although they are Ducati. PO had replaced originals with little "racy" ones. The ball end on front brake lever is snapped off. (I have replacement and haven't installed yet.)  Seat has been recovered and padded.  Anyone who has ridden on one without this "mod" will know why this was done.  This was going to be my "forever bike" but plans changed…as they do.

 

Complete engine rebuild in winter of 2015 by Karl Engelenner (MMS – Sacramento CA).

New rods and crank pin

New 88mm pistons and rings

New valves and seats

New bearings, all of them in the motor and trans

New Surflex clutch

Vee Two high flow oil pump

All rocker arms reconditioned

All transmission shafts and gears reconditioned

New 36mm Dell'orto carbs/Originals available 

Original Paint

Campagnolo wheels

Braided steel brake lines

New Rubber brake lines 

New Avon  Roadrider tires 

Tomaselli 2C throttle

K&N filters

Serviced 90 days ago  by the Zen House of Point Arena

new Starter Sprag Fitted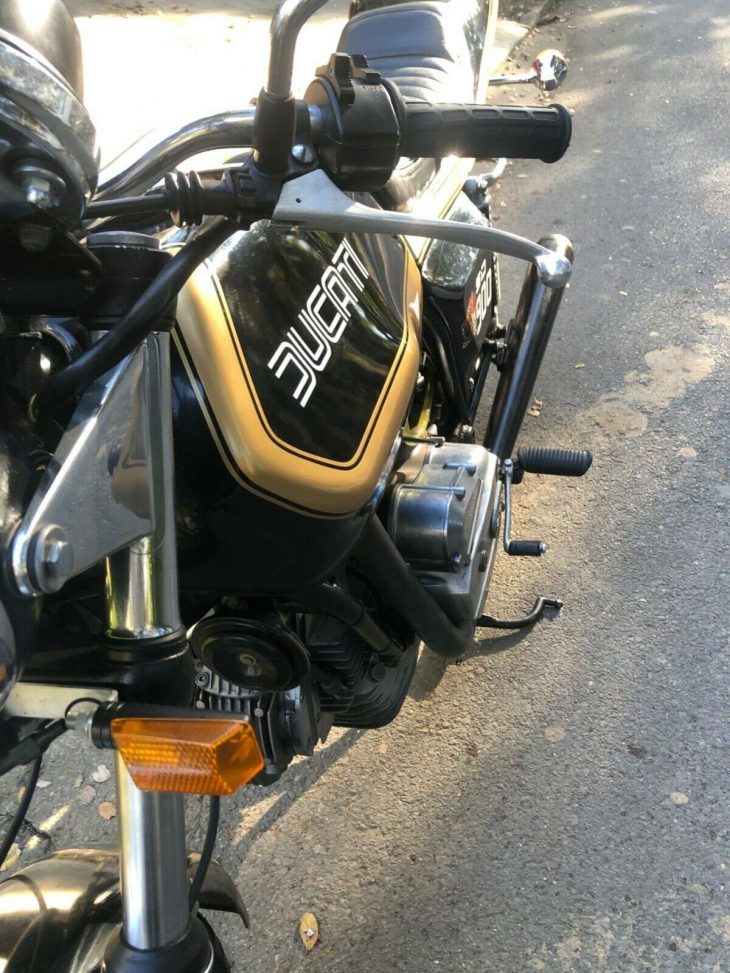 The Darmah has a page or two in Msgr's Tartarini and Taglioni's history, but Ducati is still not done with the desmodue.  The stately black and gold had a European sophistication, and the saddle's relationship with the tank may have advertised a different sportiness than the chassis wanted to deliver.  But the torque and stability made the Darmah a signature Ducati.  Just one day to go and plenty of bids, but none satisfying the reserve.
-donn