Today's RD400 is a last-year model with just 5,600 miles and a long list of refurbishments.  The air cooled smokers resonate like nothing else and this one can do it in California.
Yamaha cultivated the RD400's around-town manners with disk brakes, cushy seat, and oil injection.  Yamaha was in the middle of a long run of Daytona 200 wins and the commemorated it with the Special's white paint and alloy wheels.  Sparkling if smoky performance was available above 5,000 revs and quarter miles in the low 14's were do-able.  The stock -70's suspension ran out of talent way before the engine, though the aftermarket was available to address that.
The pictures are of variable quality, but this RD looks about as good as any 40 year-old unrestored motorbike could.  More striking is the number of new or fresh parts aboard, and the cleanliness.  Nice drive by video available – here -.  The owner's comments in the eBay auction make it clear he's a knowledgeable fan –
The rare bird of the RD family. Only 5,000 made this year. 1979 RD400F Daytona special with 5,600 miles. Matching numbers on frame and motor. It's in amazing condition for 40 plus years old. A lot better than I'm in lol. The paint is original and has a bit of patina but still in great shape. The tank has a couple very small dings and scratches. I've had the tank professionally ($400) sealed.

  
This WHOLE bike had been completely gone thru and rebuilt by Fox motorsports. He worked on them new at Bill Boren Yamaha and has endless knowledge on them. No expense spared,the best parts used. The crank balancing and barrels were done by the 2 stroke guru Darcy.

 

What's been done? Motor completely rebuilt top to bottom. Brand new real Japanese Mikuni 30mm carbs, not the eBay crap. New Vape electronic dual ignition, rebuilt oil pump, new Hagon shocks, rebuilt forks with 180 – 200lb springs, rebuilt tach, wiring gone thru completely. Brand new super sticky Avons imported from England (dumb they don't offer here), both masters and calipers rebuilt, all new lines ( brake, throttle, clutch ), new Superbike bars, new clutch, new chain. Brand new stock DG pipes.

 

Motor was properly broken in and has roughly 2 tanks run through it. Hours were spent dialing in the carbs. It runs, stops and handles amazing. Jump on it tomorrow and ride cross country if you like. Needs nothing and won't for many thousands of miles. It is one key for everything.  Clean title in my name.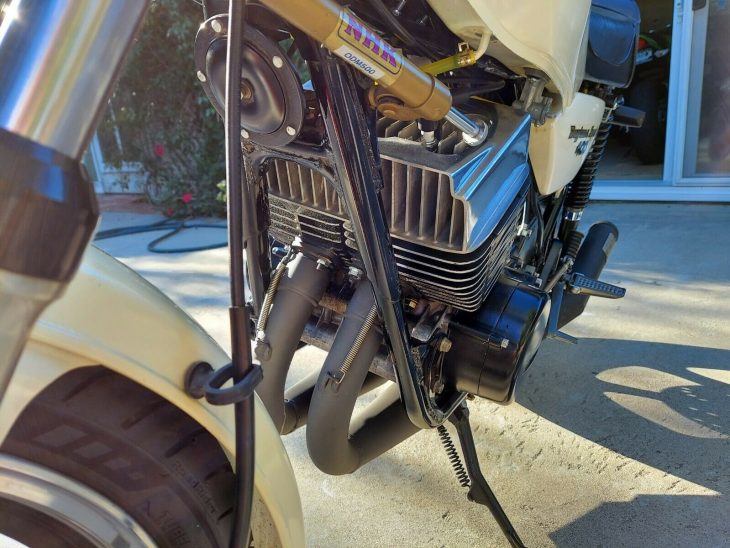 Yamaha water cooled the RD for 1980, but EPA was dialing in their sights and the two stroke streetbike era was on borrowed time.  Surprising how many of these 350-400 smokers are re-appearing these days, and how nice so many are.  Looks like there're some athletic friends in the RD400's bedroom – but the girl friend probably bugged out after telling the seller, "that's just fine !".  Looking forward to seeing the reserve fall here shortly.
-donn