Located in Spokane, Washington is a fantastic, original, 1978 Yamaha RD400 race bike.  This bike is in the same condition that it was last raced in 1981, and looks very good with no obvious damage and only slight patina.  This bike comes with an extensive period memorabilia collection, some of which this bike appears in.  The bike is priced fairly at $5,500; but the seller is accepting offers.  This is a quote of the entire ad to give you a history of this bike and what is included with it:
This is a 1978 Yamaha RD400 that was purchased out of Escondito California brand new and built into a race bike that competed in the Southern Californias ARRA and AFM race series from 1978 - 1981 then stored correct......... and it sits now just as it came off the race track in 1981. Most these bikes were either junk or got molested for parts which makes a bike like this, a complete unrestored full race bike with the paper history it has pretty rare! I bought this bike from the original owner/racer who kept the bike in great shape and also had a ton of paperwork on it. The motor had a fresh build with only one race on it then was pickled, it pulls very hard!!!! Bike is ready for the track, just needs to be unstored and new tires put on because it still has the old slicks on it from '81

Original ownership certificate, owners manual and warranty guide from escondito yamaha

Mods
TZ full race bodywork, electronics, wheel set, Tony Smith built motor with handmade matched expansion chambers, custom big reed blocks, lectron carbs, specialized aluminum swingarm, mulholland rear shocks, re worked front forks with air, ack rearsets, tapered head bearings, adjustable steering damper, clip ons, steel braided brake lines, fully safety wired

Receipts
TZ cdi mag assembly, black box, full race bodywork, Tony smith motor mods and handcrafted expansion chambers, westach cylinder head temp gauge, mulholland shocks, lectron carbs

Racing stuff
A signed letter from Keith Code with the envelope dated 5-12-78 explaining what his riding school (now known as california superbike shcools) consists of and what he hopes to teach you, an original copy of his instrucional riding/race manual dated 11/76 which according to his website is before his school even opened, they are claiming 30 year anniversary this year ('09) and well before the famous twist of the wrist series. Also have an old California superbike school brochure with Eddie Lawson on it

AFM (American Federation of Motorcyclist) competition racing license ('79), number assaignment card, 4 race programs ('78-'79) race schedule ('78 ), 3 competition rulebooks ('78-'79)
ARRA (American Road Racing Association) 12 newletters (78-81), standing regulations, 10 race programs, 1981 race schedule and a points standing sheet from '79 which show Cooley, Lawson and Oliver

Brochures
ack rearsets, westach cht gauges, mulholland shocks, lectron carbs, goodyear slick tire band, 2 Tom Hayner racer supply cataloges (78-79), specialists 2 performance cataloge

Other
20+ cycle news from ('79-'83) and I believe this bike/racer is listed in reults in 1 or 2 of em, I have to go through and check for sure though, old motorcycle sport book by bob greene, cycle mag feturing the rd400 from 11/77, official program from the champion spark plug 200 at laguna 6/83, Kimberleys Grang Prix bike team guide #1 which talks about yamaha gp racing from '82-'85 including Roberts, Lawson and even Graziano Rossi who is Valentino Rossi's father

Bike also has bunch of jetting lectron needles, extra head gaskets,rear sprockets, plugs, chain pieces, master link and tool, # plates and other stuff needed for a day at the track all from that era.
The Windscreen is broken but I have a new in the box from gustafson racing. The guy said one of the Toomey brothers pushed him into the grass back in the day and he dropped it, also has a small dent on the left side of the tank.
I'm probably also forgetting some stuff, any questions just ask
If you're in the market for a vintage racer or classic piece of art, this bike should be considered!  See the bike on the Pacific Northwest Riders Forum here.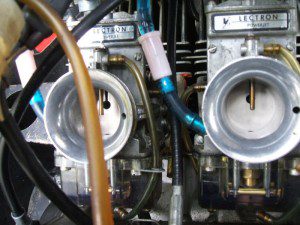 AG