For Sale: 2003 BMW BOXER CUP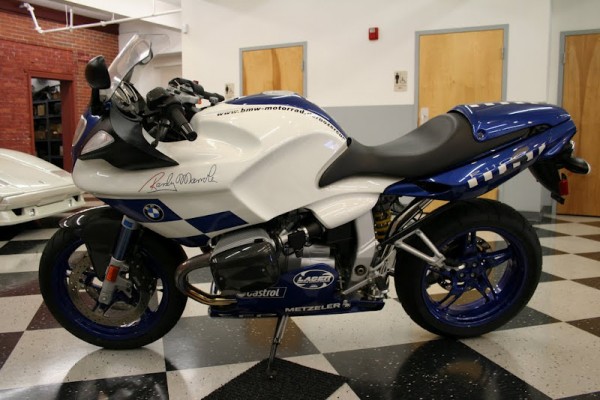 So the word is that numbered and limited edition Ducatis are not rare. After all, they made some 700 of the 998R as posted here (Make sure to read the comments on the 998R to appreciate the rest of this post! -dc). So when I was trolling for something available in fewer numbers, I stumbled across this Boxer Cup bike – number 142 of only 200 produced. What is that – a 350% improvement in rarity? And to top it off, this baby is so NOT Italian that it prefers Wienerschnitzel to pizza!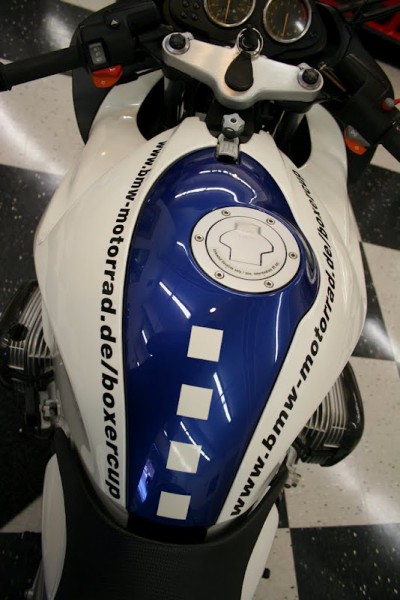 What do you do when you are a manufacturer of sporty motorcycles and you want to make a name for yourself? You go racing. Better yet, you drop big bucks and start a one make class to ensure that no matter who wins, your brand is at the front. That is really what the Boxer Cup was all about – and while it was a good marketing exercise for BMW, the close racing was fantastic for the fans. It most certainly did not hurt when such names as Randy Mamola and Kevin Schwantz took part in the series!
From the seller:
Motor Co. Inc. is very proud to offer this very rare and collectible 2003 BMW R1100 Boxer Cup Replika to the public. #142 of only 200 produced this bike was a collector piece before it was assembled! We have serviced the bike and it is ready to go today. All of the documentation is included, the badges, certificate of authenticity, both keys, etc. Don't miss this opportunity! Look at the pictures, come see it, this is the one you want! Bike has never been down and is exactly as it appears in the photos.
The Boxer Cup replica bikes were really just paint and styling excercises intended to cash in on the marketing offered by the Boxer Cup race series. There are the obvious Boxer Cup graphics, including Randy Mamola's signature across the fairing. There are some nice touches such as the carbon valve covers, complete with sliders – but nothing really significant over and above the already strong R1100 Sport it was based upon.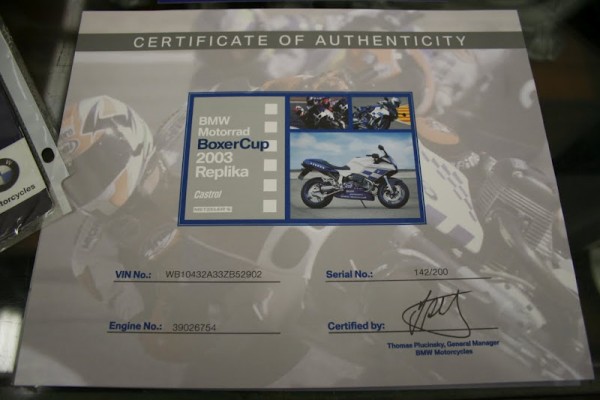 If being more rare than the next guy is your thing, here is your way to get back at the Ducati snob-set. With 350% more rare-ness than a 998R and a bigger signature on the fairing than those puny RZ350s, this Boxer Cup replica is your ticket to the rare leagues! The best part is it probably won't break the bank. For more information and pictures, click the link and check out the auction. Good Luck!
MI