Update – the bike was sold for AU$8850 (approx. USD8200).
Thanks to a reader tip-off, here's a nice example of a :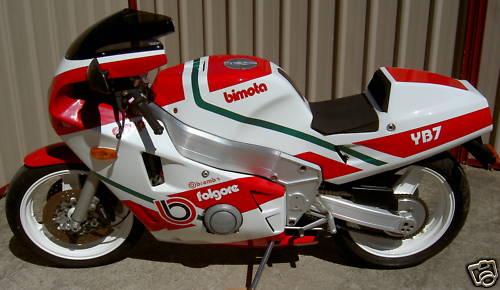 Original 11,014 klms on the clock.

Vin Number YB7-00274

Number 274 out of 321 ever made!!  There where only 124 Tricolors made.

Not currently Registered!!

Starts, runs and rides beautifully!!!

This bike is powered by an FZR400 Exup Yamaha motor, that had 65 hp. It has a 6 speed gearbox and were capable of 220 klms per hour.

This is a RARE opportunity to own a very collectible bike at an affordable price.

This bike would also make an awesome "period 6" pre 1990 classic race bike.
Yes, you read it right – it has a Yamaha FZR400 EXUP engine in it.  Incidentally, and interestingly so, Japan was and still is one of biggest markets for Bimotas.  Japan has different engine displacement classes, and the 400cc is the great divide.
To make the their bikes accessible to more Japanese consumers, Bimota offered some of their models in 400cc versions and the YB7 is one of them (the other 400cc variant is the DB1J with a 400cc Ducati air-cooled 2V engine), based on the YB6 with the Yamaha EXUP 1000 engine.  Click here for more reading on the YB7.
The current price of the YB7 is at AU$6999 (approx. US$6300) which makes it quite an expensive 400cc. Nevertheless  a.) it is a Bimota  and b.) 400cc variants are rarely seen outside the domestic Japanese market, which does make this quite rare.
Only thing I disagree with the seller is the last part about the YB7 being an awesome classic race bike – if i bought this YB7, I definitely would not be racing it!
phil