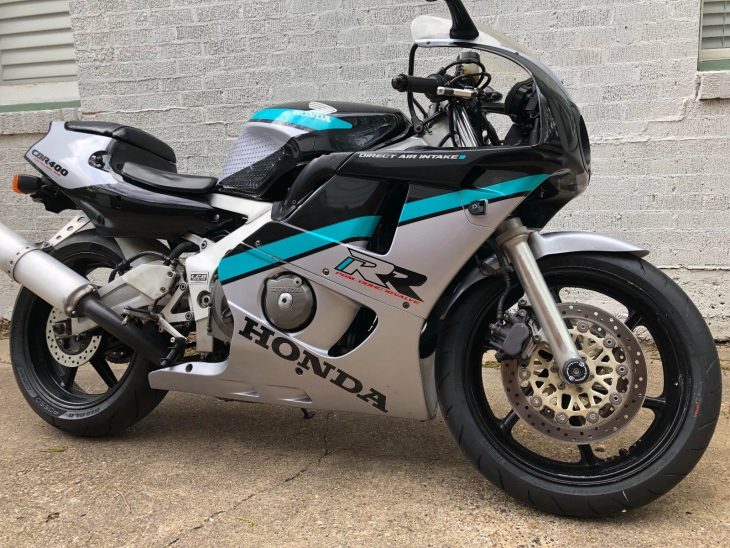 If you're into bikes that aren't obviously compensating for something, this little Honda CBR400RR offers big-bike looks and serious refinement in a more compact, less overwhelming package. The included photos are very nice, but the seller has included just three of them, so I'll keep this post short. In general, 400cc sportbikes from this period are grey market imports: while very popular overseas and in particular in their home market of Japan, there was little to no interest in a sportbike displacing less than 600cc here in the USA.
That's unfortunate, because this "Baby Blade," so called because its bigger sibling was called the "Fireblade" in other markets, was a pretty sophisticated machine. It was powered by a 399cc inline four with sixteen valves, gear-driven twin overhead cams that was suspended in a stiff aluminum frame. The 70hp available from de-restricted versions was put through a six-speed gearbox and overall there's plenty of fun to be had on a tight canyon road.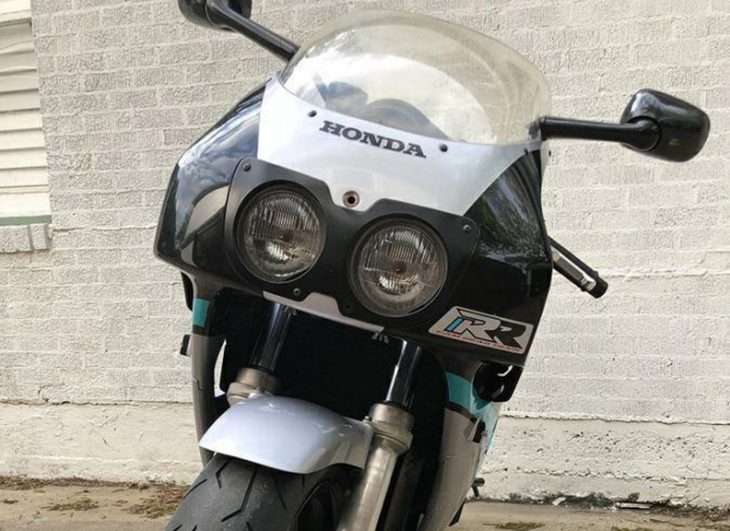 Americans actually could pick up the CBR's close relative in the relatively obscure CB-1 that used a detuned version of the CBR's engine but replaced the aluminum frame with one made of steel. Weight was similar as the CB didn't have a fairing, but it looks like Honda might have gambled correctly in not importing the CBR, since the CB-1 didn't sell very well.
From the original eBay listing: 1991 Honda CBR400RR NC29 for Sale
1991 Honda CBR400RR NC29 aka Baby Blade

Classic smaller displacement sport bike popular in Japan/UK. Imported from Japan.
Starts and runs nicely all through rev range!

Recently carb tuned and de-restricted. Bike is in KM and I added a MPH overlay.

Makes a great small displacement track bike! 

New: 

Pirelli Rosso Corsa
Screen
Mirrors
Battery
Tank grip
Axle slider
Buy It Now price is $5,500 which is a pretty decent price although you'll obviously have to be careful to verify you can register it where you live. This one is in Texas and I'm assuming it's been road-registered there since the seller has gone to the trouble to add the MPH overlay to the speedometer.
-tad