Bikes become collectable in a few ways: They can be iconic motorcycles that have simply survived the ravages of time and modification, they can be homologation machines built in limited numbers and destined for the racetrack, or they can be born into collectability, with a flashy name and fashionable limited number plate. This Senna Edition MV Agusta F4 is the latter, although it was created for a very good cause.
In the event your life revolves only around two wheels and you are unknowing of any other motorsports, Ayrton Senna was a Formula 1 driver and is considered by many to be the greatest F1 pilot of the modern era (no flame wars, please). He was to four wheels what Rossi is to two. Brazilian born, Ayrton created the Instituto Ayrton Sennato help the poor and homeless children in his native country. Proceeds from the ultra expensive Senna Edition MV-A F4 were routed through that charity.
From the seller:
YOU ARE LOOKING AT A FINE PIECE OF MOTORCYCLE EXOTICA.
THIS IS THE EXTREMELY RARE MV AGUSTA F4 SENNA
ITS IN EXCELLENT CONDITION AND HAS ALWAYS BEEN STORED INSIDE.
THE MILEAGE IS PRETTY ACCURATE HOWEVER, IT STILL GETS RIDDEN OCCASIONALLY SO IF THERE IS A HUNDRED MILE OR SO DIFFERENCE, SO BE IT.
IT ALSO COMES WITH THE STAND AND A BIKE COVER AS WELL.
THIS IS #173 OF 300 PRODUCED WORLDWIDE.
PLEASE KNOW THAT THIS WAS RIDDEN AS A STREETBIKE SO THE PAINT SHOWS NORMAL WEAR FROM A BIKE OF ITS AGE.
IT WAS NOT A MUSEUM PIECE, BUT IS STILL IN ABSOLUTELY AMAZING CONDITION!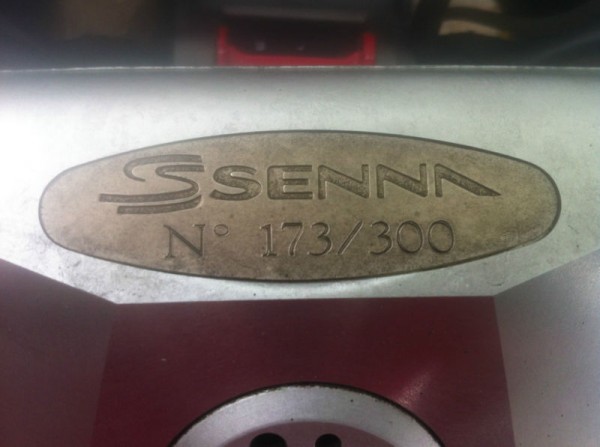 Make no mistake – these Senna Edition F4s are rare bikes indeed. Similar in production numbers to the Serie Oro (300) and closer in spec to the 750 Evo 2 release, the Senna Edition was indentified by number pate on the headstock, carbon fiber bodywork and suspension upgrades. All in all, Ayton's name was the real selling point.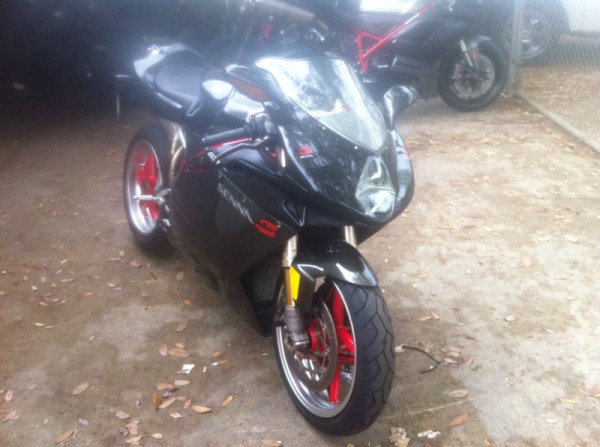 Sennas were high dollar bikes when new, and continue to hold decent resale value when we see them offered at auction. This particular bike is sitting at a mere $8,100 with reserve still in place. Past Sennas would indicate a target somewhere between $12,000 and $15,000 depeding on condition. Pictures of this bike look like they were taken through a jar of vaseline, but I would image the real thing would look even better. To check out all of the details, click the link and jump over to the auction. Think of the children!
MI
One Response.