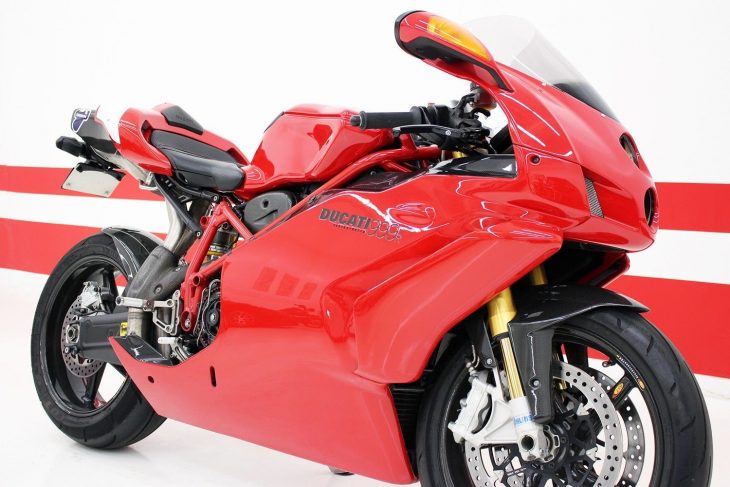 Many people assume that whatever dusty, badly-lit, low-resolution photographs they've taken will be enough sell their valuable motorcycles and include almost no additional information. But it's easy to head in the other direction and go full-on used car salesman, which the listing for this Ducati 999R has done, going so far as to describe it as being "built like a MotoGP bike…" Hyperbole is fine: I obviously indulge in stylistic excess regularly. But comparing an homologation superbike to a pure prototype racing machine suggests someone who is more of a salesman than a knowledgeable enthusiast.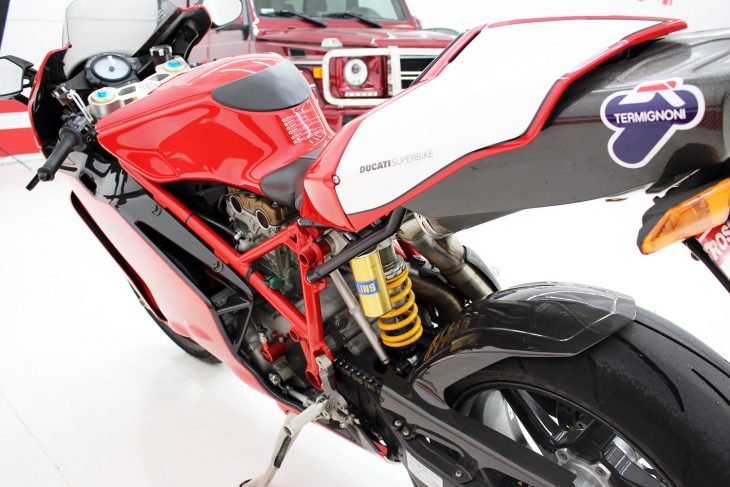 Considering that the 999R has basically little in common with a MotoGP machine other than the Ducati name and the fact that it has two wheels and an engine, "built like a WSBK bike" would be much more accurate, and much closer to the original point. So if the 999R, even a "custom" one, is really nothing like a MotoGP race bike, what exactly is it?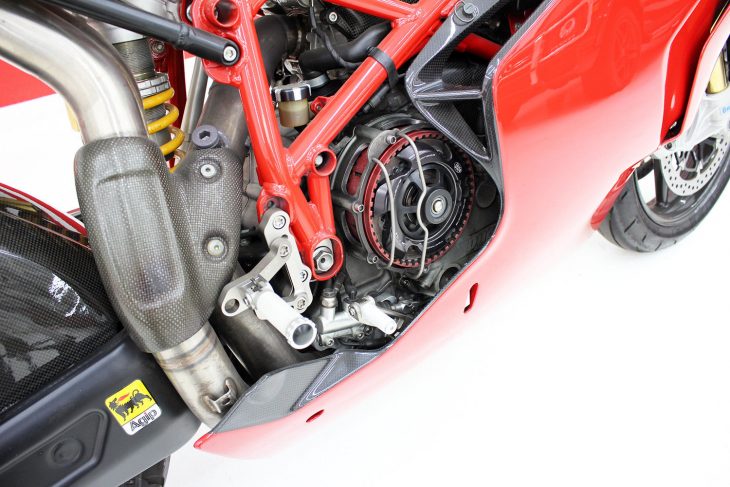 Well unlike the 999S that was basically a spiffed-up version of the standard 999 with nicer suspension and some carbon-fiber farkles for "weight savings," the 999R was intended to homologate the bike for competition, AMA Superbike racing in particular. Titanium rods and valves meant less reciprocating mass, a completely new cylinder head design meant better breathing, and bore and stroke were completely different than the standard bike, much more oversquare, to increase the bike's appetite for revs: 104mm × 58.8mm versus 100mm × 63.5mm for a displacement of exactly 999cc, instead of the 999's 998cc… Compression was higher and the crank knife-edged where it lived behind the sand-cast engine cases, all of which added up to 134 rear wheel horses and 76.6 lb-ft of torque.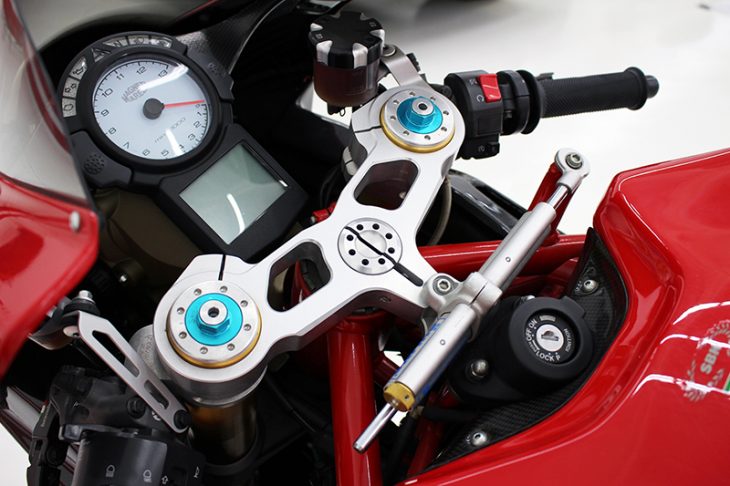 The seller suggests that this customized 999R is even more desirable than a completely original bike, and lists everything that's gone into it. The main issue here is that in hyping up changes that supposedly make the bike "more bad-ass," he's missing the real point of the 999R's value. Originality is often critical in establishing the desirability of limited-production bikes like this and, as the listing describes the "custom" touches, I'm imagining the value dropping in the minds of potential buyers. That's not to say that the changes are bad, mind you, and the modified engine definitely could prove to be enticing to buyers who actually plan to use their purchase for track or fast road work. But I'd definitely want someone other than the person who wrote the listing to tell me about the build in more detail.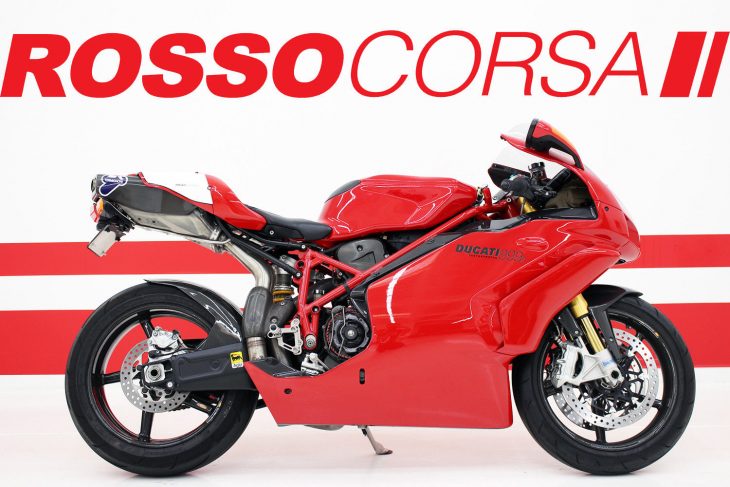 From the original eBay listing: 2005 Ducati 999R for Sale
UPGRADED – CARBON WHEELS

THIS IS IT! The Ducati 999R – Motorcycle History. If you are looking for one the baddest bikes ever made – this is it. Pure Ducati. Period!

When owning one of the rarest bikes in the world is not enough we invite you to take a look at our custom 2005 Ducati 999R. This is your once in a lifetime opportunity to own a piece of motorcycle history. This bike is in perfect condition with very low miles. Truly breathtaking! This 999R is highly upgraded:

– $10k Engine Rebuilt with Lighter Titanium Rods by Ducati Race Technician
– BST Carbon Fiber Rims
– NCR Rear Sets Custom Made
– Brembo Brakes and Master Cylinders
– Custom Seat
– NCR Race Gas Cover
– STM Dry Clutch
– EVR Cylinder
– Dark Upgrade Windshield
– New Rear Brake and Turn Signal
– 6112 Miles on Bike Overall (After Engine Rebuild Less than 1000 miles)
– Garage Kept
– Bike Has Never Been Down

There's no other way to describe the Ducati 999R than as a race bike with lights; it really is that close to the real thing.

Breathtaking quickness—0 to 60 mph comes in less than three seconds—is matched by the bike's Brembo brakes. The Ducati 999R is built like a MotoGP bike so it's dripping with exotic parts. The Desmodromic motor is packed with titanium, specially coated alloys and magnesium. Many carbon fiber parts and the exhaust heat shield is from a carbon/ceramic composite.
Mileage is pretty low and the bike does look very sharp, helped by some high-quality, professional photography. Of course, all of the 999 models had dry clutches, so the listing is probably referring to an STM slipper clutch [and cool slotted housing], and I'm pretty sure the bike had Brembo brake and clutch masters originally, just not the radial units seen here. Also, when did "Dark Upgrade Windshield" become a selling-point for a rare and collectible superbike? Are the original parts, especially the wheels, included? At least any missing peripherals can likely be cheaply sourced at the moment to get it closer to stock condition. The $19,880 Buy It Now is on the higher end for an original R, but the question remains: do the changes made to this particular bike increase or decrease the value?
-tad