The South Will Rise Again: 2009 Confederate Wraith
Now of course this is the sort of Confederate you'd like to see again. From the sound of it, the tiny Confederate Motorcycle Company has already risen from the ashes a couple of times. They are now based in Birmingham, AL and have created some quite unique bikes. Check out their site, all their models are very avant garde (it's a new word I learned recently).
Hmmm, looks like something out of movie, doesn't it? It will not appeal to everyone but I like it for a couple of reasons. First, it is nice that some new and novel concepts are coming out of America. Second, it is something different. At first glance you think it is a backyard creation of mostly Harley parts. Then once you start looking you realize the thing is loaded with forward thinking ideas top to bottom and definitely has performance in mind. You can't accuse them of copying anyone.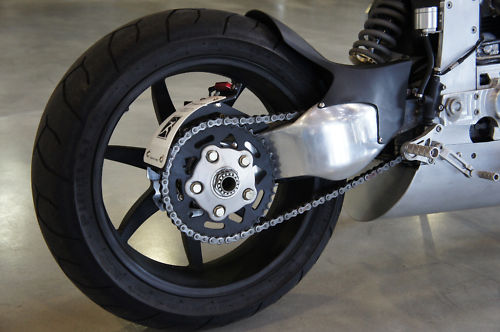 That swing arm would look at home on any track. I like the combination of the big V twin with the very futuristic and stout frame and suspension. Here is a nice write up on the Wraith from Cycle News. The write up basically confirms what you are probably thinking: art with an engine in it.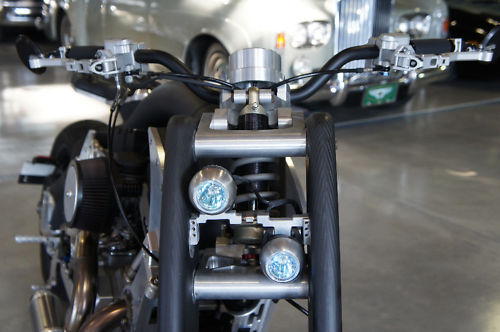 From the auction:
You are bidding on a 2009 CONFEDERATE WRAITH #5, it has 400 running in miles on it.
this is a rare bike only 40 in existence, i am a dealer for Confederate Motorcycles (the only official dealer inside the US)
if you are viewing this you know what the bike is and i dont think it needs much more explanation.
This is a rare chance to own a piece of quality American craftsmanship and design.
im an ex racer and can tell you this bike rides very well and does exactly what is asked of it.
the bike has a manufactures Certificate of origin, this bike has never been registered, you would be first owner.
Feel free to email and i will answer any questions about this bike.
If I've got you hooked, this one will take some extra grovelling with the wife. The auction starts at $88,000 and has a BIN of $92,500. I won't even pretend to know if that is in the ball park. It is a hand built bike with a very low production run so I would assume it would be on the higher end of the scale. Is it worth it? Well, if you consider it art then you throw normal logic out the window. .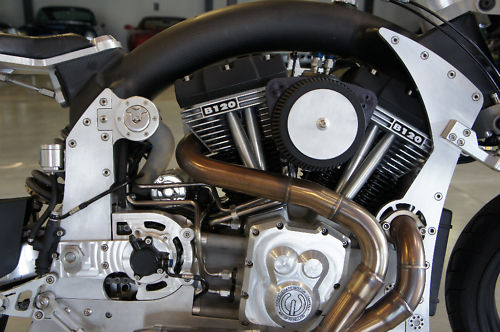 I'd love to see what these guys could do with a little racier engine. Enjoy the rest of pictures.
IK