Location: Cincinnati, Ohio
Mileage: 9,388
Price: Auction, current $1,322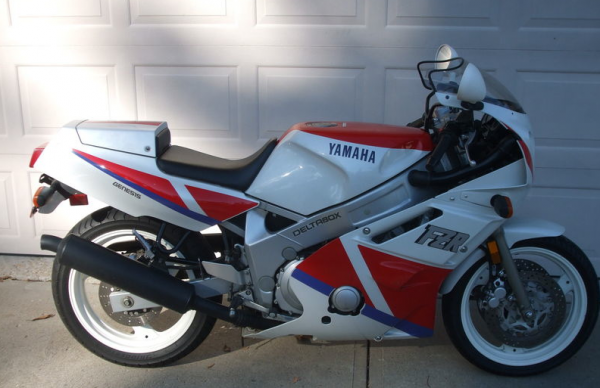 What we have here is a survivor from the start of the 90's, quite possibly the best decade for sportbikes. The FZR 600 was a great bike (had the chance to ride one back in the day and it was awesome) and more a track bike than what I was riding at the time ('88 Hurricane 600). The 600 class was very competitive at the time and the FZR's Deltabox frame, race orientation and killer paint spoke to many of us. I just didn't have the money at the time.
This seller found this after years of storage. Here's the rundown-
This is a super clean low milage 1990 FZR 600 RA.  Just out of long term storage and has not run since 2008.  Purchased from the estate of the original owner.  Only 9,388 miles. The original sales reciept is included along with the original owners manual.

It will need the usual service, maintenance and adjustments commonly provided to a motorcycle that has been in storage since 2008.  The tank will need a general cleaning but there is no significant old gas residue as the tank must have been drained before storage.  The battery needs to be replaced.  Tires look good and are not cracked but may need replaced for high speed use.  Carbs may need to be cleaned.  No visible leaks or drips.  Shifts through all gears and has strong compression commensurate with the low milage. 

Photos show small to tiny scratches on front fender and right lower fairing which can be touched up or buffed out.  There is a section of the front right fairing that is broken/missing, see photo.  There is a very small nick in the seat which is an easy repair, see photo.  A great low cost begining for a show bike.

Good Ohio title. Build date is 10/1989. 

This is a great example that has seen limited and careful use by one long term own.  Lots of miles and smiles remain for the new owner.  A lot of near classic motorcycle for the money and it will appreciate in value every year.

Please study photos and call me for more information.

Sold "as is where is" without mechanical gurantee…only my description is guranteed to be accurate and is back by a 100% money back pledge if I have failed to provide you a materially accurate description of the FZR.

A $200. deposit is to be paid within 72 hours of offer auction ending.  The balance is due within 7 days auction ending.  Paypal is ok for depot and for the remaining balance. 

I will assist with shipping on this end but you must make all arrangements. I will provide indoor storage for 60 days. I may personally  provide enclosed delivery within 350 miles of Cincinnati Ohio for additional cost.  Call me for quote.

My feed back is 100%.  If yours is less than 92% and or you have fewer than 9 Ebay transactions you must call me before you bid or your bid may be cancelled.
And photos with more in the auction-
As the seller points out, this bike has been in storage for a long time and will need the necessary work to bring her back to life. And it does have the one broken piece in the headlight fairing and small spot on the seat. But otherwise, this is a clean, stock FZR600 that has survived pretty well over the years and comes in the best paint scheme there was. It's simply gorgeous in my opinion and takes me right back to that day outside of my college town when I threw a leg over, grabbed some throttle and hit the first corner. Awesome.
So I don't know where the auction will end price wise, but I think there is an opportunity here to pick a great bike at a good price. There will be some work to be done and the fairing may be difficult to replace. However, if done, here's a great bike that will bring happiness and probably increase in value as the years go by.
This FZR is clean and the mileage is fine. If you want to pick up a great example of the beginning of a decade of many cool bikes, then make the jump!
-RN