Delivered with a level of performance and finish that left owners and aftermarket folks scratching their heads, Ducati 999R's often return to the market with just a few miles and not many mods.  999's were made 2003-06, and there were R-models in each year except 2004 for SuperBike racing homologation.  Though there are more sensible, even more fun bikes for the street, if you have access to some long rural sweepers this would be an inspiring ride.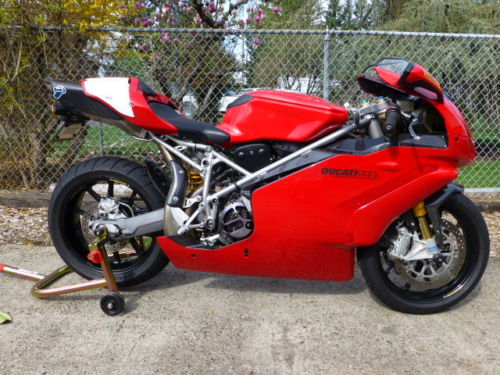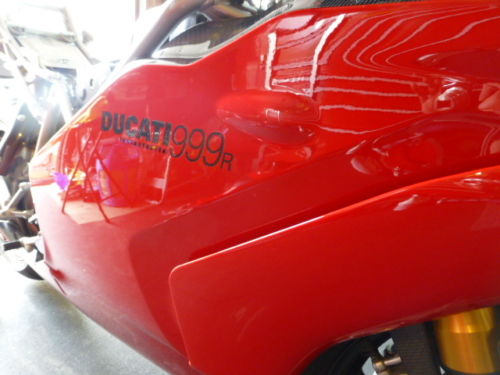 Somewhat more oversquare than a standard 999 and ready for more revs, the 999 cc testastretta makes 139 hp.  Heads and cams were also new for the -R.  The silver trestle frame is hung with top-line Öhlins at both ends, and car-sized Brembo radially mounted brakes.  Wheels were also new, Y-spoke forgings from Marchesini.  The fairing is primarily carbon fiber, and is slightly taller overall, with stacked headlights accommodating the barely more upright riding position.
Appearing to be a two-owner bike, this 999R looks mint and has had recent major maintenance.  Not much in the way of farkles except the open clutch cover, the owner states the Termignoni exhaust is an add-on, though -R's were shipped with street and race exhausts, maybe the previous owner sold one and the current owner upgraded.  From the eBay auction:
Thinning my collection and selling my beautiful 999R. Original year and design. 03 was the only year to have the full carbon fiber bodywork, following years changed the rear seating section to plastic. This year is also serial numbered, #186. 1885 miles. Title is clear but want to be open that the bike was dropped by previous owner, probably after a few hundred miles, at slow speed in the rain (so I was told) and the left side fairing was replaced (not repaired or repainted) by motocorsa to the tune of $4500. Nothing else other than the bodywork was damaged.
Mostly stock aside from Speedymoto clutch cover and Termis. Has been ridden sparingly over the last couple of years and was last serviced by Ducati dealer about a 100 miles ago with all new fluids and belts etc. Has Shorai lithium battery. Pictures describe its condition best. Small scratch on swingarm but thats about it as far as flaws. Very nice R model 999.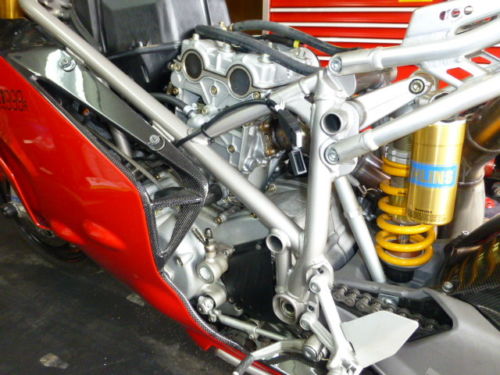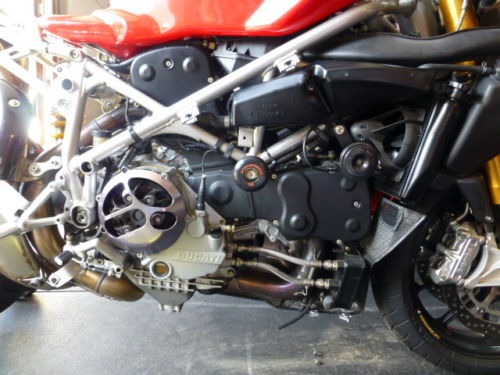 Though still a future classic among fans, the 999R's sheaf of enthusiastic reviews and 3 WSBK titles can't be ignored.  This is an amazingly well-designed and built road bike, of course for an experienced rider and wide open spaces, or the race course.  2003 seems a good vintage with a numbered edition of 500 and the carbon seat fairing.  Not without its faults, the starting and  cooling systems were frail and wouldn't be updated until the 1098.  The incident damage is a question that would have to settled by an inspection, but the new cam belts are reassuring.  Quite a few bids with three days yet to run…
-donn