Update 1.22.2018: The seller has informed us this bike has SOLD! Congratulations! -dc
The last and one of the fastest of the bevel drive Ducatis, this 1980 Ducati 900SS is yet another throwback to the time before Japan dominated the sportbike scene. The bevel Ducatis, named and famous for their unique gear-drive cam setup, came to prominence in the '70s as British makers faded from relevance and the big four in Japan were making the switch from commuters to race-bred machines.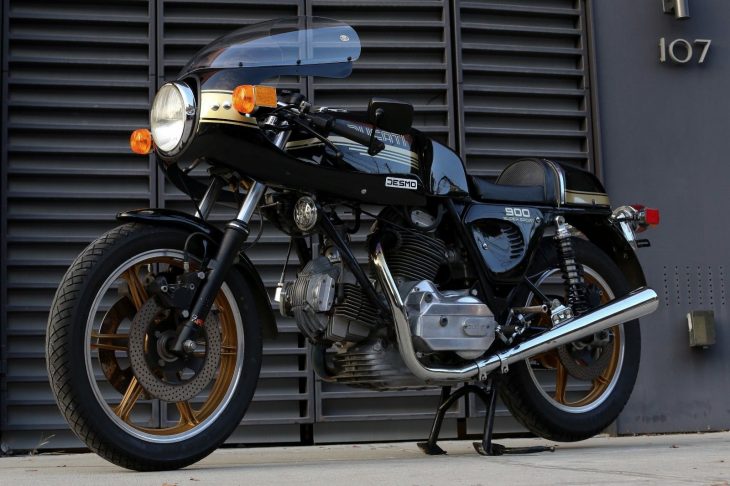 This example is being sold by brand specialist Moto Borgotaro in Brooklyn, who purchased the bike from its fastidious original owner  and treated it to a good freshening. The bike is largely original, with a few key but reversible changes made, and all the original parts included.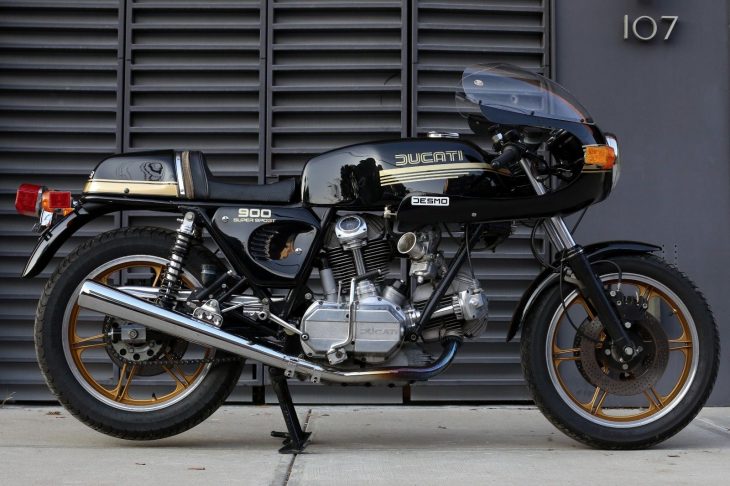 Moto Borgotaro says the first owner had the engine torn down and gone through in the '90s to maintain it and increase reliability, though even the original piston rings will come with the bike. It also wears updated petcocks, a gear-gazer bevel cover and new fork springs and rear shocks. The original fork springs, petcocks and bevel cover are included, though it sounds like the shocks are gone.
From the eBay listing:
1980 Ducati 900 Super Sport For Sale

1980 Ducati 900 Super Sport bought from the original owner and spruced up at Moto Borgotaro inc. Moto Borgotaro specializes in Vintage european motorcycles. Moto Borgotaro website: https://motoborgotaro.com/

The previous (original) owner had many bikes, and he liked then all to run correctly and ride correctly. The 900SS here is no exception, the former owner did not want any issues so he had the motor redone at some point in the 90's to make sure he never had any issues with running or riding. The box of goodies that comes with the bike, the original piston rings, extra valve half rings, spare cables, original petcocks, original manual, original tool pouch, original bevel cover (gear gazer currently installed) — he also had the front fairing mount reinforced as they can be prone to breaking.

Overall this is a great rider with restored paint and redone motor, and terrific suspension… Not a show pony, bike starts runs and rides sweetly and is ready to go. Any questions please call the shop directly 929-264-7212

MANY OTHER BIKES AVAILABLE !! Ducati, Mv Agusta, Laverda, Moto Guzzi — Buy, sell, trade– look at last picture…. your NEW SS is coming from a good home!

Will ship worldwide!! –

· Excellent Restored paint

· Dyna coils (original coil pack included)

· Works Billet tracker shocks (from Bevel Heaven)

· Works fork springs (from Bevel Heaven) (original fork springs included)

· New gel battery

· Stainless brake lines

· Fresh oil

· Good tires

· Newer clutch – (original included)

· Original wheels– VGC

· Original paint on frame—VGC

· Extended clutch arm (original included) — much better clutch feel

—Other

· Spare cables

· Original petcocks

· Original tool pouch

· Original manual

· Original bevel cover (gear gazer currently installed)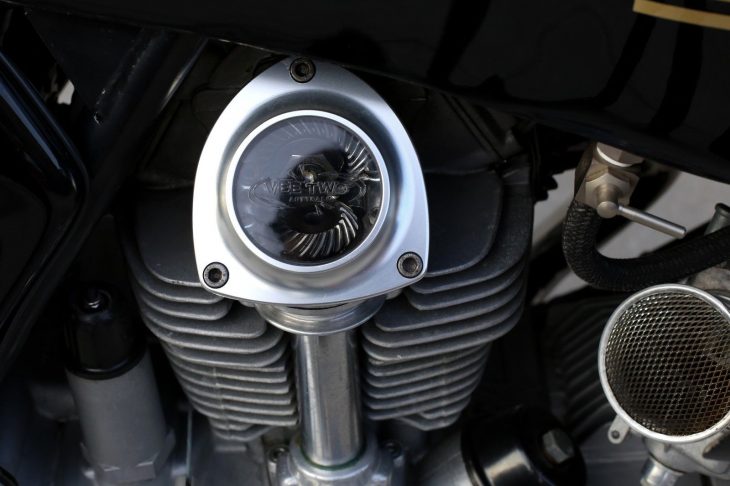 The restored paint and original frame paint are in fantastic shape. There is some paint chipping and oxidation on the fork legs and the pipes and engine cases look like those of a bike that has been ridden properly. The asking price indicates that the value of these bikes is continuing to grow, and this example is one you should not be afraid to display and ride.