The mid-seventies saw MV Agusta floundering after the founder's death, and about to accept an offer they couldn't refuse from the Italian government.  U.S. importers persuaded the company to try and revive their fortunes with a special 750, a monoposto bristling with premium parts.  This rare example returned to Italy for a mid-stream model upgrade before sale.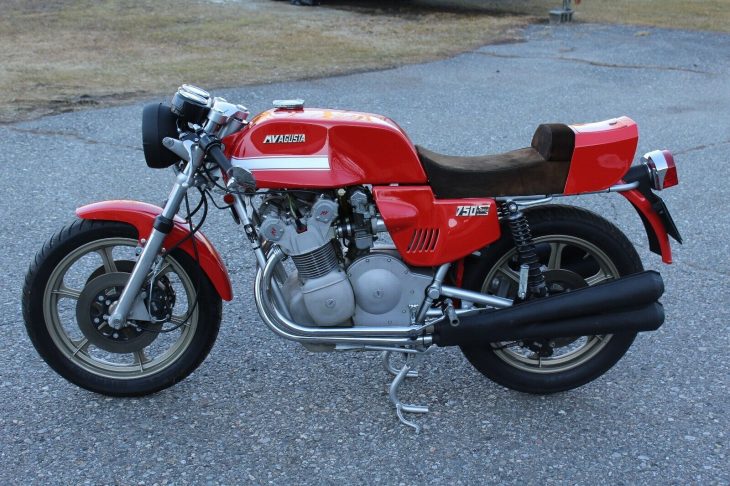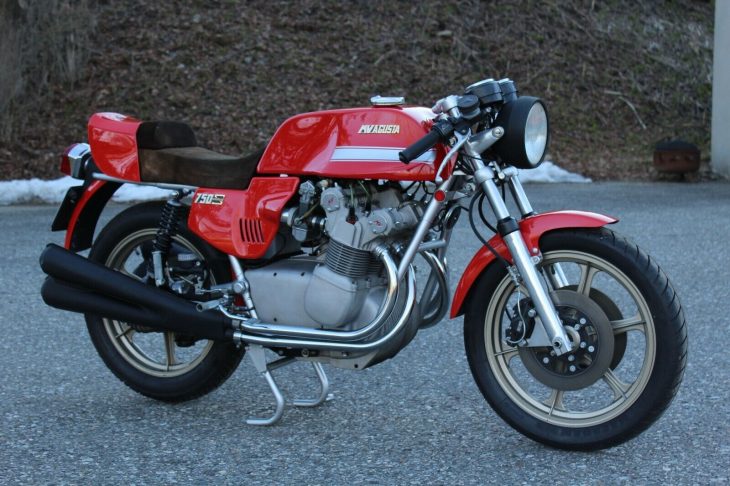 Before almost every big bike was an inline four, MV Agusta had a history of air-cooled DOHC Grand Prix machines.  For the 750S, displacement was increased to 788cc's, heads re-designed and 26mm Dell'Orto carburetors were specified.  Though the cams are driven by a gear train between cylinders two and three, the alternator is behind, resulting in a trim crankcase.  Shaft drive indicating its more GT purpose, most MV 750's came with front discs and a drum rear brake.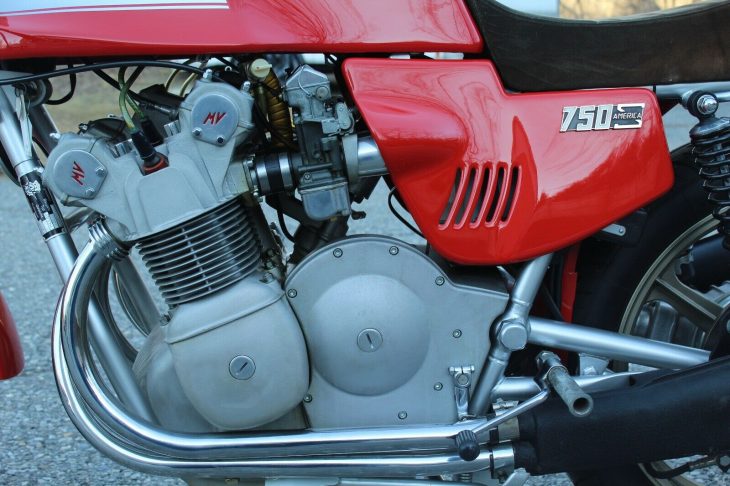 Not enough to be one of 500 or so, this MV was upgraded by the factory to an 850SS, which the factory did to just a few dozen leftover machines to make them more enticing.  A little history from the eBay auction:
750S to 850SS conversion: Factory records during this period in MV history can be inconsistent. 1977 was the final year of factory-produced MV Agusta motorcycles, and the factory was fast and loose with some things, including specifications from bike to bike. They were also having a hard time selling new 750S Americas in a crowded field of ever larger and more powerful Japanese machines, which could be had for a fraction of the MV's $6500 sticker price. So, an uprated variant of the 750S, the 850SS, was cooked up as a way to move leftover or unsold 750S machines. In late 1976, MV recalled 19 unsold new 750S machines (including this bike) for conversion from distributor stock.

They also instructed dealers/distributors in how to convert other 750S machines to 850SS spec. Fortunately, this bike's journey is well-described in both factory and distributor documents. The bike is first described in documents from 1975 and early 1976, as a "1976 model 750cc 'S' America". Later documents from 1977 list it (by serial number) among 19 bikes that were recalled in late-1976 to the MV factory in Italy for conversion to "850S" specification. Additional documents from 1977 pertain to the re-importation of the bike by the US distributor, Garville, now as an "850S" with "86hp" (vs 75hp in standard 750S trim), and allocation to Champion Motorcycles in Costa Mesa, California.

The bike has 750S sidecover emblems; these may have been left on the bike at the factory or re-installed later. It has the factory optional and 850SS-correct EPM cast alloy wheels with triple Brembo calipers. 850SSs typically used 27mm carbs unless bound for the US, like this one, which then used the standard 26mm Dellorto carbs of the 750S America. All original documents relating to this bike are included in the sale, both when it was a "1976 750S" and after conversion to 1977 850SS (see pix), with the exception of the document listing this bike among the 19 recalled to the factory for 850SS conversion. That particular document belongs to the records of another of my MVs, but I will provide a copy/scan of that original document to the new owner as well. 
42 years on, the 850SS shows no particular wear, but chips and aging paint and plating of a real classic.  Despite the outstanding components from Ceriani, Tomaselli, and Brembo, the factory thought having the LaFranconi mufflers black would be sporty.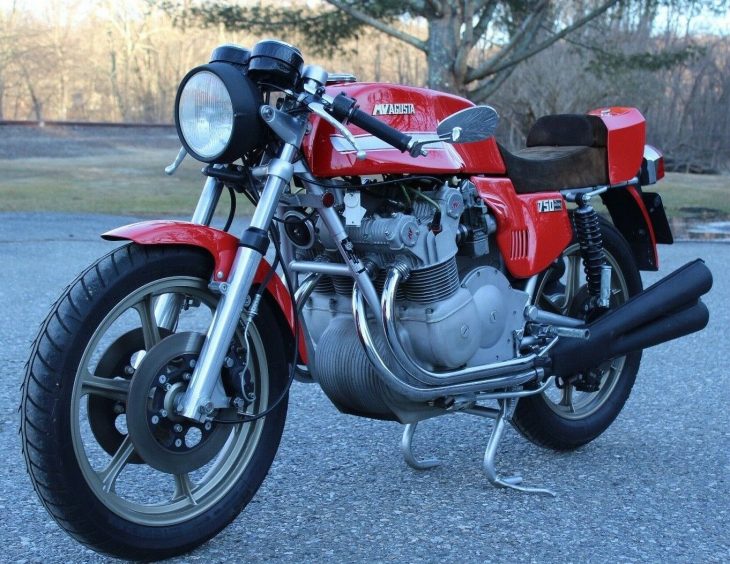 Already playing catch-up to the new Japanese imports, Agusta didn't have the time or resources to engineer a new lightweight model.  At over 500 lbs. dry, the 750 and 850S reviewed as a better ride for moderate speeds but did so in style.  The factory wound down shortly and was offline for ten years before being revived by Cagiva.  Seeming more appropriate for a white glove auction than online, this 850S is a history lesson in 1970's design and manufacturing.
-donn