The seller of this 1988 Ducati Paso 750ie takes honesty in advertising in a slightly strange direction, choosing to focus less on the attributes of the bike and more on the potential impact the bike will have on your social engagements. He gives us scant details beyond how long he's owned it, how far he has ridden it in that time and the fact that it is a "great bike."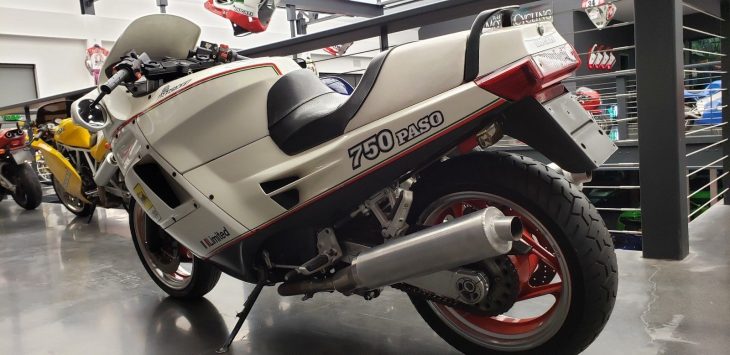 That's when the real fun starts. It's PG-13 at least, so proceed with caution if you have young gas monkeys around. From the eBay listing:
1988 Ducati Paso 750 ie Limited Only 3098 miles – great condition !

I'll be adding more photos tomorrow – including odometer.
It's a great bike.
I have owned it for 13yrs and rode it 10 miles on my own property the day I picked it up – stored in museum since then.

Start your collection now – good bikes have outpaced many other investments over the last decade since the recession –
and you cannot invite your friends to come drool over stocks & bonds or ride them to Sunday morning coffee….

Plus no one ever got laid because of their bond portfolio unbless it had a billion dollars in it and then they still got laid because of their 300′ yacht not the bonds.

no yacht ?

Buy this bike.

Have more money , or not the most dashing gent ? Buy the Paul Smart I have for sale 🙂
WANT TO APPEAR REALLY YOUTHFUL & VIRILE ? Buy the insane aprilia factory supermoto racer I have for sale lol
The Paso isn't anywhere close to a yacht, but its acres of white bodywork are vaguely reminiscent of a luxo-barge you'd see moored in Monaco. If you squint real hard and let your imagination go. What this bike certainly represents is a decent and pretty much unmolested example of a very-1980s Ducati, built just on the cusp of the brand's return to building the wild sportbikes it's known for today.