With a nod to a previous generation's – 750S –, MV Agusta's America kit transformed the Brutale, at least cosmetically.  This one has low miles, great looks, and claims to be one of 70 in the nation.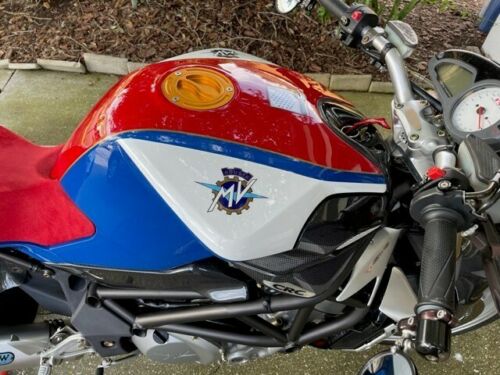 No surprise that the together design was penned by Massimo Tamburini, and made use of MV's own F4 engine, in its original 750 form.  The engine bolts in to limit flex in the trellis chassis, which supports 49mm Showa forks and a single-sided rear with Sach shock.  MV's signature star wheels have been uprated to Marchesini forgings, and the usual four-into-two exhaust replaced by an even lighter and shorter Arrow system.
Let's hope the kit was dealer installed because it really is too much to list.  Limited photos will require a request for more.  Fans of the magic number will like plaque 030 of 300.  Funny the tanks wings are blue on the underside, white on top, so from low angles the bike just looks blue.  Not sure of the pictured rider is the owner, but the fork tubes seem to be pushed up through the trees an inch or so.  Comments from the eBay auction:
Very rare , 300 made world wide and only 70 sold in the USA , this is number 30 of 300 !  LOW MILES ! This bike sold new for @ $19k. The full America kit was @ $ 7500. The full America kit included Alcantara Saddle , carbon fiber – tail section , side vents , radiator shroud , instrument cover , key guard ( I added the rear fender) .  Also in the kit was special paint colors and Marchesini wheels.
In just 20 years the Brutale has been through three generations, from 675 to 1090 cc's, and a surprising number of special editions – from the classic Oro to Starfighter Titanium.  In this kind of condition and superhero livery, the 750 America will always find a fan here.
-donn