Sure it's "just" a garden variety 748, and most Ducatisti look down on the model as being inferior to the 916/996/998 series. But lets face it, for the rest of us it's still a really great motorcycle. And it's brand new ten years later!
Take a trip back in time and check out this :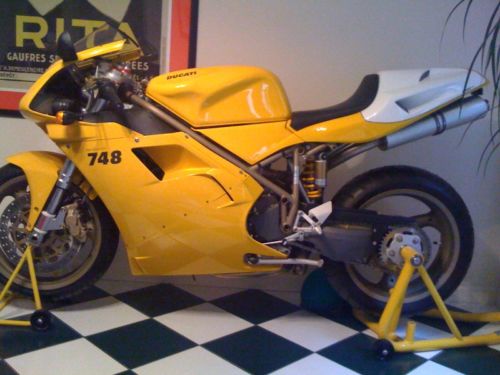 quote from the listing:
This is the real deal, zero miles never driven or started, displayed in dinning room on painted to match track stands (provided with sale of bike). Purchased new in 2004 to be a "show" bike, project never started due to financial and personal changes. Paid over 12K and invested another $1500 in goodies that will be included with sale of bike. Will deliver within a 200 mile radius for cost of gas.
The auction has no bids at the moment and an opening of $7500. If you walked into your local Ducati dealer and spotted this amongst all the 2010 bikes, would you buy it? According to the Ducati USA website, the cheapest in their lineup is a Monster 695 for $9k. Makes me wonder what the reserve on this bike is because if it was in the same neighborhood, I know what I'd choose!
dc