If there was to be sportbike bubble, the grail-like Honda RC30 might be leading the way, prices rising as you watch, with collector auctions drumming up some truly outlandish numbers.  Still it is a venerable model which stood the WSBK universe on its head for a few years – lightweight, powerful, easy to ride, and just a few thousand exist.  This one has low miles, few modifications, outstanding condition, and a knowledgeable owner.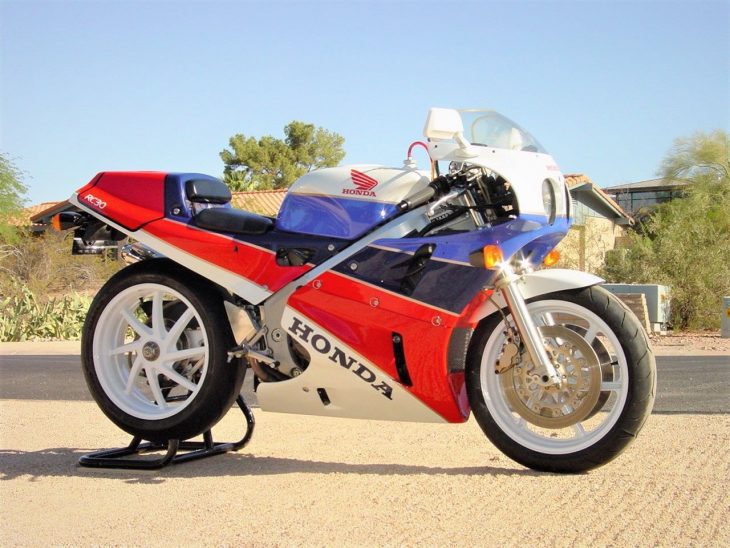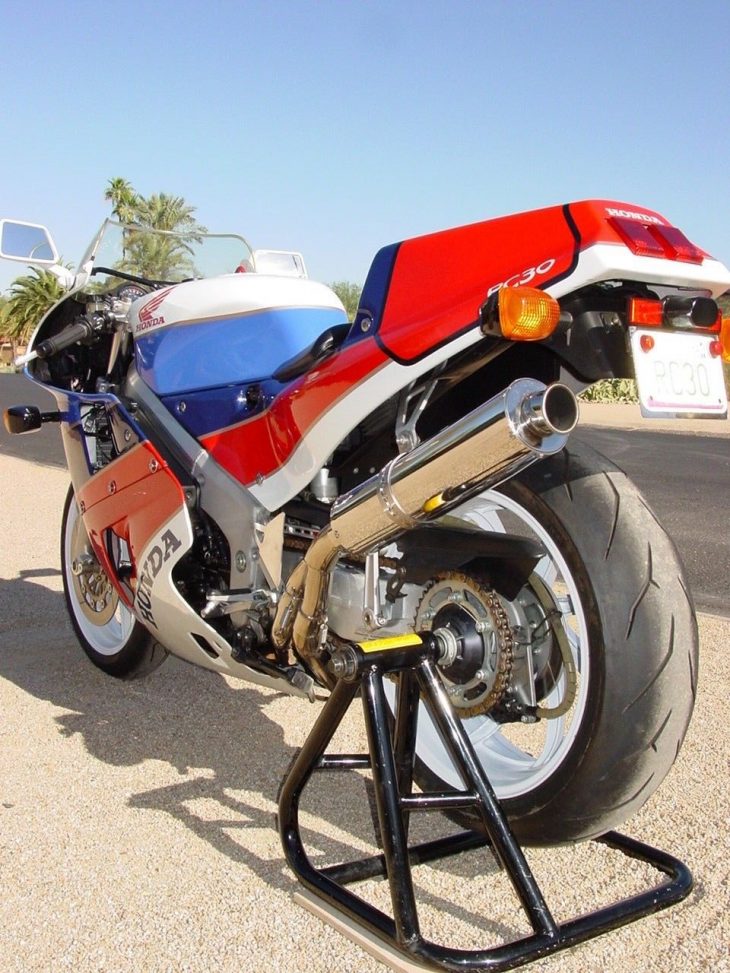 Bred and born for superbike racing, the RC30 has the goods, sometimes well hidden.  Titanium connecting rods and 360-degree crankshaft timing help make a torquey flexible 102 hp.  The single-sided swingarm is novel for the era, and quick-release front axle is also race-derived.  Rideability is enhanced by the factory slipper clutch, and the endurance racer fairing protects the monoposto up to its 149 mph top speed.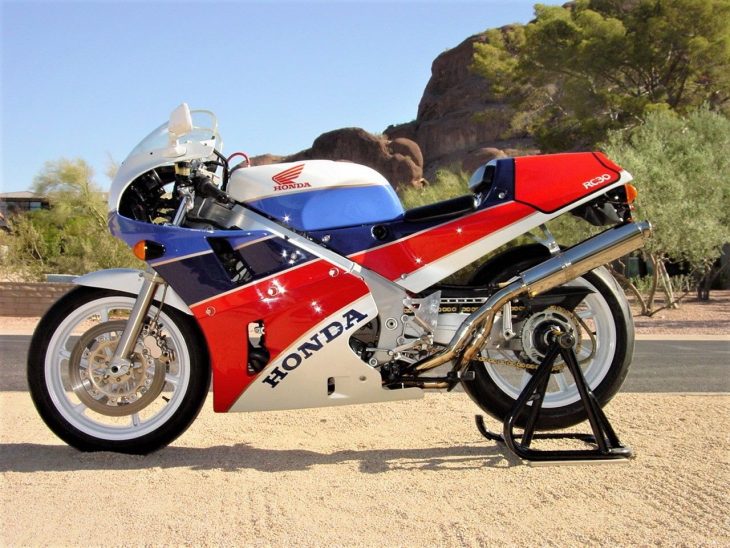 Careful enough that he raked the gravel in the photo shoot area, this might be a unique previous owner.  Evidently having owned a few RC30's over the years, this one was preserved and carefully modified with just a polished exhaust and matching 17-inch wheels from an RC45.  It certainly shows beautifully, even without the fairings, making the pictures a must-save for RC30 fans or owners.  From the eBay auction:
As you can see from the pics, the bike is in exceptional stock OEM condition and has no period performance modifications other than the wheels and exhaust noted above. The bike still wears its original paint, and it is in very nice condition for its age. As best I can tell, all of the original Honda warning stickers and decals are still in place and looking good. There are a few very minor nicks and scuffs here and there, but you have to examine the bike very closely to find them. The most notable are on the lower fairing chin (see pics) and a scuff on the right side of the original windshield (see pics). Some of what you see on the fairing chin is actually the clear plastic chip guard lifting around the edges and trapping a bit of dirt, but there are a couple of chips at the very nose of the "chin" (it is not cracked through anywhere to my knowledge). There are also a few areas around mounting points that show some minor stress cracking in the paint which is quite common for an RC30 with any mileage, but these are minor enough that I could not get them to show in the photos. The front of the lower forks also have some discoloration in a few spots which is also very common for these bikes (see pics). The above said, the overall appearance of the bike is excellent. 
The RC30's balance and powerband led it to a long career at the Isle of Man and under endurance racing privateers.  Reviews said it was light handling and Honda-easy to maintain.  Prices had been in the mid-twenties until recently, in varying levels of miles and restoration.  A couple of zero-miles examples have popped up this year, one selling at Bonham's for over $90K including commission.  Nothing like that here, but this is a great specimen that it wouldn't hurt to ride once in a while.  That is what it's all about, isn't it ?
-donn