Ducati readied their new sportbike just about the time the Castiglioni family presented their investment plan, and F1's took a mid-model livery change.  Here's a pre-Cagiva F1A which has been barely ridden and recently freshened up.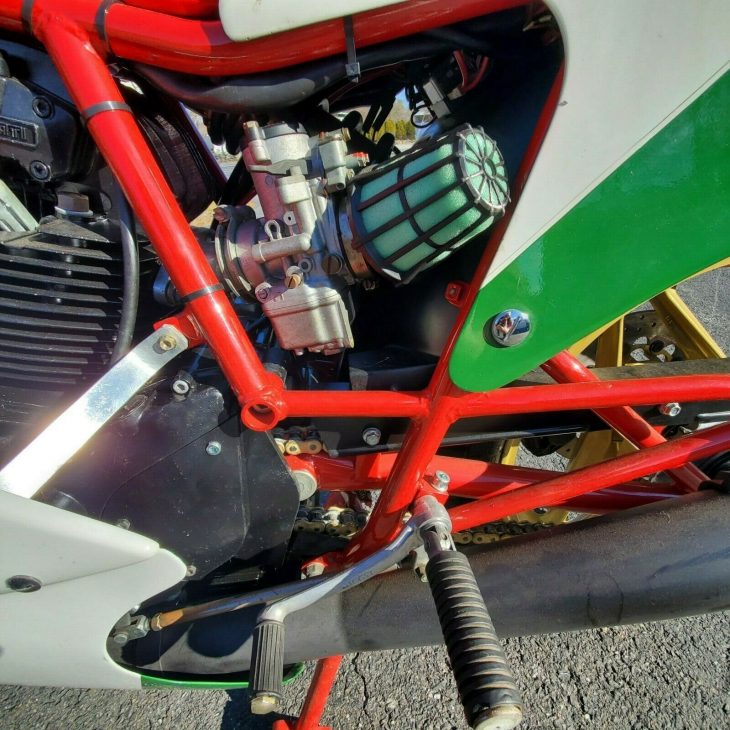 The F1 harkens back to the 750 Imola Desmo, with a thin but full fairing, trellis frame, and 748cc's of L-twin.  The desmodue delivered 63 hp, but had a nice torque band to push on the 5-speed.  Marzocchi provided the 38mm forks and the shock mounted to the cantilever monoshock.  Brakes were single-puck Brembo's, and wheels were staggered with 16-inch front and 18-inch rear.  Embracing back-to-basics before it was trendy, bringing a friend or lunch would require a second bike and a backpack.
The Massachusetts owner states they are just the third custodian in under 7,500 km or 4,655 miles, and condition varies between good and excellent.  The frame evidently was re-painted, and it looks like the shop receipt show piston rings, so maybe the jugs got new gaskets along with the valve adjustment.  Wouldn't be a huge leap to secure the darn battery and re-finish the seat console, to really make this F1A something special.  Comments from the eBay auction:
Pre-Cagiva lettering, Nippendenso Guages, alloy tank and other F1A features includes what I think is a competition Conti. Zero miles on recent major service including belts, valve check, fluid flush, tires, battery (removed), chassis and engine fairing paint refresh.  Seat section is original with what looks like loose battery dings on top.  There is a small dent in the aluminum tank on left side, see pictures, I tried to get it but it is small but there.  Dent-less paint remover should take care if it.  I am the 3rd owner and have owned since 2002.  I have ownership and service history from new.  Sold originally from Razee in Massachusetts.  While cared for I bought this bike to ride not to polish. Garaged its entire life.
The F1 came at a premium compared to their Japanese competition, but found fans and success in the "Battle of Twins" support races.  In the 1985 BoT at Daytona, GP Champion Marco Lucchinelli rode from the back of the pack ( he was a last-minute entry ) to challenge eventual winner Gene Church on an XR1000 Harley-Dave.  These days it might be best for an afternoon of twisties, allowing the torque and light weight to work their magic.
-donn