This rather nice Triumph has one great paint job. OK being English I am biased but I always love this flag draped over the front of the bike. This Triumph is a 4 cylinder bike with fuel injection, of course now Triumph are famous for their triples, even so this is a Hinckley Triumph. This Daytona was renowned for being a great handling bike and has proved a favorite with track day enthusiasts in the UK. With 110bhp coming from the engine it also managed to get up and go.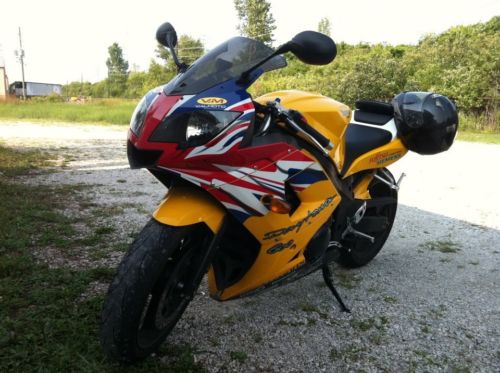 The owner gives us some detail here and also is kind to point out the damage.
FOR SALE IS AN 2004 TRIUMPH DAYTONA 600 SPECIAL RACING EDITION (VERY RARE) CLEAN TITLE, NEVER BEEN WRECKED. RIGHT FRONT FAIRING HAS MINOR COSMETIC DAMAGE. BIKE HAS LITTLE OVER THAN 11,000 MILES, RUNS AND RIDES PERFECTLY. NEW TIRES AND NEW BRAKES, AFTERMARKET MUFFLER, EVERYTHING ELSE IS ORIGINAL PARTS.

$4200, AND THAT IS A STEAL FOR SURE. TITLE IN HAND. NOT EXCEPTING TRADES.
The eBay auction can be found here.
I think $4200 is a good price perhaps a little on the top end but this is a very nice bike with a sensible mileage and you have to love the paintwork.
AS