Yamaha introduced their 5-valve engine for 1985, turning a sportbike corner with 103 claimed hp.  Super clean though un-restored, this FZ750 looks ready to ride in an outstanding number of high-res photos.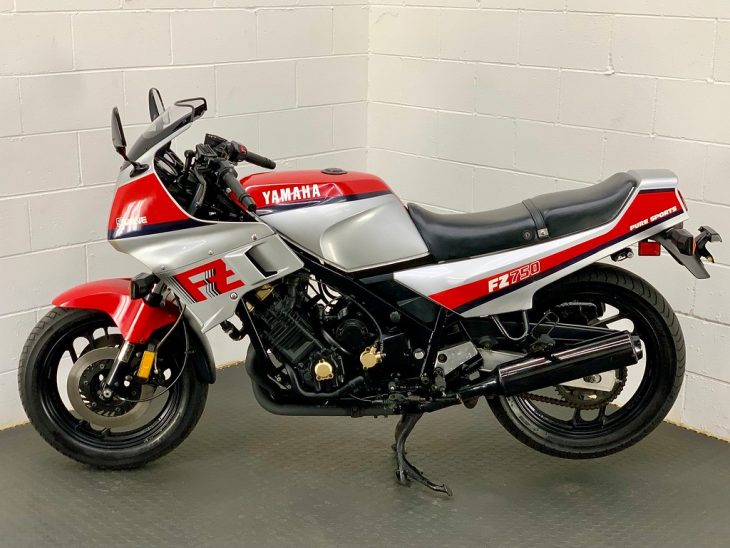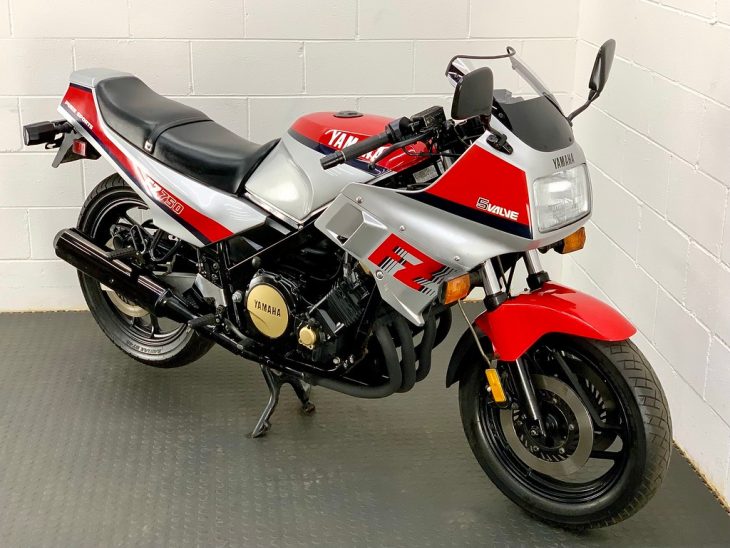 Engineers from Iwata found an ideal solution to increasing intake flow and reducing valve mass and friction losses.  Smaller valves made the 10,500 rpm feasible, with accessories built behind the crankshaft to keep the engine as narrow as any four.  The head was angled forward at 45 degrees, making room for a set of 34mm Mikuni downdrafts under the tank.  Weight distribution was just about optimal and a 16-inch front wheel was employed to sharpen the handling.  Air-adjustable forks were an -80's regular, and carried vented front disks.  A full fairing would've been racier, but the supersport garb allowed the engine easier access to cooling air.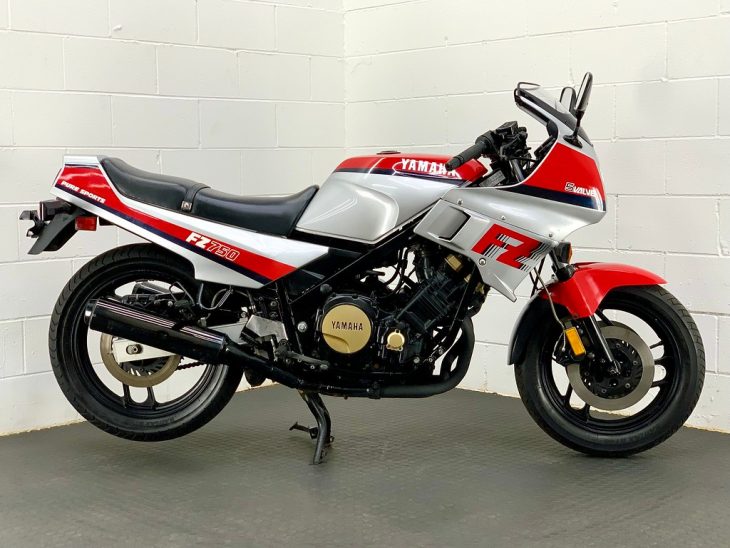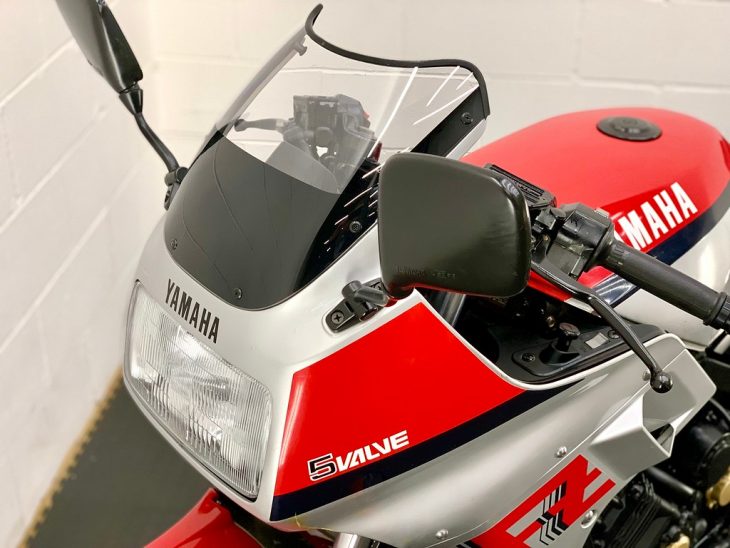 Just two owners is unusual for a 36 year-old machine, and 8,868 miles is rather low.  But time marches on, and finishes show some patina in the close-ups.  Still it appears stock, complete and without an major mishaps.  Even the black chrome four-into two exhaust has somehow made it through.  Notes from the eBay auction:
The cosmetic condition of this machine is just as it looks in the photos. Every finish on the machine is original. No part of the bike has been re-painted or re-finished. There are a few imperfections here and there, mostly from the first owner's long-term storage over the years, but it is a legitimate 8,800 original mile machine that runs like it's brand new. It is not a trailer queen, and it's not cosmetically perfect, but it's a bike that's perfect for taking out just about any time the weather allows and run it hard. The running condition of the machine is flawless, starting immediately. 

This Yamaha has had two owners during its life, the first owner and me. This bike has been part of my collection for a while and is now ridden on a regular basis. It runs and rides with absolutely no issues. 

Everything on this motorcycle is original, including the exhaust system, which was usually removed by now. The seat is also in original condition and is beautiful. 

The 750 runs and rides the way you expect a machine with this type of mileage to run. All of the mechanical components have been checked over to ensure they work properly including the clutch and brakes. The carbs were completely gone through this season and function perfectly, and there is a new battery installed. The Bridgestone Battlax tires currently installed have comparatively few miles on them, and have plenty of service life left, but they are not new, so if you plan on riding this machine hard, you might want to replace them.  There is absolutely nothing you will have to do to this motorcycle to ride and enjoy it this season.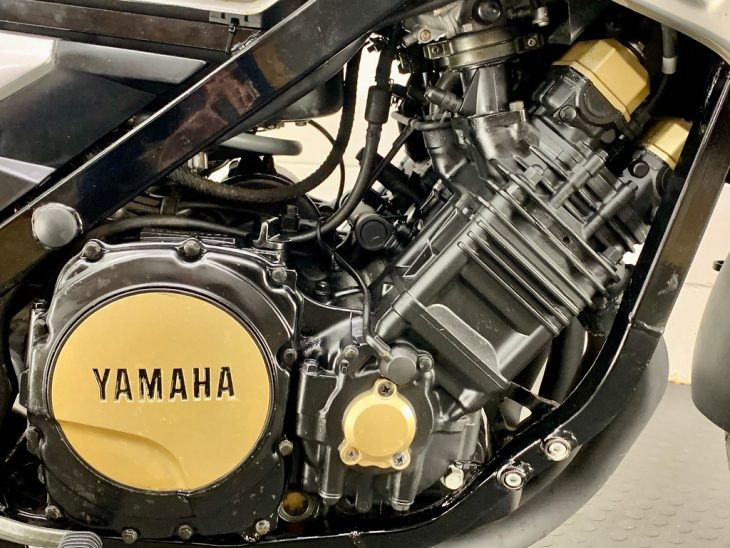 The FZ750 might not've been an unbridled success, but was up against GSXR competition and certainly proved the Genesis five valve concept.  As ever, Yamaha had the engineering chops but the style department stayed a little conservative.  Air forks were more sensitive to changes than many expected, though the forward riding position at least kept the rider in the loop.  Just a day into the auction, bidding is quite active and we'll check back to see when someone clears the reserve.
-donn