Update 8.17.2017: We have been notified that this exceptional bike sold in just 48hrs! Congratulations to buyer and seller! -dc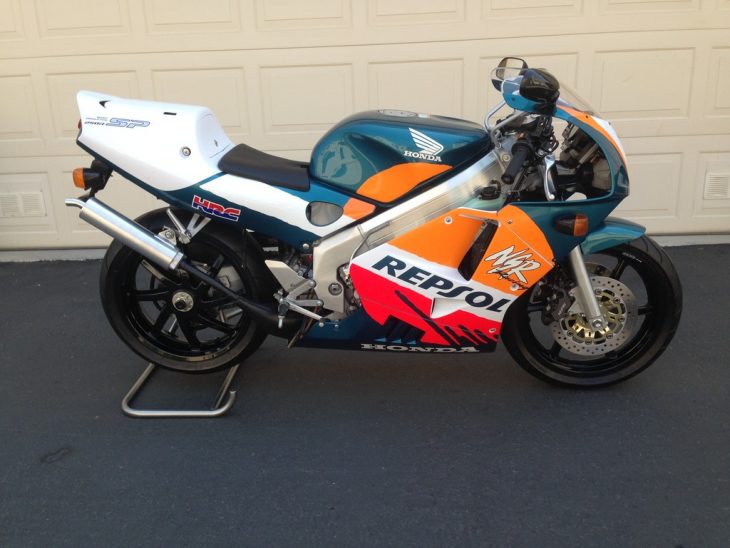 Rarely can I sit for a 90-slide show, slowly fading between pictures. But our featured listing for today caught me doing just that, savoring each close-up of this museum-quality 1996 Honda NSR 250 SP.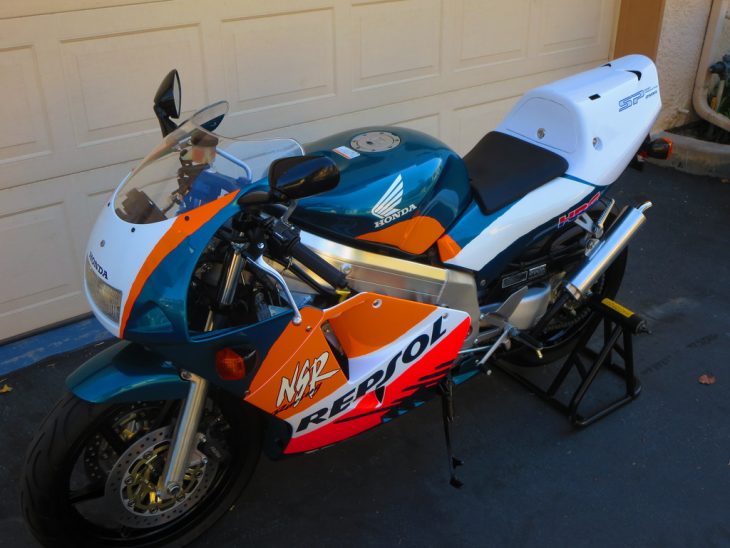 Too recent to be imported to the U.S., the 249cc twin was intended for the home market, and the Sport Production variant for knowledgable fans of Moto GP and the marque.  The 249cc twin was made from 1984 to 1996, the final three years with PGM-IV electronic control of ignition and exhaust valve timing, and top speed regulation.  All MC28's had 40 hp,  dual 276mm front brakes, 17-inch wheels and Pro-Arm rear.  The SP had fully adjustable suspension, dry clutch, and magnesium wheels.  And of course the Repsol livery in celebration of Mick Doohan's championships.
The second owner has cared for if not curated this NSR, with just 1,900 miles, it looks better than showroom.  Since 2006 he's ridden just a few miles, but arranged Califonia road registration, a great value for the next owner.  Click – here – for the Photobucket Gallery, and the seller has this  to say about the bike –
Much of the graphics are decals can become brittle or blemished over time, should they get scratched or scraped they can easily peel or become permanently marked.  The decades I have been an NSR enthusiast I can't recall a time I even heard of an MC28 in this condition for any price, with California registration on top of that.  With 1000 Repsol MC28's produced they were for the domestic Japanese market only, the majority spend their time exposed to the elements in Japan.

Seeking a serious collector who is specifically looking to add this model to his or her collection in an exclusive transaction.
1996 found Honda in the midst of a five-year romp in the Moto GP 500cc class, and had won the 250's in 1991-92 with Luca Cadalora aboard.  A lot of the 250cc Grand Prix learning was transferred to the MC28, and while there was plenty of competition, the Honda reviewed as the best balanced and had better build quality.
Most often I lament that special bikes are left on the dais for only visual enjoyment, but in this case preservation seems the best course. 
-donn