Dan would have to weigh in on how many bikes Gary has listed and sold on RSBFS, but suffice it to say the past year has been a great success.  Saving the best for last would be a debatable and bittersweet claim, maybe there's another container of gray-market wonders back there ?  Better to relish the KR-1 presented here.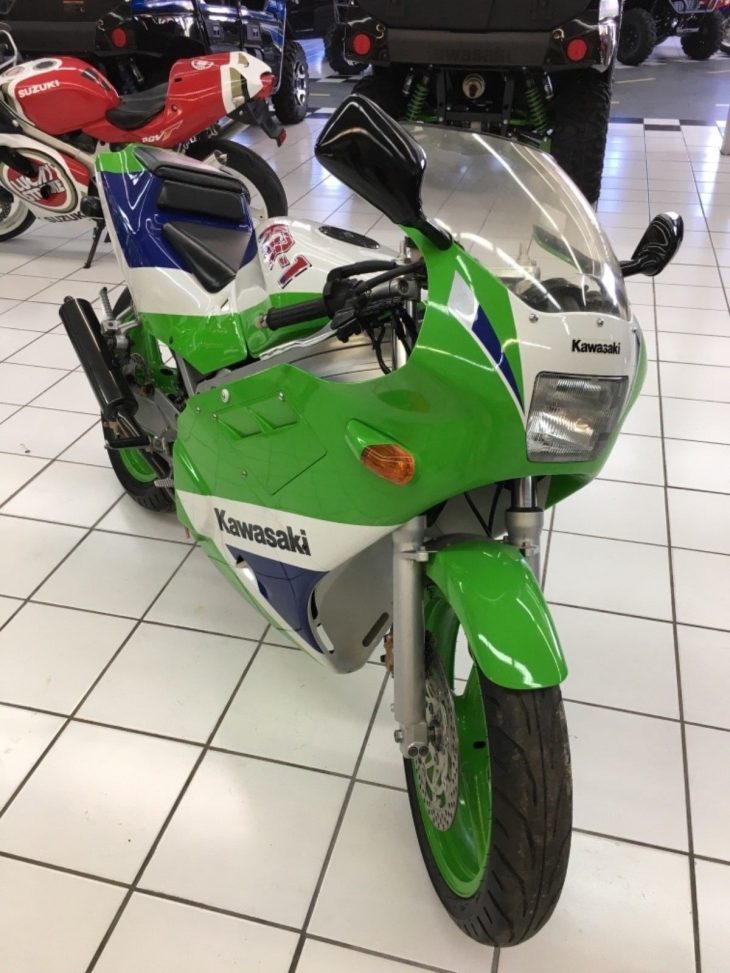 Not actually derived from or intended to be a race bike, the KR-1 had a meteoric rise and quick retirement just a few years later.  The parallel twin pushed 55 hp, but peaky like no one's business, making power just between 6,000 and 11,000 RPM.  Never offered stateside, it thrilled young riders in the U.K. and the Pacific rim, and has only occasionally found its way here.  The super-light under 300 lbs. machine was over-equipped with dual disks, adjustable suspension, and 17-inch front / 18-inch rear wheels.
Gary has made presentation of gray market specials look easy, but this one is different.  Rather than doll up someone else's issues, this KR-1 was brought over restored, low miles, just about perfect.  As always, it's ready to run with legal title and registration.  His comments from the eBay auction:
Up for sale is a 1988 Kawasaki KR-1 with only 20,640 kilometers (12,825 miles). Bike is in mint condition. The collector whom I purchased it from in Japan did a full frame up restoration. Complete engine, front forks, front and rear brakes, drive train, rear suspension, custom paint restoration. I don't normally buy bikes like this but when I saw that no expense was spared to make this bike look and run new, I just had to have it. Bike looks gorgeous and is in mint condition. There are only a few very light scratches and handling marks. All fairings and components are 100% Genuine OEM Kawasaki factory. All replacement parts used in the restoration were genuine OEM parts. Bike is completely stock. Bike runs like new. Comes with new battery and new engine fluids.


I've saved the best for last. The last is here.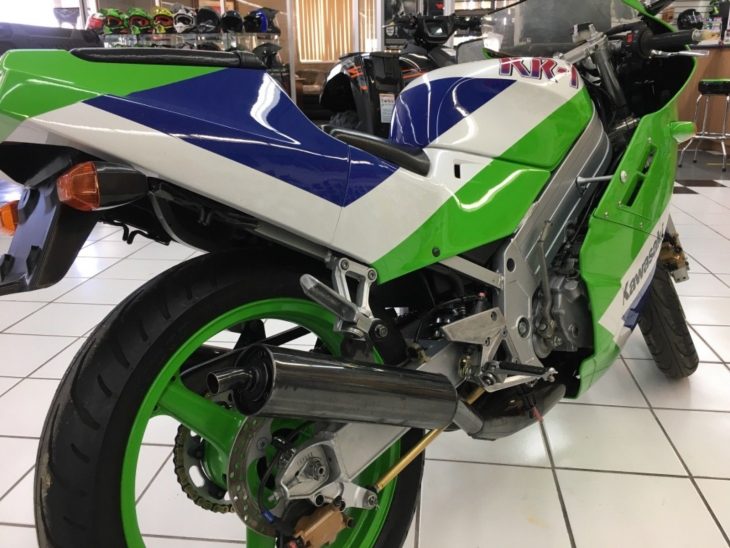 Kawasaki saw the writing on the wall early and focused on four-strokes for 1993.  But the power delivery, quick steering, and riding position of the KR-1 are legend.  Hopefully an adult rider can keep it out of the tank slappers it destined novice riders to experience.  In a era where a successful design could be considered 100 machines ( Buell or Bimota ), or a thousand ( Ducati or Moto Guzzi ), Kawasaki saw the future on the other side of 10,000 KR-1's.  But for a fan of the green and white, there was never such a lightweight.
-donn