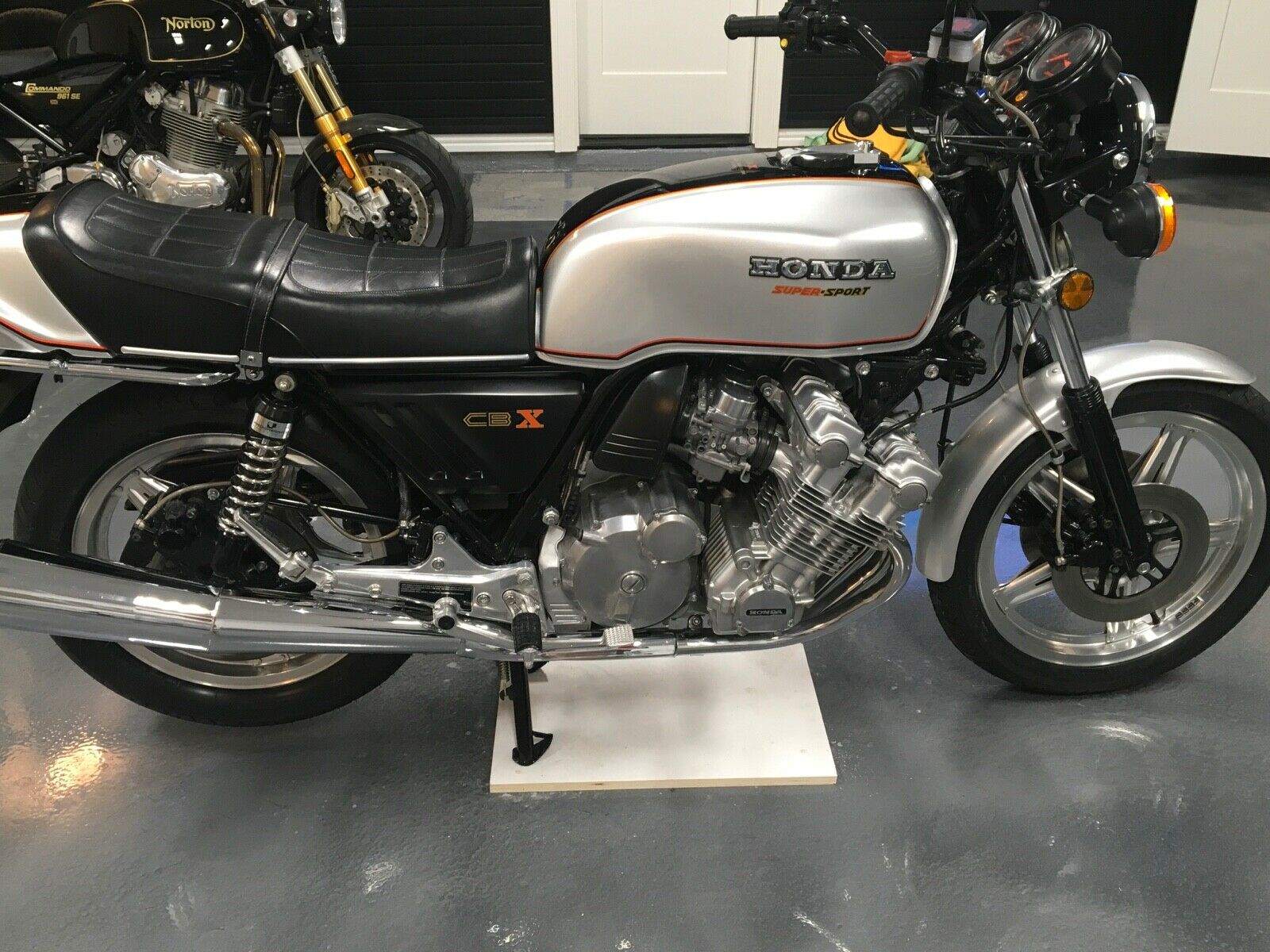 The mighty CBX is one of those bikes that don't really make a lot of sense to some riders. While a liter bike in size, that size is really the problem. Rather than a twin or even a four-banger, the CBX is a bona fide six lanes wide when viewed from the front. A wild and strong statement by Honda when it was released, there is much about the CBX that is stuff of legends. This was the cusp of the 1980s, and Honda was firing a shot across all bows; they had engineering and technology and were not afraid to use it.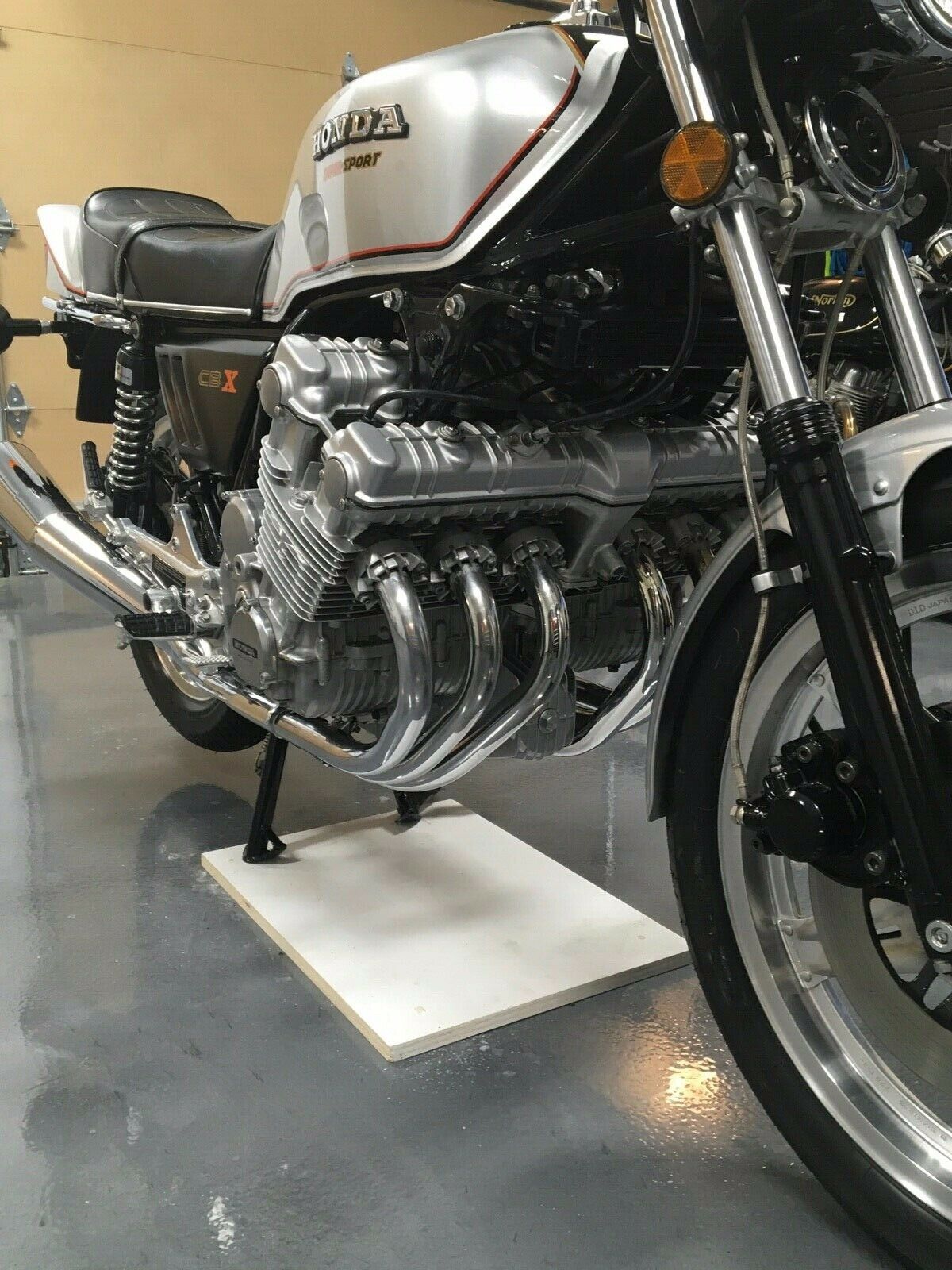 Italian firm Benelli created the first factory inline six cylinder motorcycle, but Honda upped the tech ante and mass produced it. Starting in 1978, the early models were six-banger versions of the bikes of the time: standards. Today the standard is known by the more evocative alias of naked, but that is only because after the discovery of ABS plastic nearly every motorcycle since has been a molded canvas of one stylist or another. I'm not discounting the aerodynamic (or aesthetic) benefits of bodywork, but bikes like this CBX provide that hanging it all out where it can be seen really makes a lasting impression.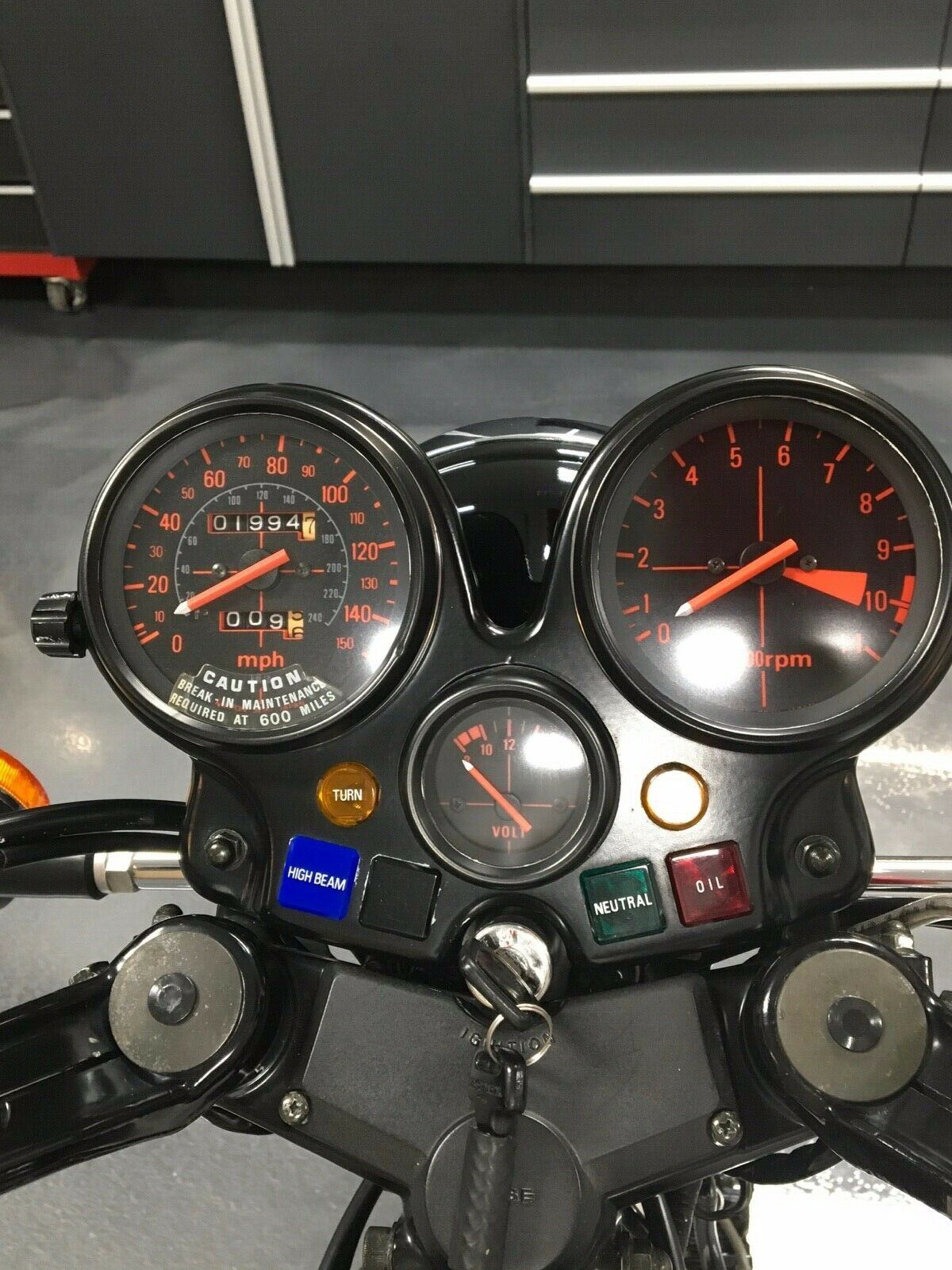 From the seller:
Beautiful and very clean 1979 Honda in Pegasus Silver with 2,075 miles since restoration. Please note, true mileage before complete restoration is unknown. Starts very easily and runs strong. Everything is ready to go riding or to be a great collectors piece.

Very reasonable reserve. Here is what is known about the bike.

I had been seeking a 100% stock and complete 1979 CBX in Silver for many years to add to my collection of 12 bikes. (Wife calls it a disease.)
Bike was owned by a gentlemen in Florida who passed away around 2010. Bike had a complete nut and bolt restoration completed by Tim's CBX International in Georgia. (Verified by Bill @ Tim's). Tim's early restorations, when OEM Honda parts were more readily available, are regarded by many as the best CBX restorations to be found. The paint work is fantastic. Chrome is bright.
Spouse eventually sold the bike to Louis Mintrone, distributor of CBX parts in Florida in 2017. I purchased this Bike from Louis Mintrone in 2017.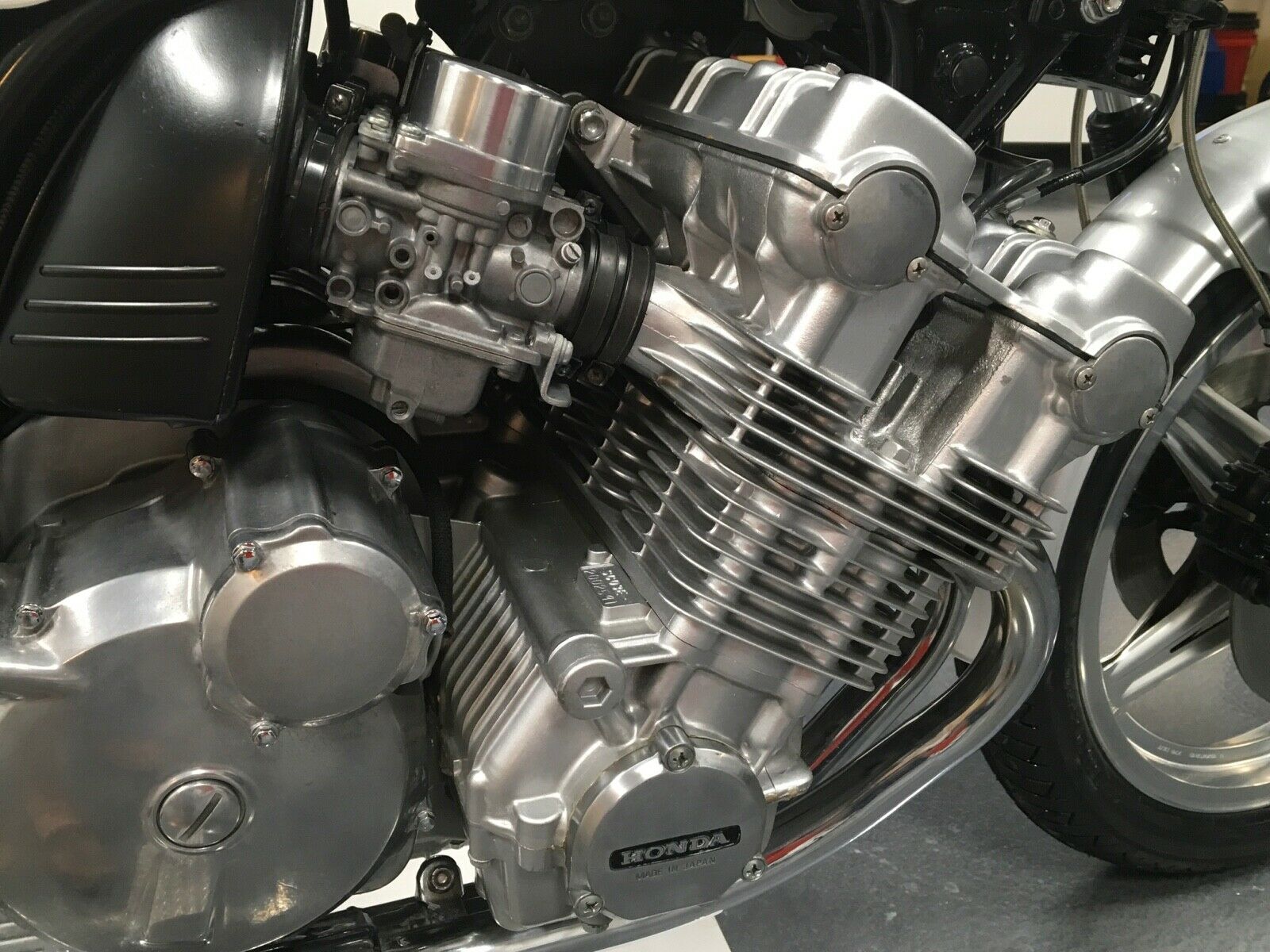 More from the seller:
I shipped the bike to Preston Marks of CBX Motorworks. Although the bike had very few miles since restoration, I had Preston go completely through the bike again as it had set for awhile. Carburetors were Flushed, Rebuilt and Sync'ed. All fluids including brake fluids were flushed. Amsoil motor oil and brake fluids were used. Many rubber intake boots, seals and gaskets were replaced. New Battery installed. New Swing arm bushings were installed. New Bridgestone Battlax tires, in the correct size were mounted and balanced.
Bike is in stock conditions with a few small exceptions. Brake lines are braided Stainless steel instead of the stock rubber hoses. Brake lines are better than Stock so I kept them. Dyna coils and electronic ignition were installed during the restoration to eliminate the weak stock coils and ignition points. Progressive Shocks are installed in the rear for better handling. I have the original OEM shocks (see photograph) that is included with the sale.

I located a reproduction owners manual and a stock tool kit that is included. The tool kit is complete with the exception of the OEM Shock spanner wrench is missing.

Issues that are know are very , very minor. The right side exhaust muffler has some minor rust "pin holes" on the very bottom of the exhaust collector. Very minor but it is there for full disclosure. (see Photo). Left side muffler is solid. Also a small fin, under the motor and next to the drain plug is chipped. (see Photo) Very minor but again, full disclosure. That is everything known. Bike is available for preview.

Sold with a clean Texas title. Title mileage is marked "EXEMPT" as is standard in Texas for vehicle of this age and again, mileage before restoration is unknown. Since the bike has been in my collection, it has been stored in a climate controlled garage, under a cover with a Battery tender.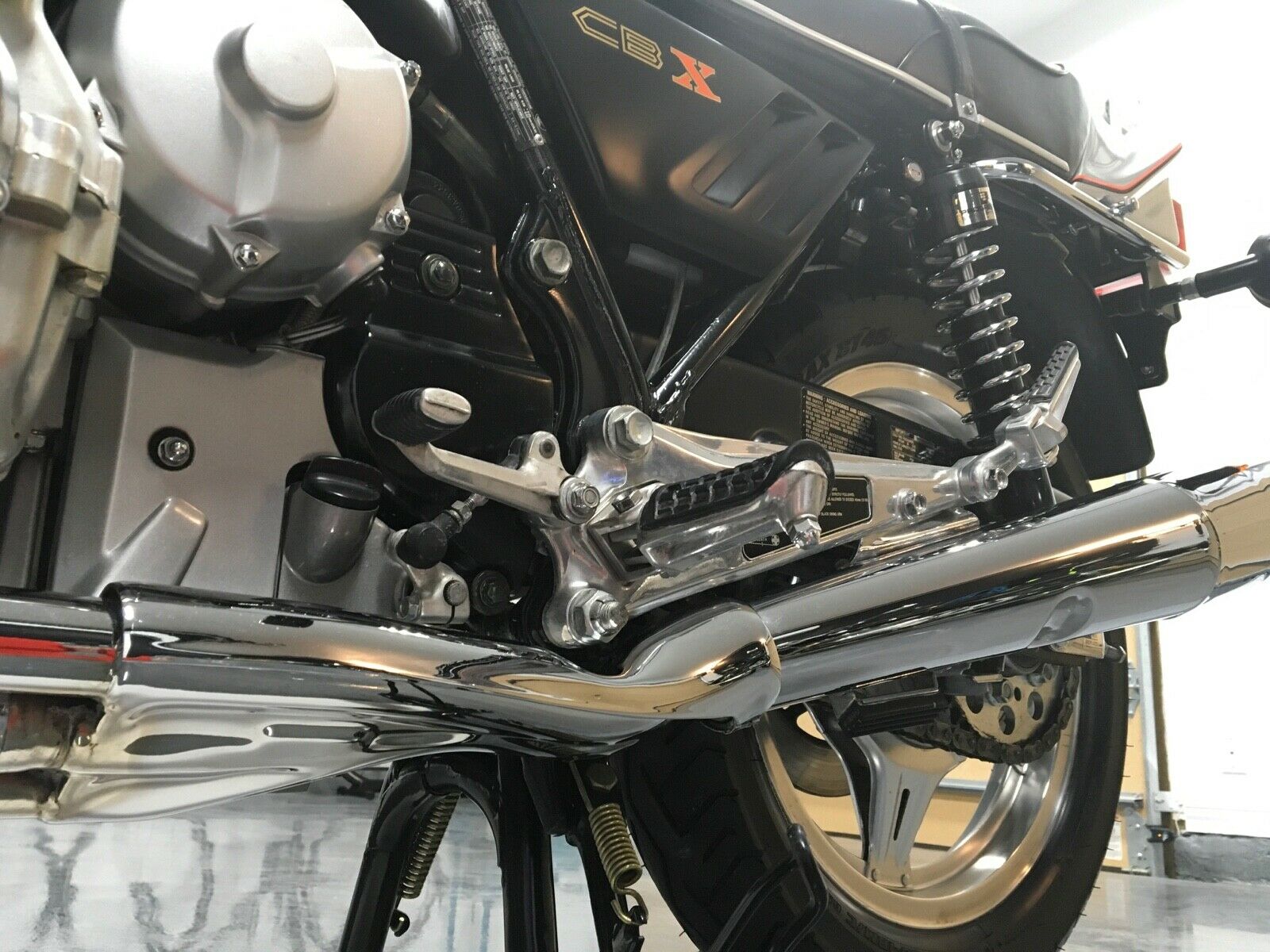 More from the seller:
I am selling the CBX because after many years of enjoyment, I am selling my entire collection of 12 motorcycles. This bike is the next to last to be sold. This CBX and my Norton Commando are the last 2 bikes to be offered for sale. It is time for someone else to enjoy.
The bike is located in a Northern Suburb of Dallas. Should you want more information, message me with your phone number or email address and I will get back to you.

Shipping is the responsibility of the buyer. As I have done my best to describe this beautiful bike, it is 40 years old so no warranties. Upon pick up of the bike, if it is not as described, I will refund all deposits.
The CBX is old enough to have a loyal following of riders and collectors who get it. And prices for these mammoth machines proves it. Prices are regularly in the teens for well-preserved or restored examples, and today's specimen has been gone through not once but twice! The forecast for CBX models continues to remain strong. They may not appreciate in value as quickly as certain homologation machines but with great examples (and parts!) becoming a bit more rare you will find that good examples will always find a home in the market. This is a long-term buy if you're looking to flip, but an awesome showcase and an interesting, classic rider. The advert claims only 2,000 miles on the restoration, but total mileage unknown. As always, RSBFS recommends you do your homework and ask questions. But there is no doubt that this example is clean, clean clean. Check it out here as there are only a few more days left to go. Bidding has been moderate, and there is still a reserve in place. Good luck!!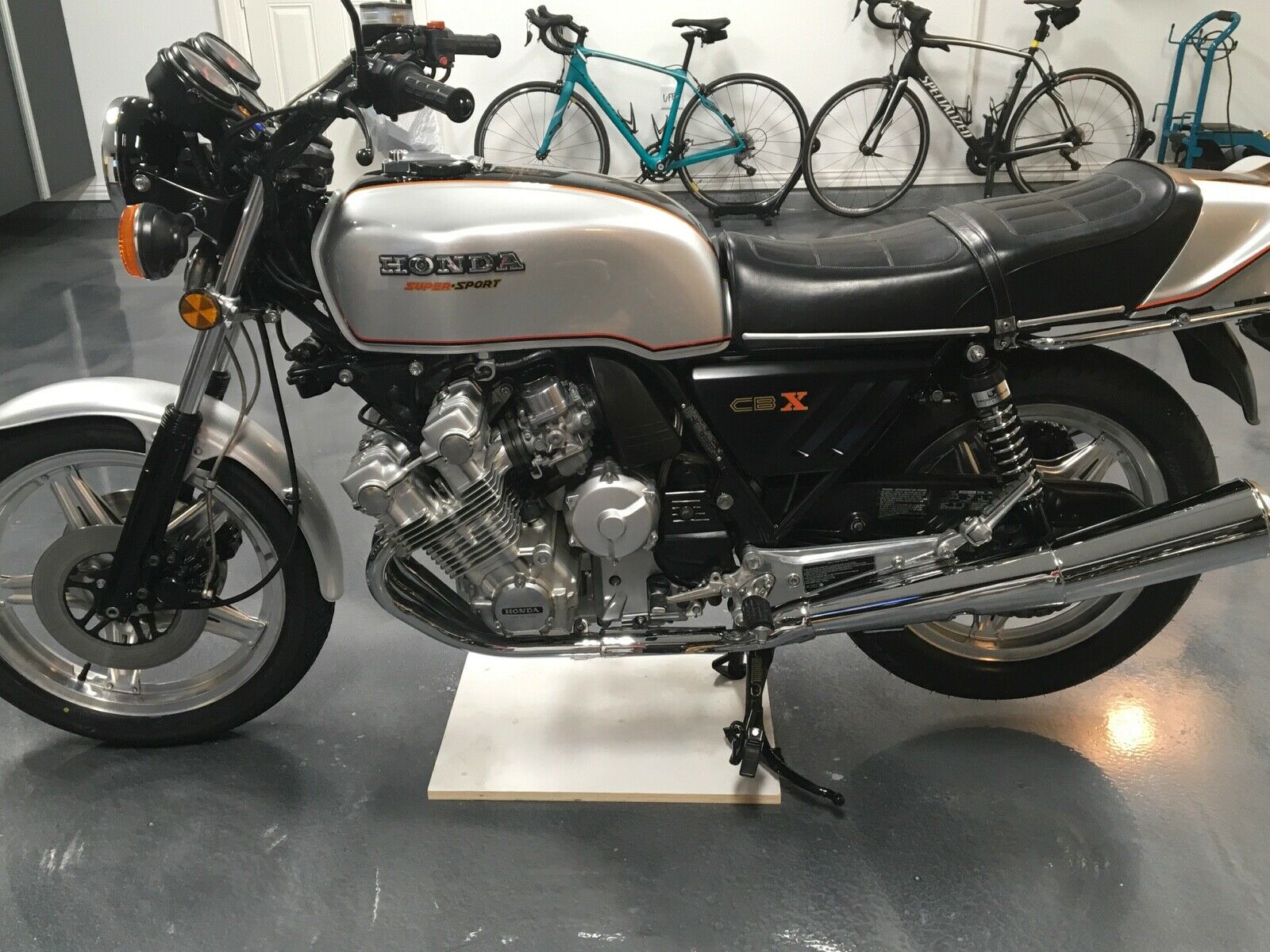 MI