This Featured Listing is part of the The Bob Benyo Collection. Thank you for supporting the site, Bob! -dc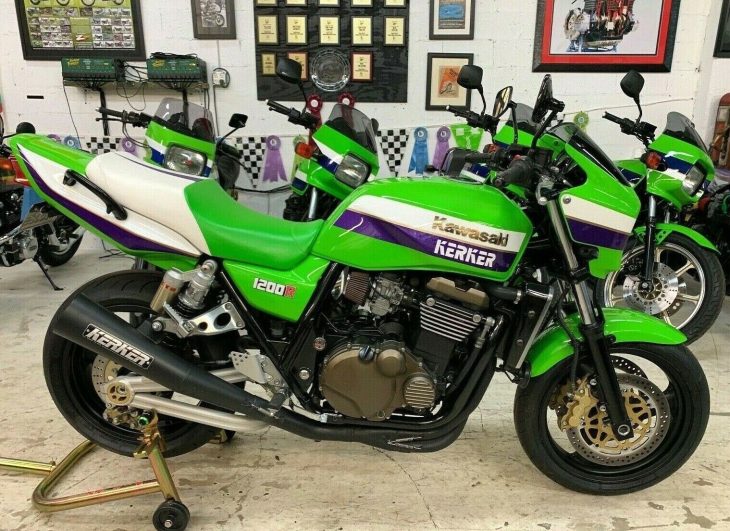 This 2002 Kawasaki ZRX1200R is the perfect example of what is possible from Kawi's early aughts muscle bike with a little attention and imagination. Our buddy Bob and his shop took a lot of time and care to modify the bike to give you the look of an Eddie Lawson Replica with the dynamics and handling of a modern sportbike. With a 4-1 Kerker, custom paint and custom upholstery, the bike looks nicer than any other ZRX we have seen.
Bob and his guys made the wise choice to leave the motor more or less alone, except for a jet kit and pod filters. That was a wise choice, as ZRXs will do multiple times the speed limit without even breathing hard. Leave from a light on a ZRX without keeping an eye on the speedo, and you'll find yourself settling in to a nice fourth gear cruise at 80. In a 35. With the Kerker on board, everyone will know you're coming long before the lime-green livery catches their eyes.
I'm going to let Bob run you down the particulars of this gorgeous ZRX.
From the eBay listing:
2002 KAWASAKI ZRX 1200R WORK OF ART, LOW ORIGINAL MILES, COMING OUT MY PRIVATE COLLECTION IN A STUNNING CUSTOM EDDIE LAWSON SUPERBIKE REPLICA THEME. NO EXPENSE WAS SPARED IN CREATING WHAT I BELIEVE TO BE THE BEST BIKE KAWASAKI EVER BUILT!

IF YOU HAVE NEVER RIDEN A ZRX 1100/1200 YOU NEED TO! I LOVE THE VINTAGE KAWASAKI AND SUZUKI'S FROM THE 70'S AND 80'S BUT LETS BE HONEST THEY DON'T EXACLY RIDE AND STOP LIKE WE ALL WISHED THEY DID. SO HERE YOU GET IT ALL, THE AWSOME LOOKS AND STYLING OF A EDDIE LAWSON SUPERBIKE REPLICA WITH THE COMFORT AND HANDLING OF A MODERN SUPERBIKE.

THIS BIKE WAS A LABOR OF LOVE TO BUILD IT INTO THE STUNNING EYE CATCHING AWARD WINNING JEWEL. I AM BUILDING 2 MORE RIGHT NOW, AND IF YOU ARE LOOKING FOR SOMETHING A BIT DIFFERENT THEN THIS ONE LET ME KNOW.

I HAVE THE OEM EXHAUST, THE AIRBOX FENDER AND TURN SIGNALS. THE BIKE COMES WITH THE TOOL KIT, OWNERS MANUAL, AND 2 KEYS.

THE FRAME:

THE FRAME IS ALL ORIGINAL NEVER PAINTED, DAMAGED, AND NEVER DROPPED. THE BODY WORK WAS METICULOUSLY REPAINTED BY MY SHOP GLOBE MOTORCYCLES LIMITED THANK YOU PHIL FOR CREATING A WORK OF ART. USING ONLY PPG PRODUCTS THE EDDIE LAWSON GREEN HAS BEEN MATCHED PERFECTLY, THE PURPLE IS EXACT TO THE ORIGINAL USED ON THE 2002 UGLY GREEN/PURPLE ZRX. THE STRIPES HAVE BEEN ALL PAINTED ON, NO DECALS EXCEPT THE SUPERBIKE DECAL ON THE TOP OF THE TANK. THE WHITE KERKER IS REVERSE STENCIL AND THE GOLD STRIPE WAS ALSO PAINTED ON. A NEW WINDSHIELD AND MOUNTING HARDWARE WAS USED. NEW KAWASAKI TANK EMBEMS INSTALLED. THIS CUSTOM PAINT JOB WOULD COST YOU OVER $3500.

CUSTOM MADE THE SEAT TO MATCH THE BODY WORK, (YES WE DO THAT TOO). WITH A CUSTOM REAR FENDER AND MINI TURN SIGNALS SHE LOOKS AS FAST AS SHE IS.

THE CHAIN WAS UPGRADED TO A GOLD FINSH RENTHAL 530 R-4 AND A CUSTOM PAINTED GOLD 44 TOOTH (BIGGER THEN STOCK) REAR SPROCKET (YES A WHEELIE MACHINE).

NEW AVON AV80 3-D ULTRA TIRES 190/55 AND 120/70 WERE MOUNTED AND BALANCED ON THE BLEMISH FREE WHEELS. NEW EBC BRAKE PADS FRONT AND REAR WITH FRESH FLUID. BLACK AND GREEN SPOOL/SLIDERS INSTALLED.

THE GRIPS, LEVERS, GUAGES,MIRRORS, CONTROLS, HANDLE BARS, AND MASTER CYLINDERS ARE ALL NEW OR NEW LOOKING. THIS IS A SHOW BIKE YOU CAN RIDE AND BE PROUD OF.

THE KERKER EXHAUST IS NEW AND HAS A CUSTOM MADE COMPETITION BAFFLE AND SOUNDS LIKE THE BIKES DID BACK IN THE 1980'S THIS IS A MODERN EDDIE LAWSON REPLICA A TRUE SUPERBIKE.

THE ENGINE:

WITH ONLY 3000 MILES WHEN I GOT HER IT DIDNT NEED ANYTHING BUT I HAD TO PLAY.

I INSTALLED A HEAVY DUTY CLUTCH ASSEMBLY FOR BETTER TAKE OFFS.

THE CARBURETORS WERE ULTRASONICALLY CLEANED AND RE-JETTED TO PERFECTION WITH THE HELP OF A DYNO-JET STAGE III KIT.

K&N OVAL POD FILTERS WERE INSTALLED ALONG WITH A K&N CRANKCASE BREATHER. THE VALVE COVER BREATHER IS BLOCKED OFF. A 4* IGNITION ADVANCER IS INSTALLED.

DON'T MISS OUT ON A BIKE YOU WILL LOVE TO RIDE.

I WILL INCLUDE A BRAND NEW SHOEI X-14 TC-4 WITH THE BIKE

THIS IS A BIKE YOU WILL DISPLAY PROUDLY AND RIDE WAY AHEAD OF THE PACK. IT IS THE BEST LOOKING ZRX I HAVE EVER SEEN. I HAVE BEEN RIDING, RACING, BUILDING, REPAIRING, AND COLLECTING RARE BIKES (SEE MY OTHER LISTINGS) SINCE GRADUATING FROM AMERICAN MOTORCYCLE INSTITUTE (AMI) IN DAYTONA BEACH FL IN 1980. PLEASE LOOK AT SOME OF MY OTHER LISTINGS TO SEE THE AMAZING RESTORATION AND CUSTOM WORK MY GUYS AND I DO. THIS IS MY HOBBY I TAKE PRIDE IN EVERY BIKE AND ONLY SELL A FEW PER YEAR.

LETS KEEP E-BAY A GREAT PLACE TO BUY AND SELL. PLEASE ONLY BID IF YOU PLAN ON BUYING THE BIKE. CALL ME WITH ANY QUESTIONS BOB 954-816-0806.

I CAN HELP ARRANGE SHIPPING AND CAN STORE THE BIKE IF NEEDED.

$500 DEPOSIT WITHIN 24 HRS AND THE BALANCE IN CASH OR BANK WIRE
For way less than the cost of an original ELR, this thing will give you the right look and the modern riding experience to match. If you're into big bruisers, this thing is not to be missed.