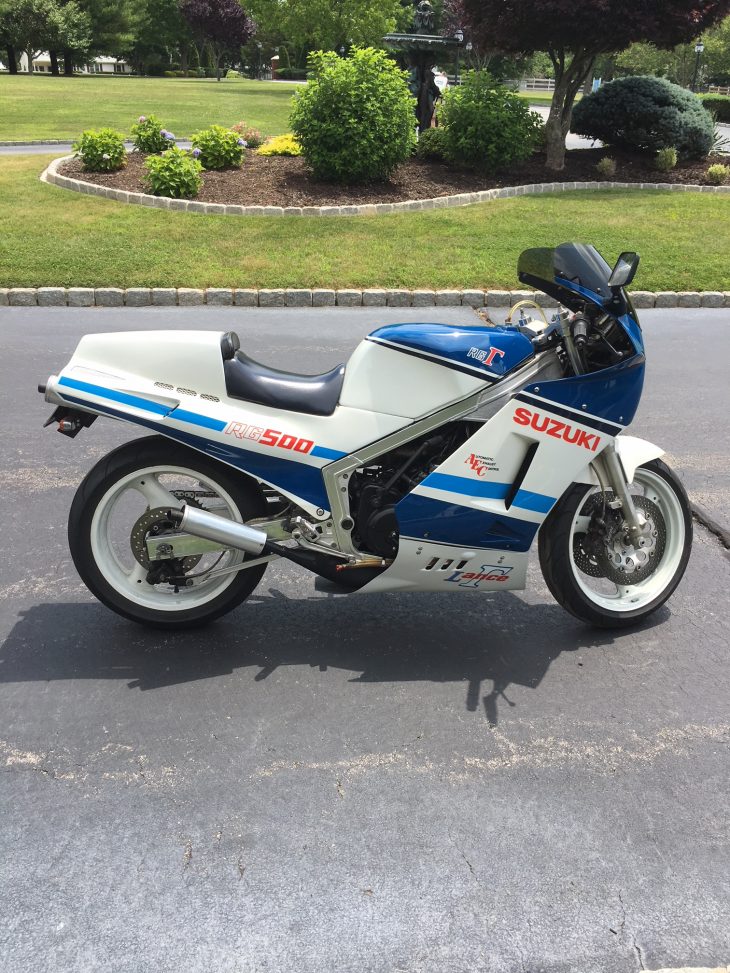 The issue with a lot of the little two-stroke terrors that we feature is that they're rare and often in museum-quality condition; original down to the pre-mix molecules. Not only is riding around on 20-year-old Dunlops a shame for a bike's originality, it's a pretty much guaranteed emergency room visit. So, too often the compulsion is to let a low-mile piece of history keep its odometer on the skinny end and tell tall tales with your friends.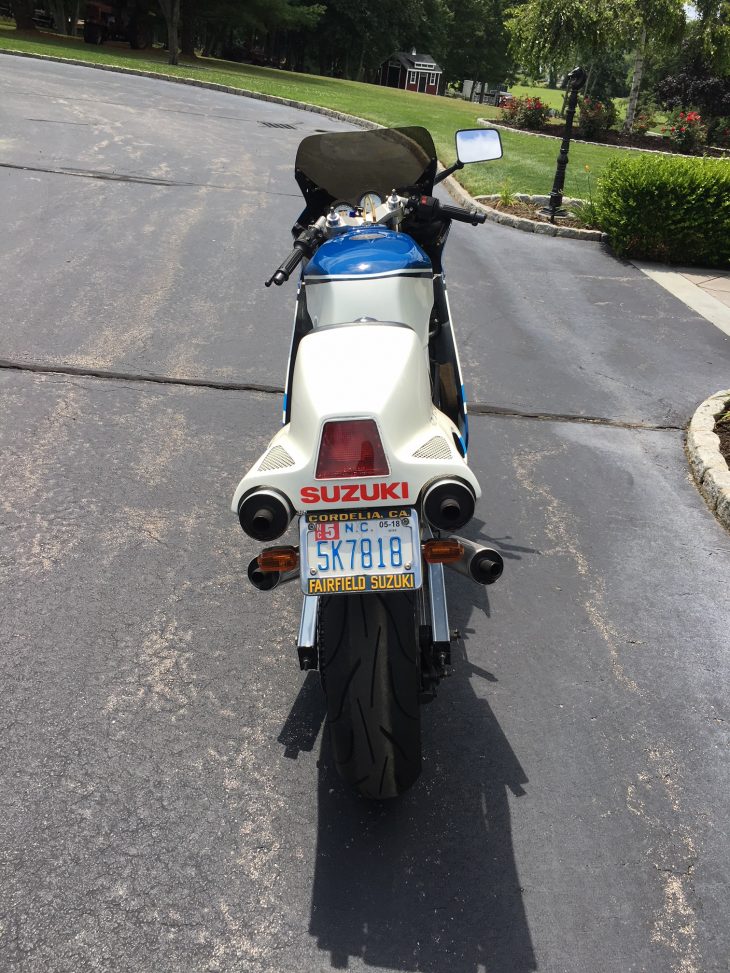 This 1986 Suzuki RG500 has solved the conundrum for you. Odd-sized original wheels with limited modern rubber options? Gone. Horrifying 1980s brakes? Replaced with much less puckery hardware. Primitive front and rear suspension? Jettisoned in favor of springs and shocks that don't wet noodle when things get twisty. But it retains the soul and the guts and the intent that it rolled out of Hamamatsu with.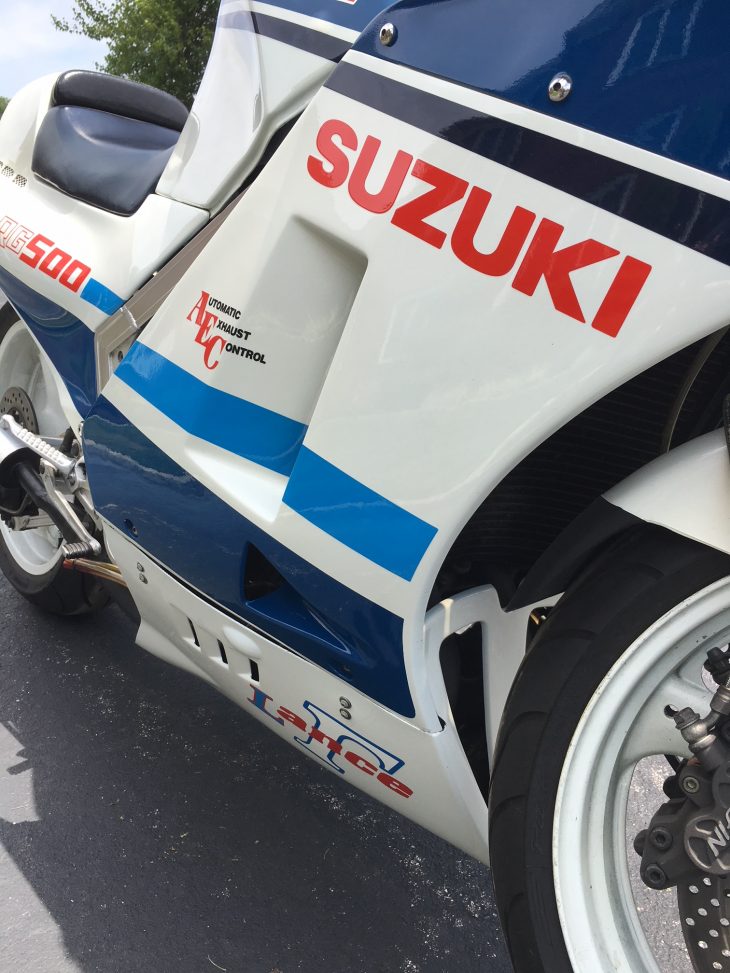 From the eBay listing:
This RG500 bike is a Canadian import, titled and registered in USA. Motor has been rebuild and tuned by the Gamma guru Rick Lance. It is on first over bore and rebuild with OEM Suzuki spares at no-expense spared. List of upgrades include bored out carbs, tripod LG air-filters with upgraded jets and larger radiator from GSXR. Bike also has LG clutch upgrade, Fox-shocks as the rear suspension with LG ride height strut, 3 and 4.5in wheels with new rubber front and rear respectively. The bike has all braided lines with front brakes upgraded and suspension rebuild with RaceTech springs. Finally its has the famous Tommy Crawford pipes and LanceGamma fiberglass bodywork with beautiful paint.
There are small cracks in the solo seat cowl but can be easily fixed as the bodywork is fiberglass.

Collectors looking for all original bike please move on, this Gamma is built to be ridden with all the period correct mods.

Bike sold as is. No warranty.

Please contact Tom with all inquires and questions. 401-578-3338.

Thank you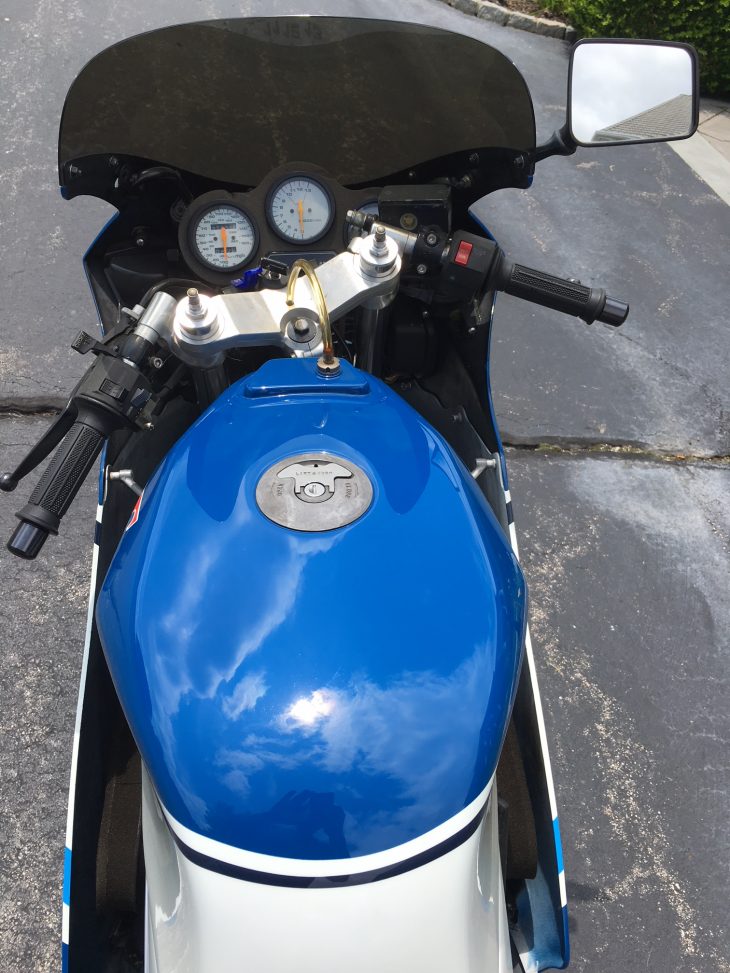 The motor rebuild was done by RG500 guru Rick Lance, and the bike is adorned with a raft of LanceGamma mods and parts, which takes the sting out of the asking price somewhat. This is also something of a unicorn: a bike with the fire of a 500cc two stroke and the handling of a sweetheart modern sportbike.