Update 2.17.2021: This bike was relisted in late July and we've just learned it has SOLD to an RSBFS reader. Congratulations to buyer and seller! -dc
From the mid-1980s through the late 1990s, superbike development burst forth hot and heavy from the engineers behind the big three Japanese brands, with each redesigned or all-new bike of the time period resetting the genre's limits and possibilities. Tadao Baba's Honda CBR900RR is perhaps the best exemplar of that trend, as it re-wrote record books as it changed what it meant to be a near-liter capacity bike.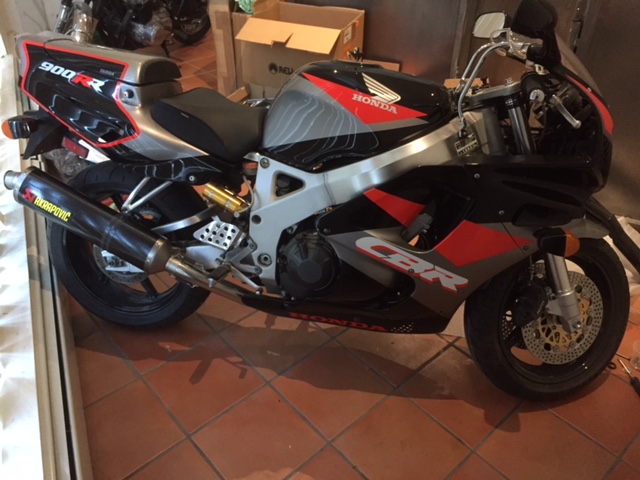 Up until the Fireblade's release in 1992, any capacity over 750cc meant you were getting into porky waistlines and putting a priority on out and out speed over accurate handling. But riding on a 600-sized chassis with 16-inch wheels to quicken turn-in, the 110-horsepower, 450-pound CBR900RR was from another plane. It undercut the Yamaha FZR1000 on the scales by 34 pounds.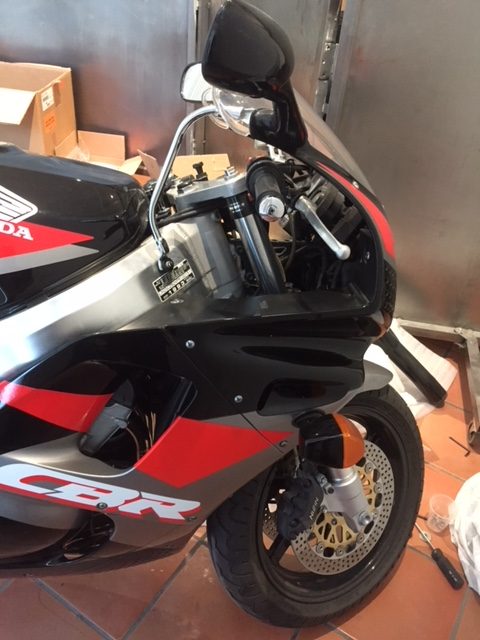 This 1993 Honda CBR900RR is in immaculate shape, with a bunch of tasty modifications to increase style, function and comfort, and a raft of NOS parts to aid maintenance. We love the red-black-silver livery, which is a nice break from the ubiquitous HRC red-white-blue paint scheme that was splashed across every magazine test of the time.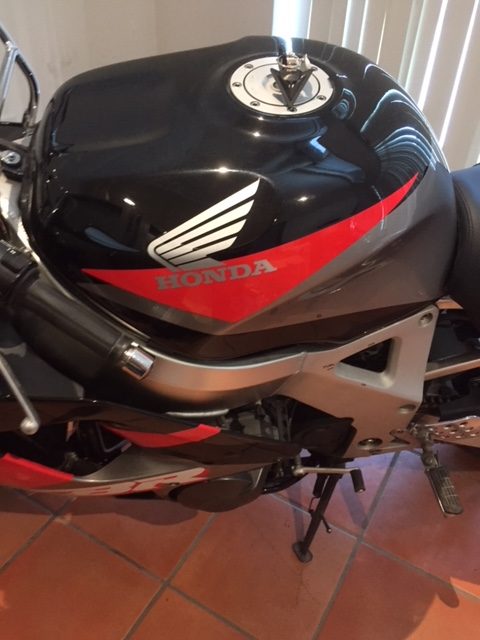 From the seller:
1993 Honda CBR900rr, complete stock bike minus original exhaust but has many period-correct parts to make up for that.
Aftermarket parts:
Full Akrapovic Exhaust System
Heli Bar clip ons
Race Tech front springs
Ohlins rear shock
Brand new Sargent seat
Targa solo seat cowl
original seat, rear seat, clip ons and front springs come with bike
has original 37,700 km which is 23,425 miles
only 2 owners since new, never in rain, no accidents , uncut rear fender, and original
turn signals
I have some many parts some of which include, extra gas tank top end, extra forks,clutch plates, wiring harness, pistons, NOS new zero gravity tinted windshield, NOS lockhart tank bra and a few more items that could be included for a few extra bucks.
Has been stored in a climate controlled environment for last 5 years and not ridden, fresh gas and oil was put in this week and she fired right up. Will need a rad flush and brake fluid flush as it hasn't been on the road for five years.
Looking for $8,000 USD
Bike is located in Vancouver, Canada and I can assist with shipping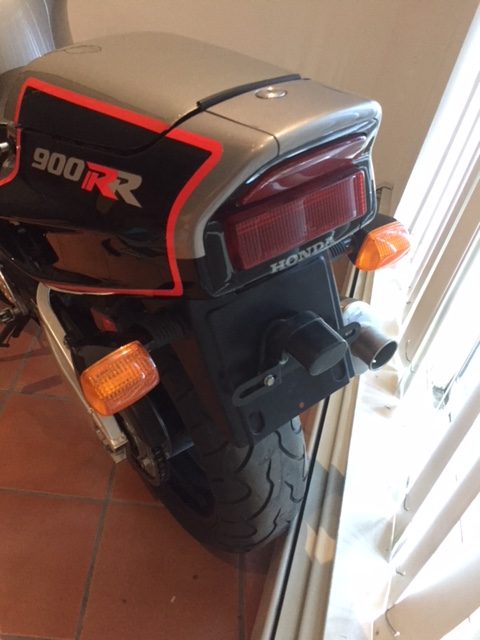 These days, every literbike is pretty close chassis-wise to its 600cc brandmates, but when this bike dropped that was a revelation. Thanks to their reputation for speed and their legendary status, early, well-kept CBR900RRs will only get more valuable.