If yesterday's OW-02 didn't appeal, perhaps today's OW-01 FZR750R will! Originally featured in our Seattle Homologation listing, this rare example is now available on eBay.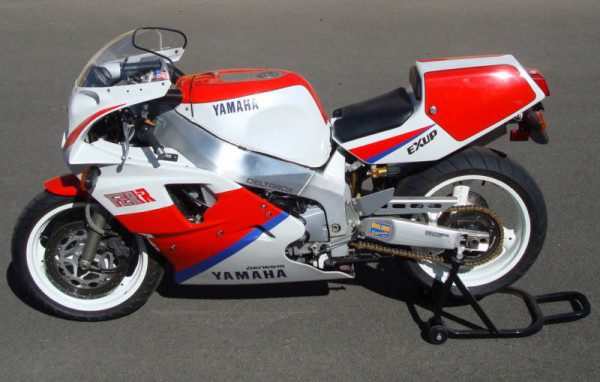 Seller's description from the listing:
All original and in excellent condition with reasonably low mileage.

Shown with YEC Kit exhaust canister but will have with original Yamaha exhaust muffler in place at time of sale as the original has been wrapped up and boxed for safe keeping.

For those true enthusiasts and collectors out there, you'll already know the history and how rare the 0W01 is here in the United States.

Reportedly, there were less than 30 of these machines Stateside when Yamaha imported them back in '89-'90 and supplied the AMA Superbike team with theirs to race.

Most became race bikes -so the number of original condition machines that were never raced remains VERY low.
I've only seen two of these in my life: In the mid-90's, there was an OW-01 at Beaverton Yamaha. The other was at the Barber Museum and here's my photo:
Good luck to the seller and to all interested parties: bid high, big often!
dc