Location: Scottsdale, Arizona
Mileage: 35,897
Price: Auction, $6,000 BIN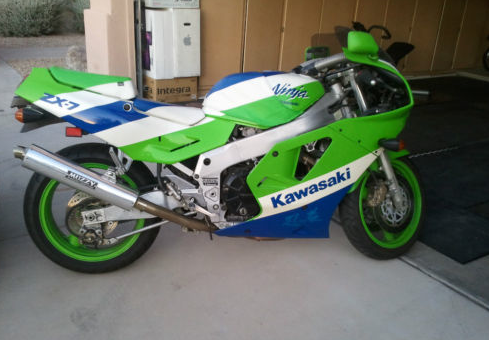 Many a ZX-7 is featured here at RSBFS and usually the bike featured in the homologation special ZX-7R, a bike Kawasaki built for racing that featured special items like flat side carbs, hotter cams, and an aluminum gas tank. Very cool stuff indeed but also notorious for difficult tuning for street riding. For those folks who couldn't afford the hot rod version or even didn't want the extras (hard to imagine), there was the ZX-7. All the killer looks, still solid performance, but a little more rider friendly.
Here's some more pictures of this one-
The seller's brief information is here-
Here it is!!

The Mother of all 750 Super bikes!! 

The One that started it all!! 

VERY VERY VERY RARE!!!!!!

A prime example of a Great condition, Garage kept 1990

Ninja. Never ridden but started weekly. Sounds great. Not to be disappointed.

All original fairings, tank and seat. Light scratching fairing but no cracks.

Muzzy Exhaust, tank bra, extra seat with stock rear seat cowl, front fender, vent hoses, green wind screen, 2nd Look tank bra

Should be serviced before ridding.

Liquidating my vintage Super Bike collection. Checkout my 1986 Suzuki GSX-R 1100 and 1986 Honda VFR 1000R

Buy all three for a instant collection

Feel Free to call with any questions. Will help arrange shipping if needed.

$500 deposit required upon purchase
This bike has some replaced parts, including a fairly common Muzzy aftermarket exhaust. The seller also describes some scratches on the fairing that aren't highlighted in the photos so getting some up close shots would be good. The bike has been sitting, and although being started frequently, probably need some work to get back into riding shape as the seller states. It's also sporting about 36,000 miles, which is quite a bit.
So taking all of that into consideration, the seller is asking $6,000 BIN. That seems high for this bike, more of what you would expect for the R or RR versions. Something closer to $4k would more in line with the standard ZX-7.
So there you have it. These are cool bikes and maybe the seller will entertain offers. If you like the looks and rider friendly nature of the ZX-7, then by all means, give this bike a look.
-RN