The 1989 Suzuki GSX-R1100 earned a hairy reputation on their debut, as frame revisions or dodgy factory suspension meant their handling wasn't what people had come to expect from the GSX-Rs, which even that early in their run had earned a sterling reputation. The handling was enough to scare some people away, but those who bit the bullet were rewarded with Suzuki's gem 1127 cc air-oil cooled inline four.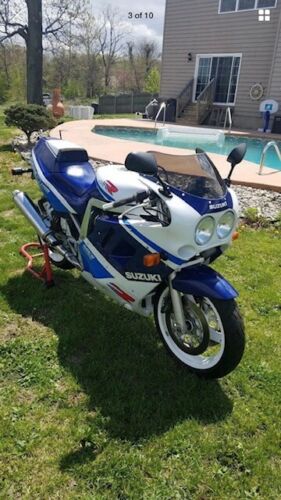 Despite a fatality at the 1989 Isle of Man TT that caused organizers to ban big bikes for a few years, the big Gixxer made a huge impression on street bikers and drag racers alike. Even with modern tech and the likes of the Hayabusa floating around, the appearance of the twin-headlights strikes fear into straightline guys on lesser machines. With 122 horsepower stock and a very tunable platform, the engine made lots of friends very quickly.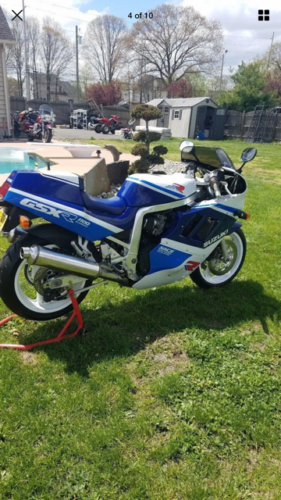 This tri-color 1989 Suzuki GSX-R1100 has been in storage for the last little while, but had excellent compression numbers and looks like it was very well maintained over its 21,000 miles. It has avoided being hacked up, painted garish colors, slapped with an extended swingarm or chromed, polished and neon'd to death. If you love these bikes, this is your Huckleberry.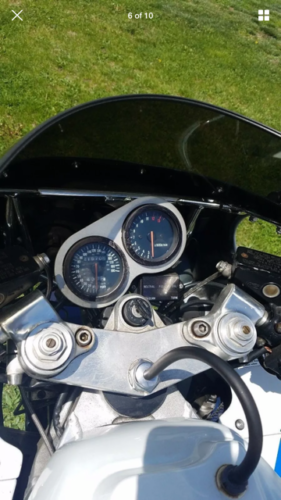 From the eBay listing:
1989 GSXR 1100, Well kept bike. New Pirelli tires, brakes, clutch, carbs just redone. Paint is showroom condition, 200psi in all cylinders. This is when bikes where bikes. Very rare to see in this condition. Top pad seat has some de lamination. Top tree is dull from keys (common). XL jacket included also bike stand included. This is no poverty sale so please no low ballers. Under ten feedback please stay away! The bike has no fluids in it right now as it is in storage. Bike runs and rides perfect. Please don't ask what the reserve is, want auction to run in full!!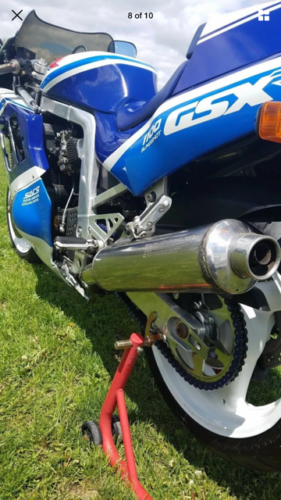 The days are getting longer, and even here in the heights of the Appalachians, the days are warm enough to get out and ride. This thing is ready to add a little extra steeze to your riding season.