Location: Central Florida
Mileage: 10,384
Price: $6,500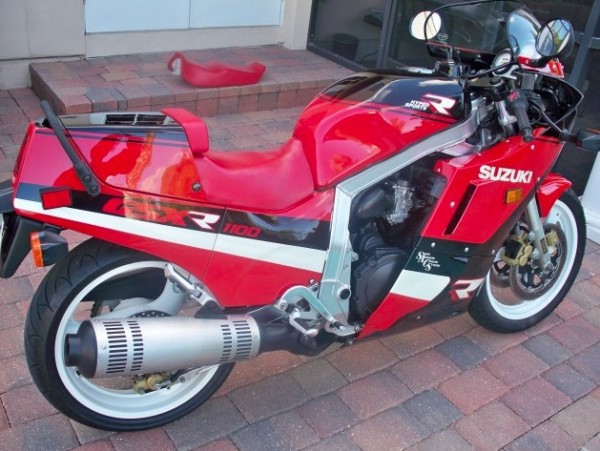 The Suzuki GSX-R 1100 comes up a lot on RSBFS (my policy is if I see one, I post it) and people respond by taking advantage of the chance to take home an icon. Well, here's another opportunity, and this one is super clean, making it even more rare than most that are still out there. And while I could go on and on about why these bikes are important, worth collecting and more awesome than most things out there, I won't. You know all that stuff by now. Or you should.
1988 Suzuki GSX-R 1100 For Sale on Ducati.ms
Here's the seller's comments-
For Sale 1988 GSX-R1100 in pristine condition.

Here is the rest of the story for a little background…

It was 1988 and I worked at a Kawasaki/Suzuki dealer in northern Illinois. I remember when this 1988 GSX-R1100 in Red/Black arrived and sat in the show room. I admired it, dusted it, and wish it were mine. We ended up selling it to a 51 year old gentleman who traded in his 600 Katana. Fast forward 4 years in 1992 and I tracked down that owner and asked if he wanted to sell it and he loved the bike and wanted to keep it. Fast forward 19 years, I had since moved to Florida and in spring of 2011 I was searching Craigslist all over the country and low and behold there was a 1988 GSXR1100 for sale in northern Illinois. I said to myself it couldn't be? So I called the seller and come to find out it was the same bike I admired back in 1988. The original owner was now well into his 70's and he gave the bike to his son about 10 years ago and he really never rode it. 

So to make a long story short, I am the second owner (technically third if you count his son storing it for 10 years) and I am now offering to sell it.

 The bike is completely stock. 

The only real cosmetic issue is on the left kick panel under the red vinyl protector, some of the paint came off when I tried to remove the original clear vinyl protector. I was able to match up a piece of red vinyl and cut it perfectly to cover where the old protector was. It actually looks quite well the way it is. 

I cleaned the carbs, put new plugs, air filter, battery, and changed the clutch fluid and it looks a runs great! The previous owner also had replaced the tires a few years ago and they have very low miles on them.

Here are some pictures. 

If anyone is interested I'm asking $6500.

It has 10,384 original miles. 

The bike will come with an extra 1988 GSXR1100 red seat that I purchased so I didn't have to punch holes in the original seat that came with the bike to mount the rear seat cowl. (The original owner never punched the holes to mount the rear cowl.)

Send me a PM if interested.

I'm located in central Florida.
And pics-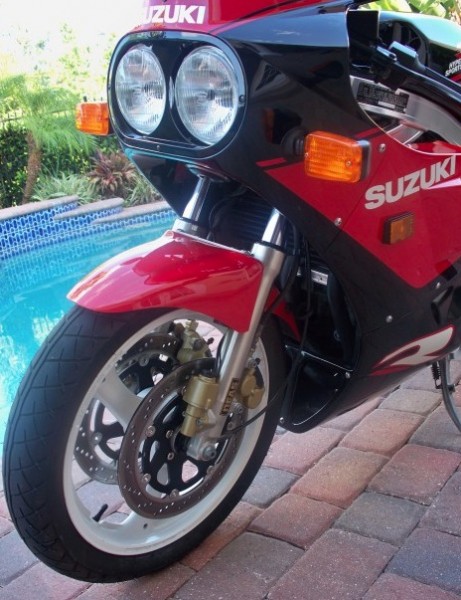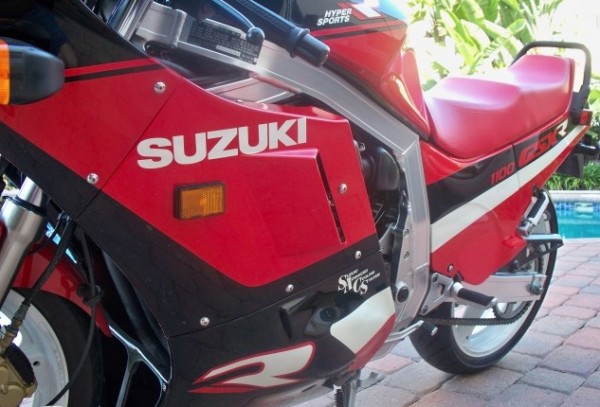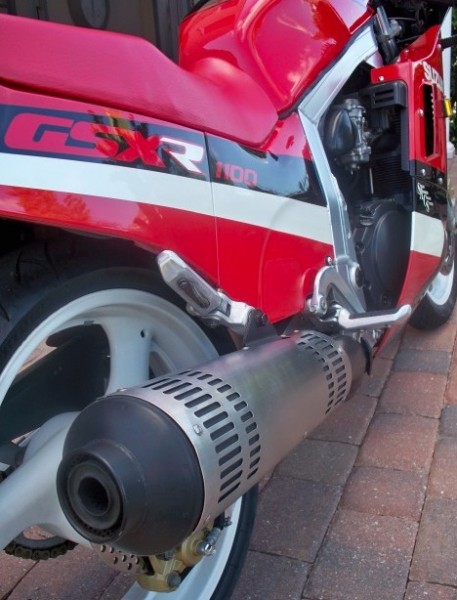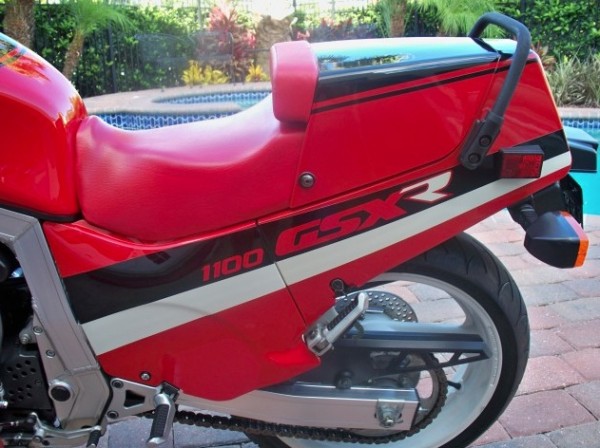 The seller is asking $6,500 for this bike and maybe you can work a deal and pick it up for less. But I have to say, at $6,500 I still don't think you're getting a bad deal. These bikes just don't really exist anymore (look for yourself), and this one certainly stands out as clean and stock, making it even more difficult to find. Mileage is low for its age. It's just killer.
This bike is featured on a Ducati site (the coolest bike on the site I'm guessing, even if it doesn't come with its own cologne). If you want a clean, early 1100, you owe it to yourself to go check this one out.
-RN