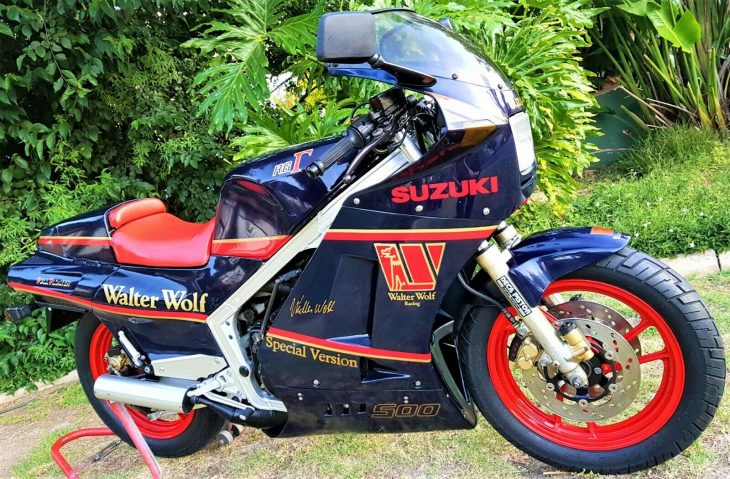 If you're not into oil drilling and late-1970s Formula 1, you might be nonplussed at the handsome red and purple livery that graces this otherwise-standard 1986 Suzuki RG500 Gamma. But, under the alliterative name and the cool-if-dated graphics lies a story of early business success followed by a longshot investment in a passion project that just so happened to pay off.
After making his money selling oil drilling parts, Austrian-via-Canada businessman Walter Wolf  in 1975 bought most of the Williams Racing Team and all of Hesketh Racing and made a go at Formula 1 ownership. Soon after, he rebranded the team with his name, hired Jody Scheckter and won the first race his team entered with the new branding. Not bad. After another couple seasons, Wolf got bored and sold the team, but the cool graphics and handsome livery needed somewhere to land.
Enter, the 1986 Suzuki RG500 Gamma. With Wolf's colors painted on, Suzuki had a defacto special edition of the already potent twin-crank parallel four two-stroke GP hero. This one is a Japanese market model that landed in South Africa in 2013, where it received a mechanical refresh less than 120 miles ago. Throw some new tires at it, and the 95-horsepower knife's edge animal will be ready to be a backroads thrill seeker or garage display artifact.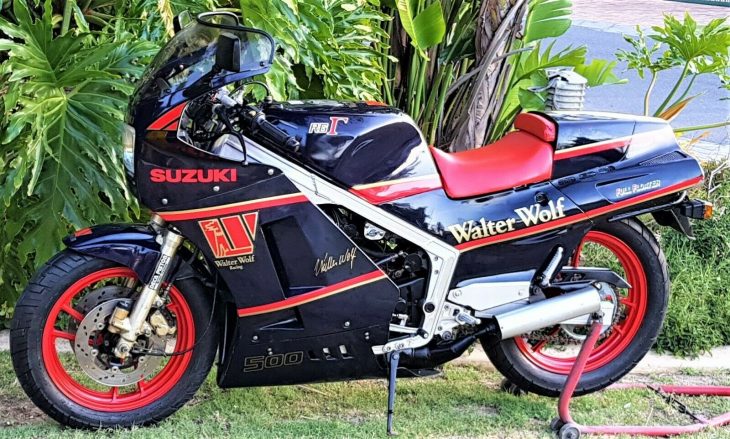 From the eBay listing:
Thanks for taking the time to view my listing on this extremely rare Suzuki RG500 Walter Wolf.
She was imported from Japan in 2013 and formed part of a private collection until recently.
Cosmetically and mechanical the vehicle is an superb condition. She starts on the first kick every time, even from cold with the help of the choke.
The RG has been serviced less than 200 Km ago which included steering neck and wheel bearing replacement as well as complete carburettor refurbishments.
The period correct tyres that's currently fitted are fine for display purpose however I would recommend that they be replaced if the Gamma is going to be ridden with some proper enthusiasm as Suzuki intended.
Here's a link to the 360 degree view and engine sound: https://www.youtube.com/watch?v=wSlSKVJnTEQ&feature=youtu.be

Worldwide shipping cost to:
Europe: $850
U.S.A, Canada :$950
Asia and Australia: $970
Shipping cost includes crating, insurance and handling.
The shipping will be taken care of by a trustworthy reliable agency that specialize in transporting motorcycles across the globe.

Please contact me should you require any additional info.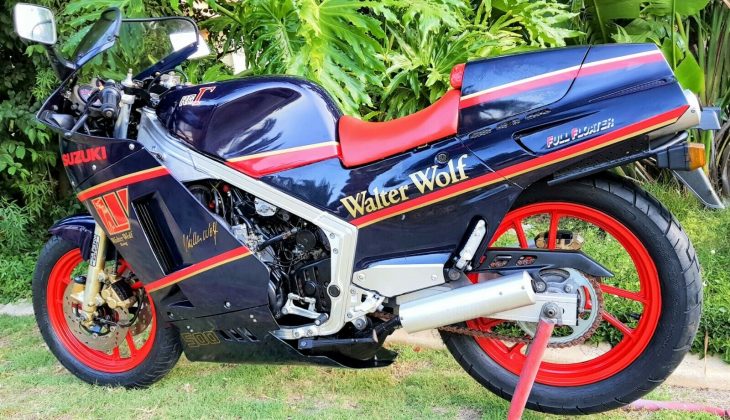 As you can hear and see, this thing idles like a champ and is in truly immaculate cosmetic condition. At $18,500, this special edition of a rare bike is priced as what it is, but there's no doubting that some lucky collector will roll home with an absolute gem.