Update 12.14.2020: This bike has SOLD! Congratulations to buyer and seller! -dc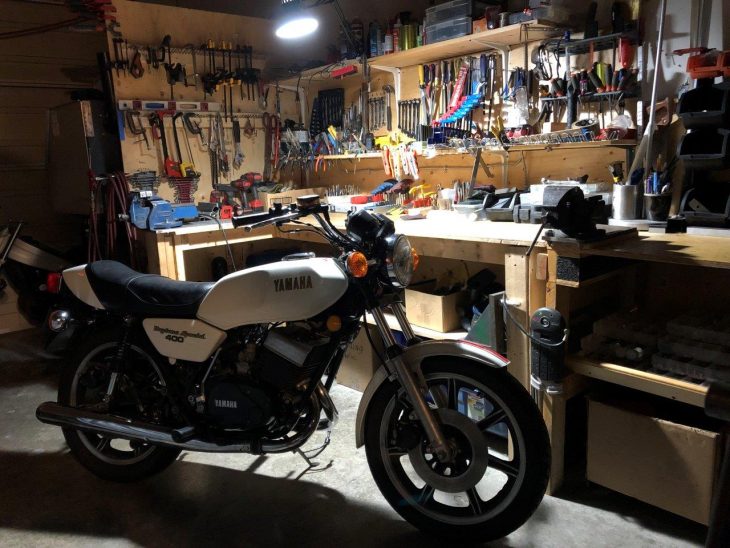 Before race bikes had to have fairings, custom suspension, and forged rearsets, they looked a lot like streetbikes with number plates, and the 1979 Yamaha RD400F Daytona was among the best. Lighter by half than most of the 750cc and 1,000cc superbikes of the time, the RD could run inside outside and around just about any of its peers. Usually, that means you sacrifice something in acceleration or top speed, but the RD's parallel-twin 400cc two-stroke mill damn near made up for that.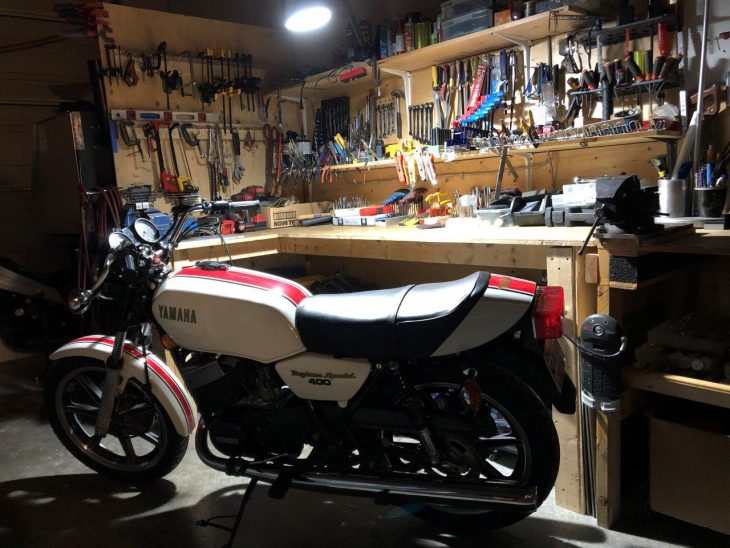 With ~43 horsepower to push around just 365 pounds, the little RDs were darlings on the street, too. Their modern equivalent is probably something like the Yamaha FZ07, practical, lithe, fast enough to scare you and still accessible enough for a commuter.
This 1979 RD400F Daytona is a beautiful example of the brand, in the classic red/white/gold livery. It's not perfect, but it isn't that far off. It's easily nice enough to put on a stand in your basement and stare at, but I wouldn't be scared to take it out for a few nice weekend rides, either.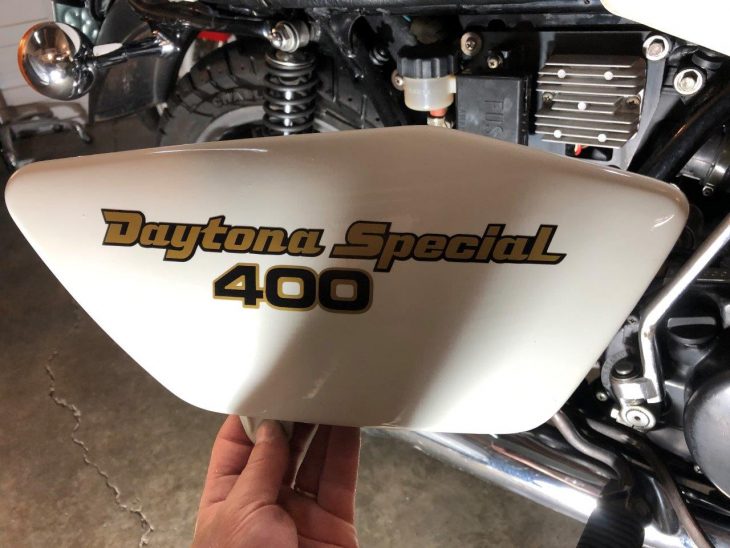 From the seller:
Canadian model 1979 RD400 F Daytona Special sold for only 1 year.
Bike is all original stock.
Low 8100 Miles.
Starts, runs and rides amazing for a 40 year old bike, no issues.
Numbers matching. Low number #403
Matching locks for all 3 – tank, ignition, and seat.
Rust free gas tank, no liner, truly in great shape inside.
Bodywork and paint in very nice shape,
Side covers in great shape very clean no brakes.
All electrical working and no cuts or repairs to wiring loom.
All chrome in great shape including the forks are clean no pits or rust, and gas cap.
Has tool OEM kit.
Things to note the Canadian model received a different crank, electronic ignition, as well as separate carbs similar to the earlier model (that doesn't have the goofy carb tops and rubber accordion boots that came with the mechanical synchronizing system. Other changes from US model is the exhaust pipes, and have larger diameter for the header and inlet to the exhaust cigar pipes. The Canadian exhaust system also don't have the butterfly valve.
Huge list of work done including,
Full tune up,
Carburetors just meticulously overhauled.
All work done by red seal mechanic.
140 PSI compression left and right cylinders. Can't get better than that!!
Many fresh 0km OEM parts.
New air filter.
New spark plugs.
New neutral switch seal.
New shift shaft seal.
New clutch push rod seal.
New seat cover.
New fuel tank rear mounting rubbers.
Petcock rebuilt with new parts.
New exhaust pipe rubber joint gasket.
New black rubber fuel lines.
Fresh Motul trans oil.
Rear brake caliper rebuilt
Fresh brake pads, front and rear.
Bike roles very freely when brakes release.
1 season old battery.
Low km chain and sprockets.
Low km tires.
Probably more just can't think of it at the moment. many months of love, sweet and work has gone into freshening up this nice original Daytona Special
I would rate this bike as a solid 8.5 out of 10.
Small deficiencies;
1 handle bar mounting bolt is not a match.
Black paint on wheels is starting to fade. comes back nice and black with a little mag product and work.
Front brake is a bit spongy from 40 year old rubber line, looks great, no cracks or splits just flexes more than I like. Yes I'm that picky.
Small marks on fuel tank.
Headlight ears have the dreaded RD400 creases.
Scratches and small weld repair on right exhaust pipe near passenger peg.
Tail fairing underside around mounting bolts has a small piece missing, can not be seen from outside.

Asking price is $7,500$6,995 US
Location: Vancouver, Canada

This one is a Canadian model, which means it's a little harder edged than the versions we got in the U.S. At $7,500 $6,995, it's not exactly a bargain basement collector's piece, but it's definitely one you should want to own.