1957 Ducati 175 Sport, 1974 Ducati Supersport, 1981 Ducati Pantah and 1985 Ducati F1 Endurance Replica
This post boils down to one thing:  motorcycles that are easy on the eyes.  Nothing more, nothing less.  Since there were a few older unique Ducati's listed I thought it be a good excuse to post some cool pictures if nothing else.  I think I'm still on my kick of vintage bikes anyways.  I claim no great knowledge of older Ducati's so please post comments if you have some good insight into the bikes or their prices.
———————————————————————–
Lets work our way from old to new.  First up is this 1957 Ducati 175 Sport.  As usual I had no idea Ducati had produced smaller cc bikes.   What caught my eye in the text was the open megaphone exhaust.  I bet you can hear this bike coming around the track with no problem.  It is kind of funny, the bike looks simple yet technologically advanced at the same time.   Even if you are just the slightest bit interested in this bike click the link to check it out.  It is simply a pretty bike in the photos.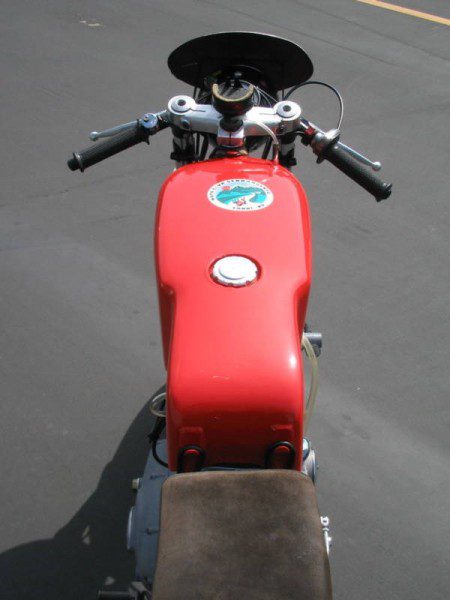 Rare 1957 Ducati 175cc Racer!!

This wonderful 1957 Ducati race bike has been highly engineered & developed over many years of racing in Europe & is wonderfully preserved in "as raced" condition. It has attended numerous races including the Moto Giro in Italy. It also has been shown at the Quail, Ducati Concourso & many other events.

Some of the special features of this gem are,

 twin plug cylinder head,

 Akront deep flange alloy rims, original Oldani magnesium brakes front & rear,

Dellorto SS1 remote float bowl carburettor,

alloy gas tank & seat/tail section,

Marzocchi GP front forks, frame & swing arm have been slightly modified for endurance racing & razor sharp handling

. The engine has enhanced oiling as per the F3's of the period.

Open megaphone exhaust & is fully safety wired.

Veglia tachometer built into headlight shell, top triple clamp has an extra bracket for a stop watch.

Don't miss this RARE opportunity!!!!

Will be sold with a bill of sale.
There appears to be some interest in this bike as the bidding looks pretty active.  Where do you guys think the reserve should be on this beauty?   .
———————————————————————-
We skip the 60's (like a lot of people did) and jump to this 1974 Ducati750SS.  This is also one for those with deep pockets.  The starting price is a cool $60,000.  With a quick search of the internet you can see these bikes do sell for big money.   This particular bike has been restored and modified so how much does that affect its' value?  I'm going to assume it is a bit overpriced since there seems to be no bidding activity on it.  Again, I'd love to hear some comments on what you Ducatista think.  Price aside, it is a beautiful bike that I think any motorcycle enthusiast can admire.
I am very reluctantly selling what is arguably one of the most coveted bikes in the world in a no reserve auction starting at roughly 50% of the going price for an original, unrestored example. Granted, this bike is neither unrestored or original. It is, however, a very real modified 74 750SS that had been raced & then restored in Italy.

I purchased this bike in Rimini at a Mostra Scambio (monster sale) from a fellow from San Marinoin November of 2001 along with an NCR. I was asked by several people there where I would be displaying the motorcycles ie. museum. I responded that they would be displayed under my but when I rode them. Both of the bikes required some work and although the NCR is not yet done, this one is in amazing shape. When I bought the bike in Rimini it was cosmetically very nice, but it was modified. It had twin plug heads, oil cooler, Imolacams, milled side cases, bolts drilled for safety wire, Veglia tach, longitudinally drilled front rotors & possibly other bits & pieces. It has since visited Tim Frutiger @ Wheels Unlimited south of Rochester, MN. These guys are some of the best in the business when it comes to early bevel drive Ducs. Tim replaced pistons, rods, bearings, & shimmed the bevel gears among other things. It now runs incredibly well & is mechanically perfect. It truly hauls ass. Original top speed on these stock was listed at 220kmh…Tim claims before he did the engine work on this bike it was still pulling strong at225kmh. For those in the Midwest that don't know about Wheels, you are truly missing something. They were a Ducatidealership since the late sixties & are willing to confirm authenticity of this bike (507 288 5630). I have pulled off the original glass tank as the clowns in this state like to put corn (ethanol) in our gas & it will destroy fiberglass. The original tank as well as the other rotors will come with the bike.
Again, even if you aren't bidding, as there are some really nice shots of the bike.
————————————————————————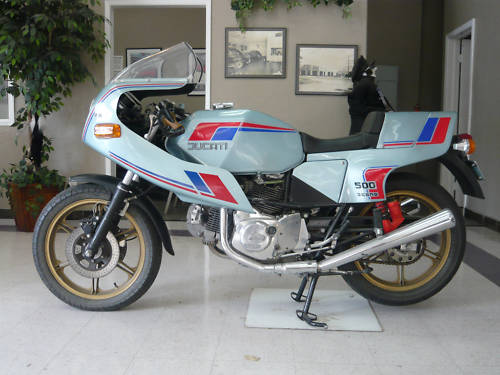 Boy, does this Pantah have the 80's written all over it?  Styling in the 1980's  was unique to say the least.  I guess you can say the Pantah housed what was the beginning of the current generation of Ducati engines.  The Pantah was the first Ducati to use belt driven camshafts in the engine.  Thankfully the styling has progressed along with engine technology.  What stands out is the fact that this bike has less than 12,000 miles on it.   Pretty nice if you are looking for a little back to the future action.
There wasn't much in the auction, details wise, so if you have questions .
———————————————————————–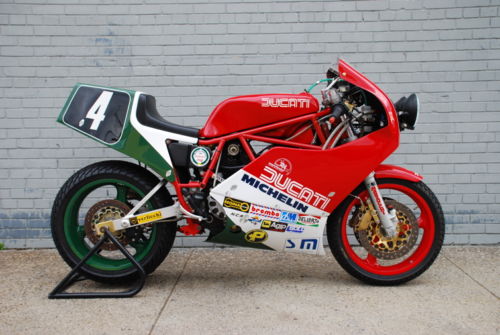 We usually don't post a lot of bikes that are non factory replicas but I'm making an exception for this one.  I love the look of endurance bikes and this rep just looks the business.  Since it is a replica I'll let the seller do the talking:
   This bike started life as a 1985 F1A. It's been completely rebuilt by the owner to replicate the 1985 Ducati factory endurance racer. You can see a pic of the factory bike it replicates here:

http://www.ducati-tt.de/12Bilder_worksracer/File_bs1.jpg

  The current owner is the second owner. He bought it with about 3500 Kilometers on it. It has no speedo, but he's sure it has less than 5000 kilmoeters on it- hence the 3155 miles in the listing.
  It was built with the intention of being a racer so it has all sorts of race goodies and LOTS of titanium hardware and drilled out parts. It turned out too pretty though and has been mostly a show bike. Always kept in a heated garage and very well loved.
   The bike has been sitting for quite a while, that said, the bike starts right up and runs nice. See it run in this video:

  I should also mention that this bike was built with a lot of care and attention to every detail. The owner who built it won the first Ducati Concourso for "Best SuperbikeOverall" in 2007 withanother bike he built so you should bid with confidence that this is a quality built machine. Also want to mention this bike was in a Hemmings calendar (not sure which year) and featured in Hemmings News. 

GOODIES:

MOTOR:     Original motor was replaced with an F1 B motor
                     Supermono (lightened) primary gears
                     Magnesium valve covers
                     Magnesium cluctch housing
                     Lightened clutch basket
                     Vented clutch cover

EXHAUST:  NCR titamium open exhaust  ** super rare **
                     custom titanium hanger
                     billet exhaust flanges

CARBS:       Stock Dell'Ortos with Malossi screens  

WHEELS:    Marchesini magnesium wheels.  17″ x 3.75″ front and 17″ x 6″ rear
                     Old racing rain tires– should be replaced

BRAKES:    Brembo4 piston GP Mach 1 calipers up front with quick release and braided lines
                     Goldline Brembobrake master– both brake and clutch masters have remote resevoirs and are freshly rebuilt
                     300mm full floating cast iron rotors in front
                     260mm full floating cast iron rotor in rear
                  
FORKS:      41.7mm M1R Marzocchi forks

CHASSIS:  Verlicchi aluminum swingarm
                    Fully adjustable Ohlins rear shock
                    Custom made fairing stay/ subframe withoil cooler and quick detach headlights
                    Pro Italia pegs
                    Ohlins steering damper

BODY:       Aluminum fuel tank with drybreak
                   Custom fiberglass seat with altered seat cushion
                   Custom front fender and brace

OTHERS:   Veglia competition tach. No speedo
                    Brand new dry cell battery
                    Lots and lots of titanium hardware 

BIKE NEEDS:

       

                    Tires & belts for starters

                    The bike has been mostly sitting the past few years so the owner recommends that whoever buys it goes through everything– put a wrench on all the hardware, clean the carbs and maybe re-jet, change fluids etc.
                     Rear brake has no fluid- just add and bleed
                     Brake light is not hooked up. Wires are run to the front, but a pressure switch needs to be added.

                     *** Bike is not completely perfect. There are a few small paint chips in the wheels and frame. A lot less than what you'd expect from a bike that was put together 15 years ago, but you should know the bike is not perfectly mint. I have pictures of these paint chips, but the listing only allowed me to post 24 pics and I didn't want to waste a bunch with zoomed in shots of small chips. If you're interested, contact me and I'll e-mail you these pics (you can see some of the chips is the close ups of the wheels).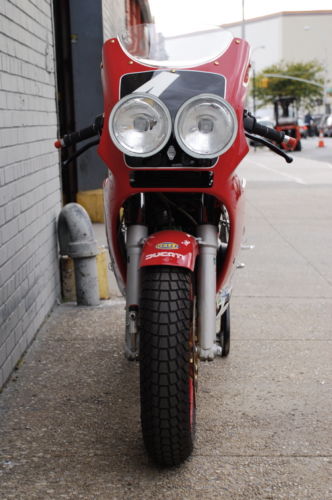 As with the other bikes be sure to  for more pictures to enjoy.
Mmmmmm, sounds nice.

IK