Identity Crisis:  2006 Kawasaki Ninja KRR  ZX150
What the heck is this thing?  It  has a serious identity crisis.  It has "ZX" plastered on the tail but "KRR" splashed across the front fairing. I see a "KIPS" sticker so that has to be a two stroke engine hidden in there.  What Kawasaki has a trellis frame like that?  Don't recognize that tiny braced swing arm?  Whatever it is, I kind of like it!
What we have here is a Kawi that has never turned a wheel in Japan.  This is a model produced for the markets in Thailand and Indonesia.  Here is the officail page on Kawasaki's website.  It isn't surprising to me that Kawasaki made a unique model for the Asian market.  What is surprising is that it was a two stroke and they produced them all the way up to 2008!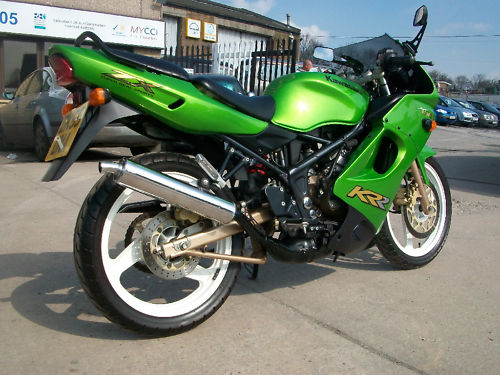 Generally these Asian market bikes are built with one concern in mind: budget.  The budget to build them and the budget of the person buying them. You'll notice a single disc up front, older style forks and the lack of  the usual twin spar aluminum frame to keep costs down.  What you do have is a single cylinder, 150cc two stroke engine wrapped in an eye pleasing package.  Did I mention it is a two stroke?  The specs just list Mikuni carb, so no fancy direct injection to clean things up.  This is still a true smoker.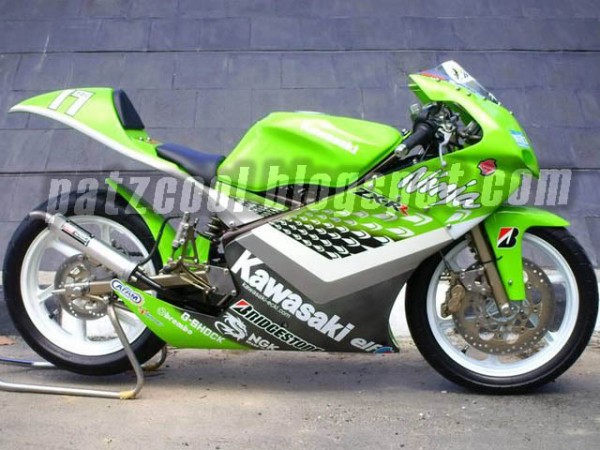 I found this posted on a message board discussing the 150.  Sounds like quite a few people have taken to racing them and they've had to limit the mods because it was cleaning  up against Kawasaki's own four stroke Ninja 250.  It is good to see two strokes are still causing trouble! 
 That reminds me, my drink could use another lime.  You wouldn't know this isn't just another ZX from this picture.  At this price point I'd guess those are just holes dumping air to the entire engine.  I wonder if the race bike above has them routed to a pressurized air box?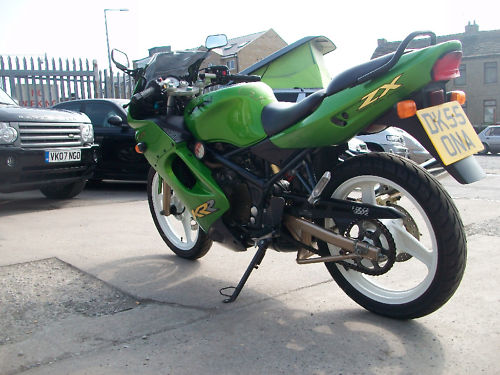 If you haven't figured out by the license plate in the background, this gender bender Kawi isn't located in the United States.  This one managed to end up in the UK.  I believe it would be a grey bike even there.  I saw a post that said along with the Asian markets, they were imported into New Zealand as well.  I do find it amusing Kawasaki was covering all their basis by calling this thing a "KRR ZX".  Come on Kawasaki, jump out of the corporate box, bring back the real "KR", slap some direct injection on it and I promise you will sell every single one of them.  I guess if that doesn't work the US is trying its' damnedest to become a third world nation so maybe eventually we will get the "KRR ZX".  In the mean time  jump over and check it out on Ebay UK here.
Rare video of Rossi testing a KRR ZX150 in Maylasia.
Ian