Well, here's something you don't see everyday. Hands up: who's ever heard of Roehr, or the Roehr 1250sc? What's this? An exotic, powerful American sportbike?
Update 11.22.2011: Back on eBay with a Buy-it-Now of $20k. Links updated. -dc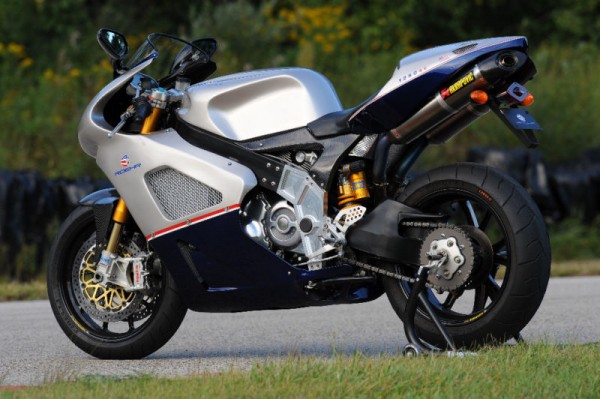 Italy is full of tiny, semi-forgotten or barely viable sporting motorcycle manufacturers who've changed hands, been resurrected, been whored out, lived, died, or been forgotten. Bimota, Aermacchi, Laverda, Benelli, Motobi, Mondial, or Parilla… So many, it's hard to keep track.
The cliché of the American Motorcycle has become one of the chromed-out, long and low chopper: the form-over-function, monstrously overstyled, fat and slow cruising machine. The British bike magazines sometimes refer to Harley Davidsons as "Hardly Movinsons" and it's hard to really make the argument that they're wrong: Harley's sportiest bike, the XR1200 is about as sporty as Ducati's Monster, the consummate pose-master (I know I look damn sexy on mine!)
How painful and embarrassing: it's not that Yanks can't ride and it's not like we don't have the roads to challenge a serious sportbike here. Plus Harley certainly made its share of race bikes back in the day, and Buell did it's best to fit the heavy, but characterful American vee-twins into some very innovative sporting machines in more recent years…
But we've been mostly lacking in seriously sporting, boutique machines to compare with the real high-end exotica from Italy for almost 100 years…
2009 ROEHR 1250sc For Sale on eBay
Enter Walter Roehrich and Roehr motorcycles. Walter designed several bikes prior to this, powered by engines of his own design but based around mass-produced parts: a 500cc two-stroke vee twin using 250cc dirt bike cylinders and another powered by Highland, a Swedish dirt bike company.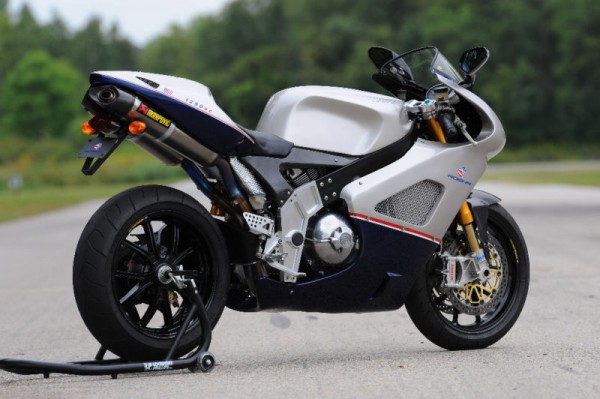 The styling of the Roehr 1250sc we find here is a bit derivative, with a MV Agusta-esque front end and slightly last-generation sportbike Akropovic undertail pipes originally destined for an R1. That being said, it's classy, understated, and expensive-looking.
What might get your blood pumping is well hidden behind those body panels: a 1250cc Harley Davidson V-Rod motor that Mr Roehrich decided needed a bit more oomph: it's now boosted by a small, lightweight supercharger unit running 8lbs of boost. The result is about 170hp and a flat powerband that doesn't care what gear you're in. Unfortunately obvious is the slightly out-of-place V-Rod instrument cluster. And if those side-mounted radiators look familiar and Honda VTR-inspired, that's because that's where you've seen them.
Clearly, the thoughtful engineering that's gone into this bike has paid off: the bike weighs in at 432 lbs dry, which I'd imagine is no small feat considering the ungainly lump of a motor they've shoehorned in there.
From their eBay auction:
The Roehr 1250sc is an exotic American Superbike, powered by a specially developed,
180hp, supercharged version of the Harley-Davidson V-Rod engine.
The 1250sc is graced with the highest quality components sourced from world class
manufacturers such as Marchesini, Brembo, Ohlins and Akropovic, a true American
performance motorcycle.

This particular bike has never been titled and is virtually new.
It was used for photo shoots and exhibition purposes.
The bike is EPA and CARB approved for sale in all 50 States.
Buyer is responsible for all shipping and applicable state sales taxes.
A Manufacturers Certificate of Origin will be supplied.
I've no idea what one of these is really worth, but there were originally 50 planned and priced at $49,999, so the $19,995 "buy it now" price seems a bargain. You surely won't see one of these at your local bike night, and you could easily spend that much on a gaudy, out-of-fashion custom chopper. And you'd still be buying American.
-TD