Ah, the Good Old Days, when a top-flight superbike could offer serious performance, all-day comfort, and room for a date-night passenger in the same package. An era when tires were skinny and powerbands were fat, when one steering damper probably wasn't enough, and engines were fully on display, stuck out into the breeze that served to keep them cool. But even back then, there were bikes that were more about synergy than brute power, bikes like Suzuki's GS1000S.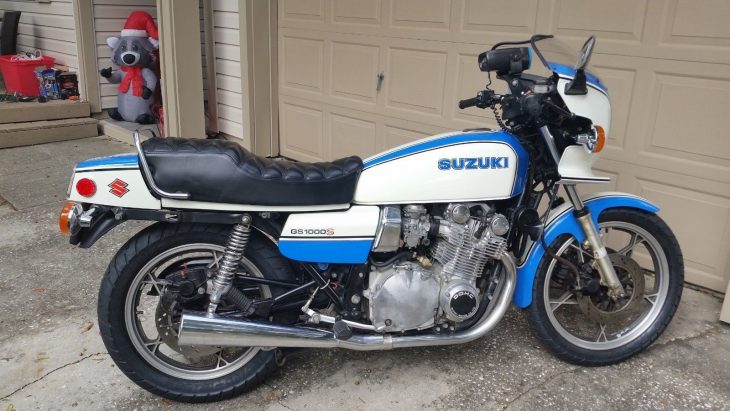 The GS1000S might not look much like a sportbike by today's origami-plastic-dart standards, but it most definitely was Suzuki's big-bore superbike. How do we know? Well, it was piloted in AMA Superbike racing by Wes Cooley, with engines built by "Pops" Yoshimura. Power output didn't match the Kawasakis and Hondas of the period, but the bike was relatively lightweight and its handling and braking were superior. Their racing success saw bikes with the blue-and-white color scheme retroactively known as "Wes Cooley" replicas, and who are we to argue with that logic?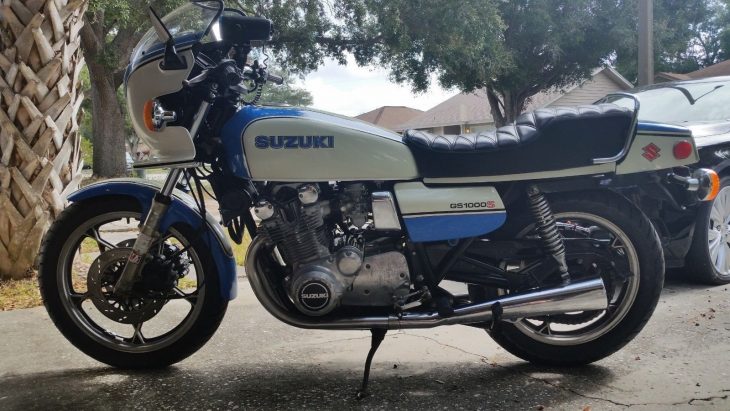 Wes Cooley Replicas show up for sale fairly frequently, but real ones are pretty exceptionally rare: just 700 of the 1980 models were built, and even fewer were made in 1979, although the seller reverses these production numbers for '79 and '80. Regardless, it's a very rare bike. The 1980 bikes were updated with electronic ignition, slotted brake rotors, and other minor cosmetic changes, including a stepped seat for extra passenger comfort… on your superbike. Otherwise, you're looking at pretty typical 1970s UJM specifications: air-cooled dual-overhead cam inline-four displacing 997cc, five speed gearbox, and a dual-shock rear suspension.
The paint on this one looks very sharp, although there is some surface corrosion on the metal, and the seller mentions that the fork seals are original and will need to be renewed, along with the brakes. Although, how hard can that be? And as a bonus: vintage radar detector!
From the original eBay listing: 1980 Suzuki GS1000S for Sale
I bought this motorcycle almost 40 years ago in Tonawanda New York. Of all the motorcycles I have owned in my life, this was always one of my favorites.  This classic Wes Cooley Replica commemorated the AMA championships Wes Cooley won in 1979 and 1980.  There were 700 replicas built in 1979 and only 500 built in 1980. This is one of the 500 built as a 1980 model. After moving to Florida in 1986, I didn't ride it as much and it ended up being stored in my garage. The bike has been stored for over 10 years.  

This bike is an original Suzuki 1980 GS 1000 S Wes Cooley Replica. Since there were only 500 of this model built of the 1980 model, it is one of the most sought after motorcycles in the last 40 years. As seen in the pictures the bike is in very good condition. I am the ORIGINAL OWNER and have title, bill of sale, owner's manual, shop manual, tool kit and assorted advertising flyers which will be included in the sale.

Recently, I decided to have it overhauled at St. Pete Motorbikes.  The gas tank was sent out for restoration and lined with an epoxy finish, new tires were mounted and balanced, intake manifolds replaced, front master cylinder and calipers fixed, O rings, oil and filters, plugs and battery have all been replaced. The bike runs great!

It's tough to part with my classic Suzuki, but I'm not riding anymore and would love for someone else to finish restoring it and enjoy this rare piece of motorcycle history. As you can see by the pictures, this is an amazing machine.  Minor scratches, some spots of paint missing and the gas gauge no longer works, but other that that, this beauty of 38 years and 21,165 miles is a remarkable piece of motorcycle history.  The radar detector I added so many years ago still works, as well as the rest of the gauges, turn signals and clock.  Somehow the side mirror glass popped out while being transported back to my house recently.

Keep in mind this bike is almost 40 years old, and the front fork seals are the originals and will need to be addressed as will the 40 year old brakes.  This motorcycle is being sold as is.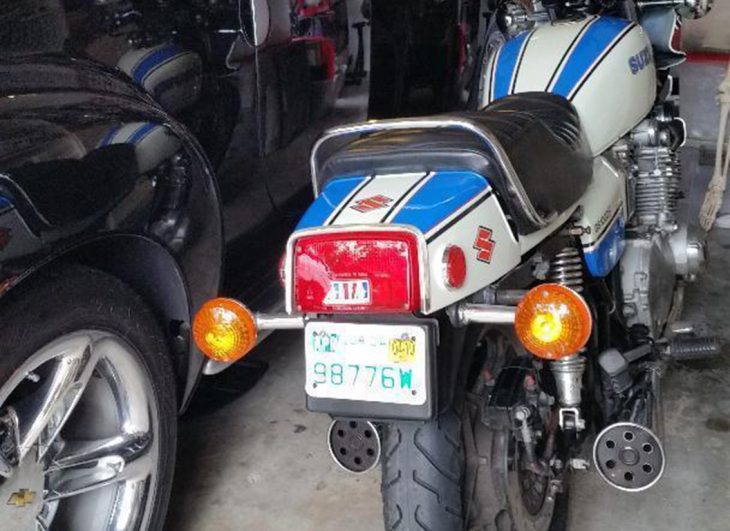 Obviously, a perfectly-preserved original might be worth more, but this one works perfectly as a rolling restoration, and the radar detector will keep your insurance premiums low and block any windblast that sneaks around the comprehensive windscreen. This Wes Cooley replica might not offer knee-dragging lean angles or the grunt to keep up with modern superbikes, or even a V6 Toyota Camry,  but it's a pretty competent motorcycle, a classic sportbike you could ride every day.
-tad