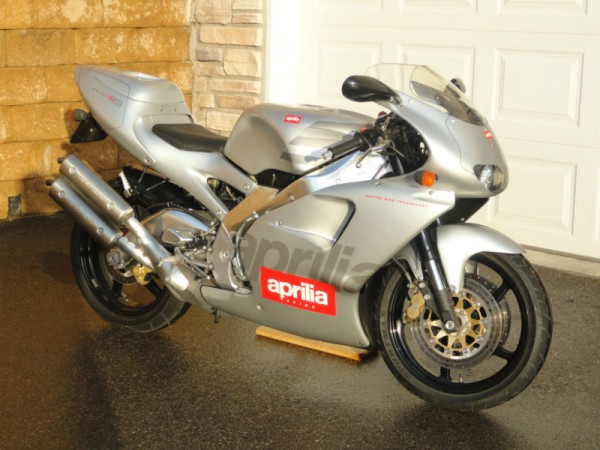 What a beautiful way to wake up! A plated Aprilia RS250 dressed in the very handsome factory gray track suit. While I love the Chesterfield replicas, these manage to look all the business in an almost Germanic way without all the sponsor stickers screaming at you. This particular example is amazingly stock and complete with just 2500 miles on the clock. There are some light scratches on the one fairing but otherwise I don't see much to get worked up about. The opening bid is $8k reserve not met or if you can't wait, you can get it immediately for $9350.
dc
1997 Aprilia RS250 For Sale on eBay
from the seller:
Bone stock 1997 Aprilia RS 250 race replica. This model was not imported to the US and is extremely rare, especially in this color scheme. I purchased this bike from GP Motorcycles in San Diego California this past winter. The original owner imported it new in the crate and it was assembled at GP Motorcycles. It changed hands a couple of times and was ridden very little. Prior to me purchasing it, GP Motorcycles performed over $500 of maintenance including: Over all inspection of all mechanicals, Bolt ReTorque, Chain Lube and adjustment, Full Carb clean, Airfilter replacement, Spark plugs replaced all of which I have receipts for and will be included in sale. It came with a California Title and now has a clear Minnesota title in my name. Those of you who follow these grey market bikes know how difficult it is to get these 2 strokes titled today, so the hard work has been done for you

It has never been raced and is still in stock condition. There are various paint nicks and chips from sitting and storage over the past 16 years. The left side fairing has some light scratches that are very thin and look due to something rubbing against it. The lower left hand part of the fairing also has some chips from what I was told was a pet dog chewing on it. Pictures tell the story. The tires appear to be the originals too. I always preferred this body style over the 1998 onward too. Also included in sale are the Max Biaggi soft bike cover, rear seat pad and 3 bottles of Castrol Power RS TTS Fully synthetic 2 stoke oil.

Everything on this bike works as it should including all electronics and mechanicals. If you are reading this listing, you know what this bike is and how rare it is. If not just google Aprilia RS 250. It is as close to a true GP racer as you can get. Kick start 2 stroke screamer. I am selling due to a restoration project that has gone way over budget and this bike is just not practical enough for me. It is only at home on a track or the twisties, neither of which are readily available in Minneapolis.

I have put about 100 miles on this bike and it is hands down the lightest, fastest, best breaking bike I have ever ridden. Ripping through the gears is breathtaking. With that said, this is not a good first bike or a practical ride around town bike either. It needs to be ridden hard and is best at the top of the power band. The riding position is for racing and stopping and starting in traffic is not for this bike. It can be done, but not easily.

I have never seen another in this color scheme nor have I seen one for sale with this low of miles. I guess that is why I could not resist purchasing it. The pictures speak for themselves.

When this bike is not ridden, it is stored in a heated basement, with cover on and battery trickle charger. I am sure I have forgotten somethings and will do my best to update the listing if something else pops up.

 I am just trying to get my money back and cover my costs.