A certain RSBFS superfan dubbed these tiny 2 strokes as "Chicken Chasers" and the name has stuck for us. While all of us wanted one of these when they were finally available here in the U.S., not being street legal made them a track day fantasy for most. If you're not a dedicated track junkie, it was hard to justify the price for a bike you couldn't fool around on public roads every weekend. But this one is different as it is plated, and having only 170 miles, it's a second chance to reconsider if this is a modern two stroke for you. I know it's not for everyone, but for those who want to blast to the store for a six pack and on the way feel like you've worked the bike hard within legal limits, this is a really fun one to consider.

2009 Aprilia RS125 For Sale on eBay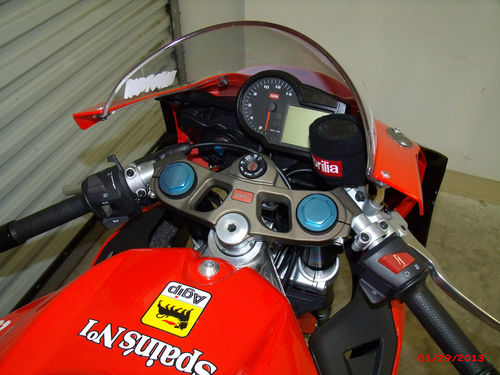 From the seller (converted to lowercase for your reading pleasure):
YOU ARE LOOKING AT A STREET LEGAL, FLORIDA TITLED, FLORIDA TAGGED, 280 LB., APRILIA RS125 2 STROKE WITH 170 MILES. THIS BIKE IS ABSOLUTELY SHOWROOM NEW AND IS READY TO RIDE ON YOUR LOCAL TWISTYS THANKS TO AN OFFICIAL $1000 EUROPEAN WIRING HARNESS. ALL LIGHTS NOW WORK ( HIGH BEAM, HEAD LIGHT, BRAKE LIGHT, F&R TURN SIGNALS, LICENSE PLATE LIGHT AND HORN) YOU WILL NEED TO BUY 4 TURN SIGNALS AND MIRRORS IF YOU WANT THEM AS I THOUGHT IT TOOK AWAY FROM THE LOOKS OF THE BIKE SO I DIDN'T INSTALL ANY. THERE ARE CARBON FIBER BLANKING PLATES THAT ARE EASILY REMOVED FOR THE TURN SIGNAL AND MIRROR LOCATIONS PER THE PICTURES. THIS APRILIA RS125 ALSO COMES WITH SWING ARM BOBBINS, REAR STAND AND THE ORIGINAL WIRING HARNESS INCASE YOU WANT TO CONVERT IT BACK TO A COMPETITION ONLY BIKE. I ALSO INSTALLED AN ARROW CARBON/ KEVLAR PERFORMANCE EXHAUST WITH A LIGHT WEIGHT ALUMINUM HANGER. AS I HAVE SAID THIS BIKE IS BRAND NEW WITH 170 MILES ON IT AND READY FOR YOUR LOCAL ROADS, BE ONE OF THE FEW WITH A 2 STROKE IN YOUR AREA IF NOT THE ONLY ONE. YOU WON'T PASS ANOTHER ON YOUR STREET I CAN ALMOST GUARANTEE IT, MOST OF THESE BIKES WERE USED FOR RACING AND TRACK DAY EVENTS AS IT IS VERY COSTLY AND DIFFICULT TO FIND THESE STREET WIRING HARNESSES FROM EUROPE. I HAVE A BUY IT NOW OF $6,500 JUST TRYING TO COVER MY OVERALL INVESTMENT. REMEMBER THIS IS A 2009 STREET LEGAL 2 STROKE, ADD THIS BIKE TO YOUR STABLE AND HAVE SOME 2 STROKE FUN, YOU WON'T BE DISSAPOINTED. BUYER IS RESPONSIBLE FOR PAYING AND ARRANGING LOCAL PICK UP OR FREIGHT PICK UP. GOOD LUCK BIDDING AND PLEASE CHECK OUT MY POSITIVE FEEDBACK FOR CONFIDENT BUYING. THIS BIKE IS MINT. THANKS FOR LOOKING.
dc