Back in the late 80's one of the requirements for racing was that a factory team race bike had to be based on a street bike/bikes available for the public to purchase.  This policy was known as the "homologation rule". The 1988 Ducati 851 was offered as both a standard 851 Strada and a ready to go racing 851 Superbike Kit.  For the standard 851 Strada, Ducati also offered a tri-colore option but this option was also a limited production, with only 304 manufactured in 1988 only.
I think its important to understand what a significant bike the 851 strada was to Ducati.  At the time it was introduced it was the only motorcycle with an open-loop fully-mapped electronic fuel injection system.  Also the 851 was where Ducati added liquid cooling, four valve desmo heads and fuel injection to the venerable L-twin. The changes paved the way for the future commercial success for Ducati and the basic engine design would live on in the 888, 916 and 996.
Even for the street bike version the specs for the 851 Superbike Strada were top notch for the time and included the following
M

arvic and Akront composite wheels

Street ratio gear box

Street cams

Unbraced swing arm

Closed clutch cover

Full dash with speedo

Road legal mufflers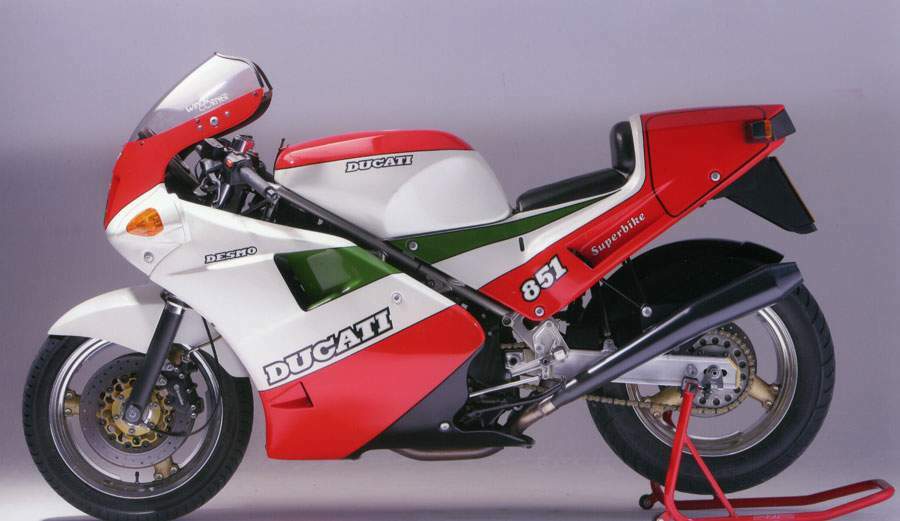 NOTE:  Photo above is from Ducati website showing a stock bike.  I included it as a basis of comparison against the photos from the seller.
This particular 851 Strada tri-colore is located in NSW Australia.   The bike seems to be mostly stock (although the wheels might have been polished at some point) but there does some to be wear and tear on the bike with engine paint flaking off and some small bodywork cracks.
So whats it worth?  Well, the seller indicates a new set of tyres/tires and battery as well as the all important receipt for full service including new timing belts , all fluids and filters changed , valve clearances checked etc .   Based on previous RSBFS classifieds and a Bonhams auction last year, price for this would probably be around 21-26k USD.  Personally I think its worth that and a bit more.
-Marty