Suzuki's smaller Gamma had a brilliant ten year run, mostly in progressive license provinces, and really comes to life off the public roadways.  Today's RGV is a survivor with a monoposto seat fairing and carbonated option livery.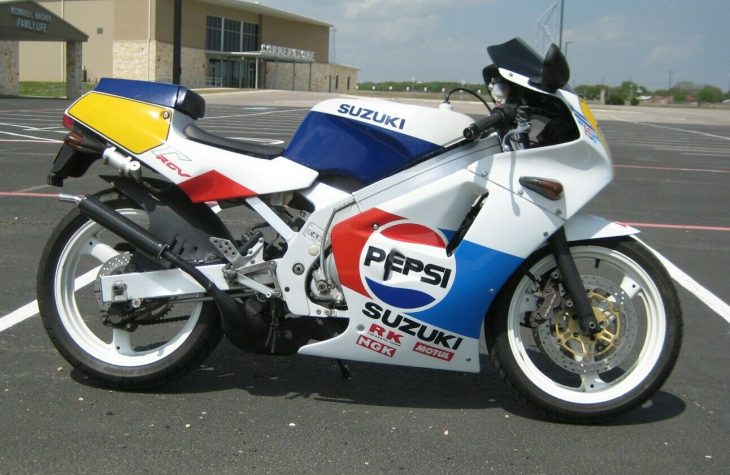 Even junior riders wanted some of the sportbike action, and the RGV delivered with a 249cc V-twin, which got regular tech infusions from the road racing department.  Though a legislative limit of 40 hp applied in Japan, close to 50 hp were available with restrictions defeated.  Built like its bigger siblings, the RGV had a twin spar alloy chassis, Full Floater monoshock, 32mm Mikuni's, six speed cassette gearbox, dual 290mm front brakes, and staggered 17 and 18-inch cast wheels.  The full fairing looked the part but reviewed as not quite up to sheltering a 98th percentile rider.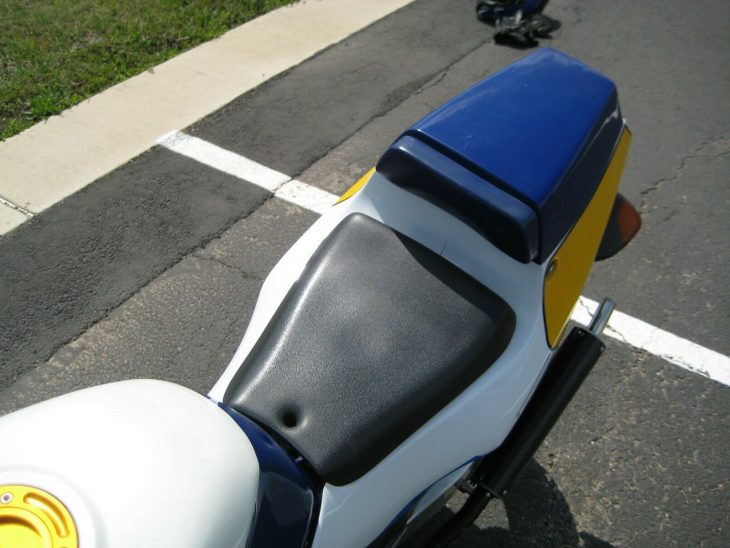 Coming out of central Texas, the 13,734 miles look very good on this RGV.  No glaring red lights, but the mismatched fairings and tank call for a closer look.  Comments from the eBay auction:
Features –
Original DJM Japanese model with speed warning light on console.
Pepsi livery except the tank. I think it has aftermarket plastic fairings. Paint is perfect.
Tyga carbon fiber silencers
Dark smoked windscreen
Rear seat cowl (I do not have the original rear seat or footpegs)
22,085 kilometers (13,722 miles)
Run and drives great, new fork seals, new battery.
No internal engine mods
Bad –
Some surface corrosion on the aluminum casting-foot pegs, etc.
Title lists it as an 1986, but the VIN identifies it as a 1989. I suspect that it was done this way when it was imported years ago to get around the 25 year old rule.
Early in the auction but a lot of watchers on this Suzuki, which doesn't seem to need much to give the paint job some continuity.  A California bidder might have a little extra homework to do beforehand, and purists are sure to quibble, but it looks to be a worthwhile endeavor.
-donn