As good as Aprilia's first superbike was, the R-spec variant was worth stretching the budget for.  This RSV Mille R is in an eye-catching color not often seen in 2001, and impeccable condition.
Aprilia was showing off their design and manufacturing chops on the RSV Mille, the box tube perimeter frame elements aren't box-like but sculpted triangular, welded to cast frame connectors and steering head.  Similar construction for the banana swingarm which allows the out-sized exhaust to climb out from underneath.  Carbon mudguards, fairing vents, and hand deflectors are the real deal.  Big changes for the -R are full Öhlins suspension including steering damper, and forged Marchesini seventeens.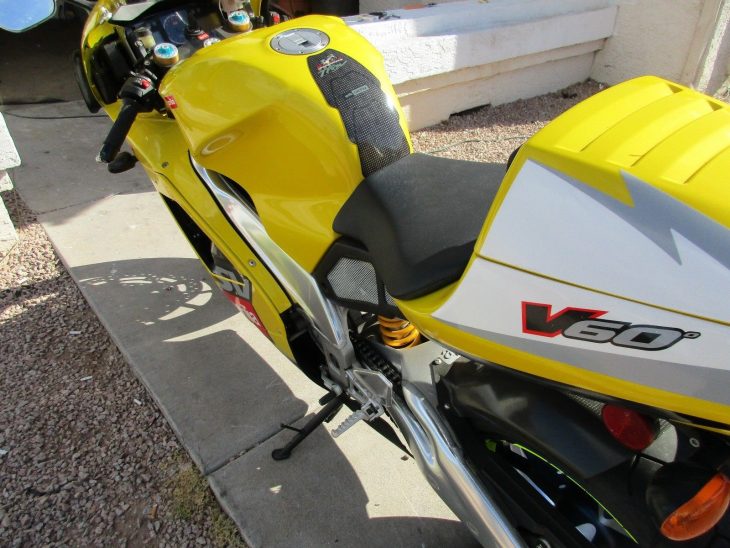 Apparently in private ownership after a stint in Meguiar's Car Care collection, this RSV has just under 3,100 miles and is awfully nice for its age.  The owner says this in the eBay auction:
one of a kind Aprilia RSV 1000R, custom ordered from the factory by the Meguiar's car polish family's private auto collection in 2001.  Although it has been in their collection since new it has been ridden and maintained so it has some mileage on it.  At only 3000 miles and not a scratch.

All the paint color is bright and vibrant, all of the fluids and manufacturer recommended scheduled maintenance is followed by the book.  This bike is as new as you can get in the way it looks and runs just like the day it rolled off the manufacturer's floor.  This bike has all oem parts just the way it was ordered from Aprilia factory with upgraded Öhlins front and rear suspension and all carbon fiber fairings and fuel tank. 

The bike has brand new factory brand tires with aftermarket rim tape for cosmetic appeal.  I was honored that they sold me this bike and have had a real blast owning it and showing it off.  I own a number of exotic bikes and am an avid sport bike enthusiast.  Letting go of a couple of my bikes to make room for a brand new bike.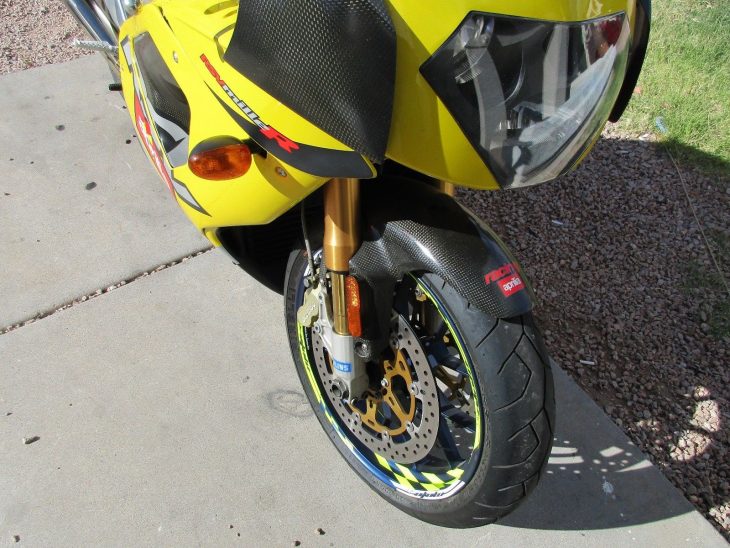 The RSV reviewed as a little overweight, but the torquey, trouble-free drivetrain makes up for a lot.  This monoposto is more of a special order than a custom, a low-mileage creampuff with the desirable -R equipment.  Bidding is quite active and it'll be interesting to see where it goes...
-donn