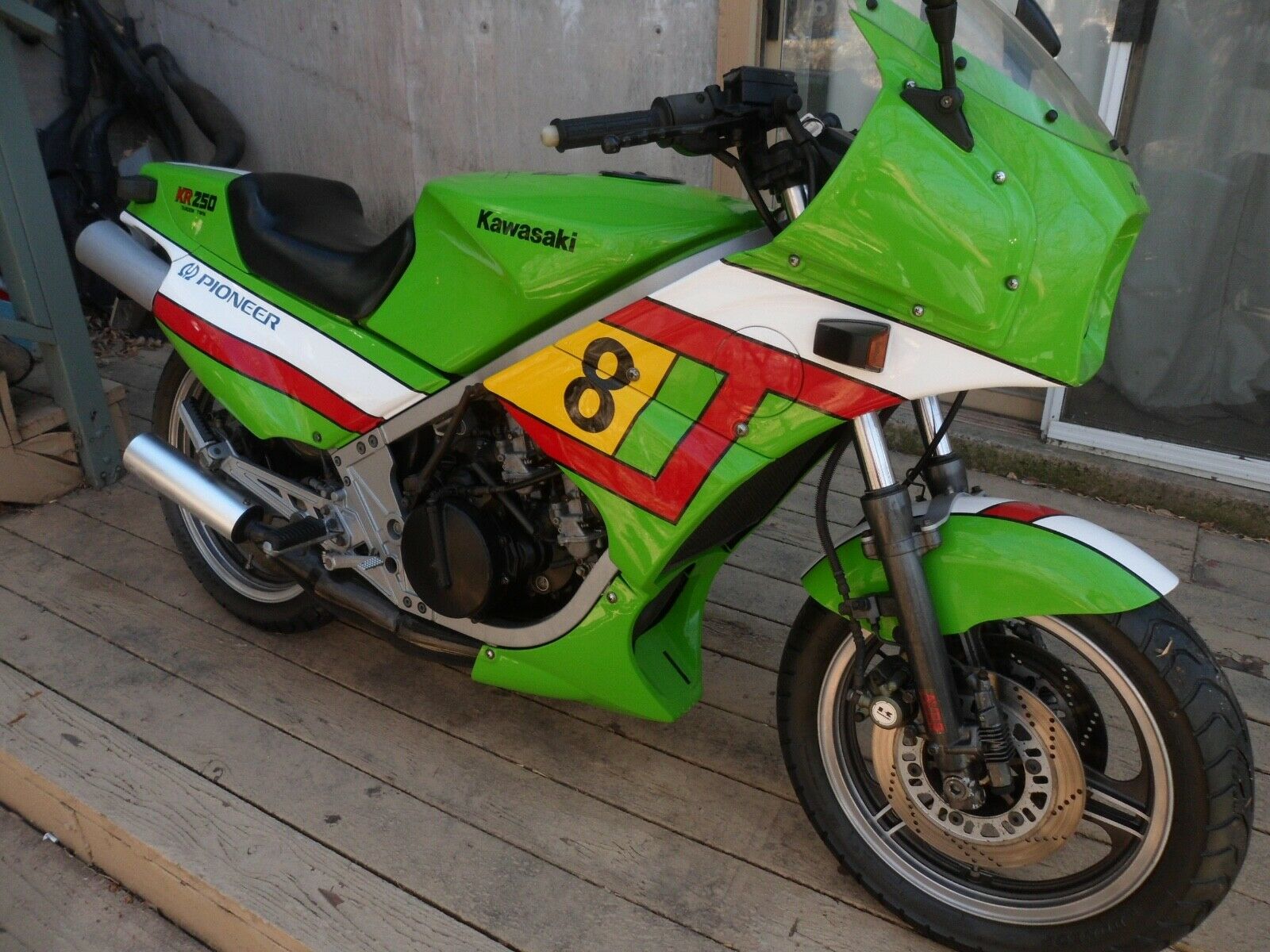 With an appreciative nod to fellow RSBFS contributors William and Doug for the find and the post title, today brings us a bit of two stroke holy grail action: the Kawasaki KR250. Blessed with the same name as the GP race bike, the street-going KR250 shares no parts with the competition platform, yet the roots are strong, deep and unmistakable. We tend to find quarter-liter smokers from Honda, Yamaha and – to a certain extent – Suzuki on a far more regular basis as the more rare Kawasaki, making the green machine the most rare across the Big Four brands. But don't let the lack of showroom success lull you into thinking the mean green machine was an also-ran in this category; the KR250 is every bit the equal of the more common two-stroke mob, and more!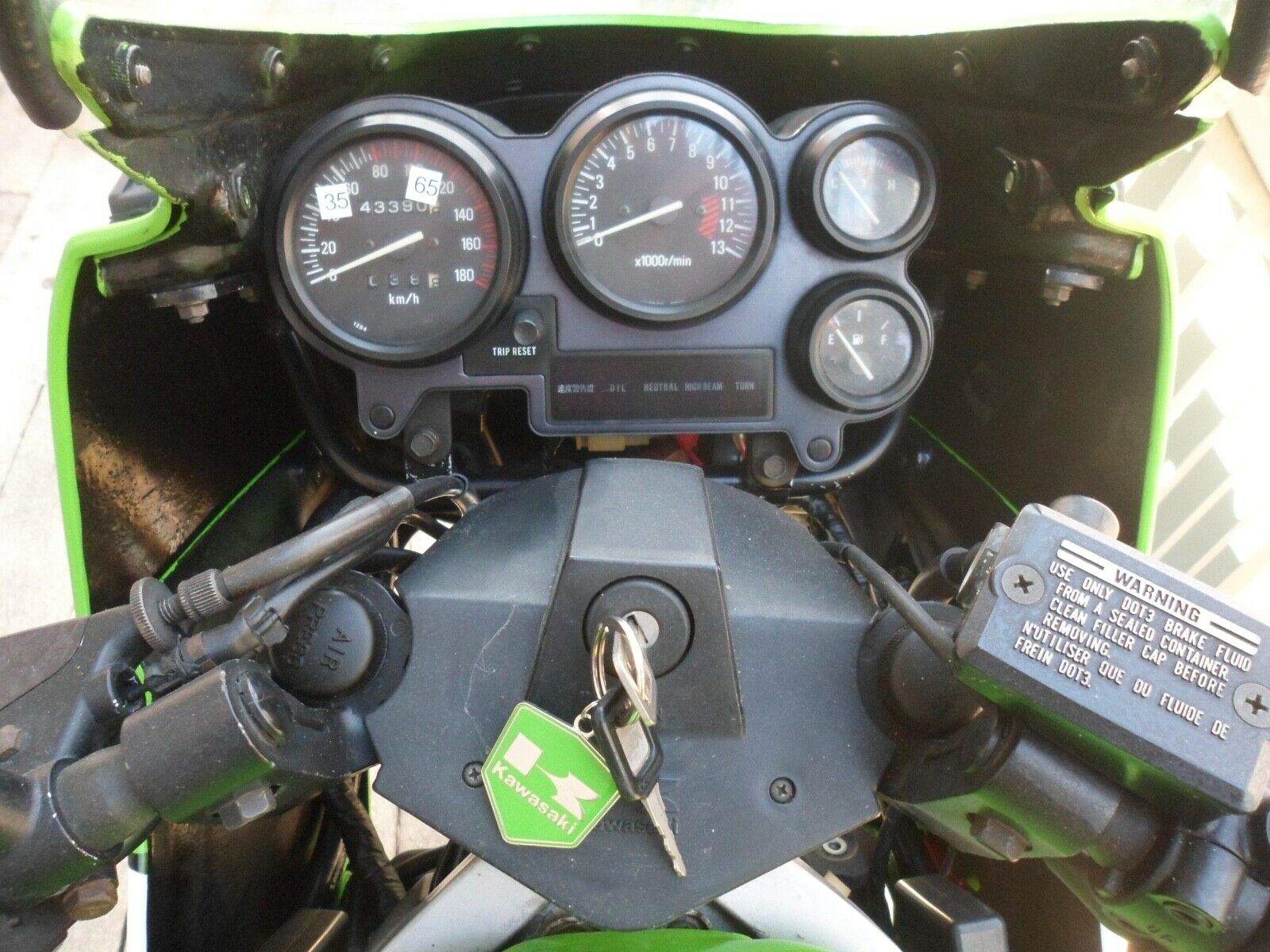 The spec sheet for the KR250 calls for 249cc of tandem-twin goodness. What the heck is a tandem twin, you ask?! Unlike a parallel twin (cylinders side by side) or a v-twin (cylinders opposed at 90 degrees, typically), the tandem twin is more like a pair of 125cc engines with one mounted right behind the other. They are separate, but share a common crankcase and crank outputs are synchronized via gearing (not unlike half of a Suzuki Gamma square four). Think of this engine arrangement as having all of the width benefits of a v-twin, while also having optimal mass placement in the chassis, forward and low. Fed by two carbs breathing through rotary valves, the KR250 pumped out 45 stock ponies at 10,000 RPM.
From the seller:
Another super cool and ultra rare 2T coming out of my collection. This was a factory GP replica of Kawasaki's 250GP racer, centered around a tandem twin cylinder two stroke with rotary valve induction and a close ratio 6 speed transmission. Top of gas tank is signed by the original designer of the bike and clear coated to preserve the signature. Also includes framed press release which is the last picture in the gallery above. This was a Japanese domestic market only release? and may be the only one in the US…or North America?

Bike has a clean and clear California title ready to sign over…whoa!
More from the seller:
Mileage stated above is converted from Kilometers on the speedo. Actual shown is 43,390km's. Overall pretty darn clean and in great shape. I rode it a couple of hundred miles when I first got it, then fogged it and drained the tank and carb float bowls to put in my collection inside my home. Rides peppy and super lightweight.

The Bad: The bottom right aluminum silencer has some road rash underneath, but I'm suspecting that it came off another bike because I see no other rash or damage anywhere else including the peg, bodywork, etc. I do have some aftermarket Japanese hand made expansion chambers for it new in the box available for sale to the winning bidder if so desired. Remember, this is almost 40 years old and does have some mileage on it, so don't expect a museum piece, but then again, try and find another one, especially with a CA title! These engines were well known for their extreme durability and longevity though.
More from the seller:
Compression has always felt a little low to me when kicking it over, but it always started first kick cold, but took forever to get up to full operating temperature as the cooling system is way overbuilt, like everything else on it. Starting with a low starting bid so everyone can get involved. Once there are bids, it goes to the highest bidder absolutely! I will NOT end the auction early so please do not ask "what will you take for it now" or "do you have a buy it now price".
So here we have a *very* rare 80's two stroke – which was a Japanese home-market only type of affair. Add to this rarity the fact that it has been imported into the United States AND has a current California title (all but impossible for mere mortals) and you have what adds up to be something that is truly special and rare. The bike itself is located in Utah, but chances are good that with that CA reg it can be moved practically anywhere. We have seen in the past the CA reg can add significantly to the value of an import, so it will be interesting to see how this one fares. Opening bid on this one is a cool $10k, but that should be a no-brainer considering the rarity and what other bikes are going for in the marketplace today. Check out all of the details here, and Good Luck!!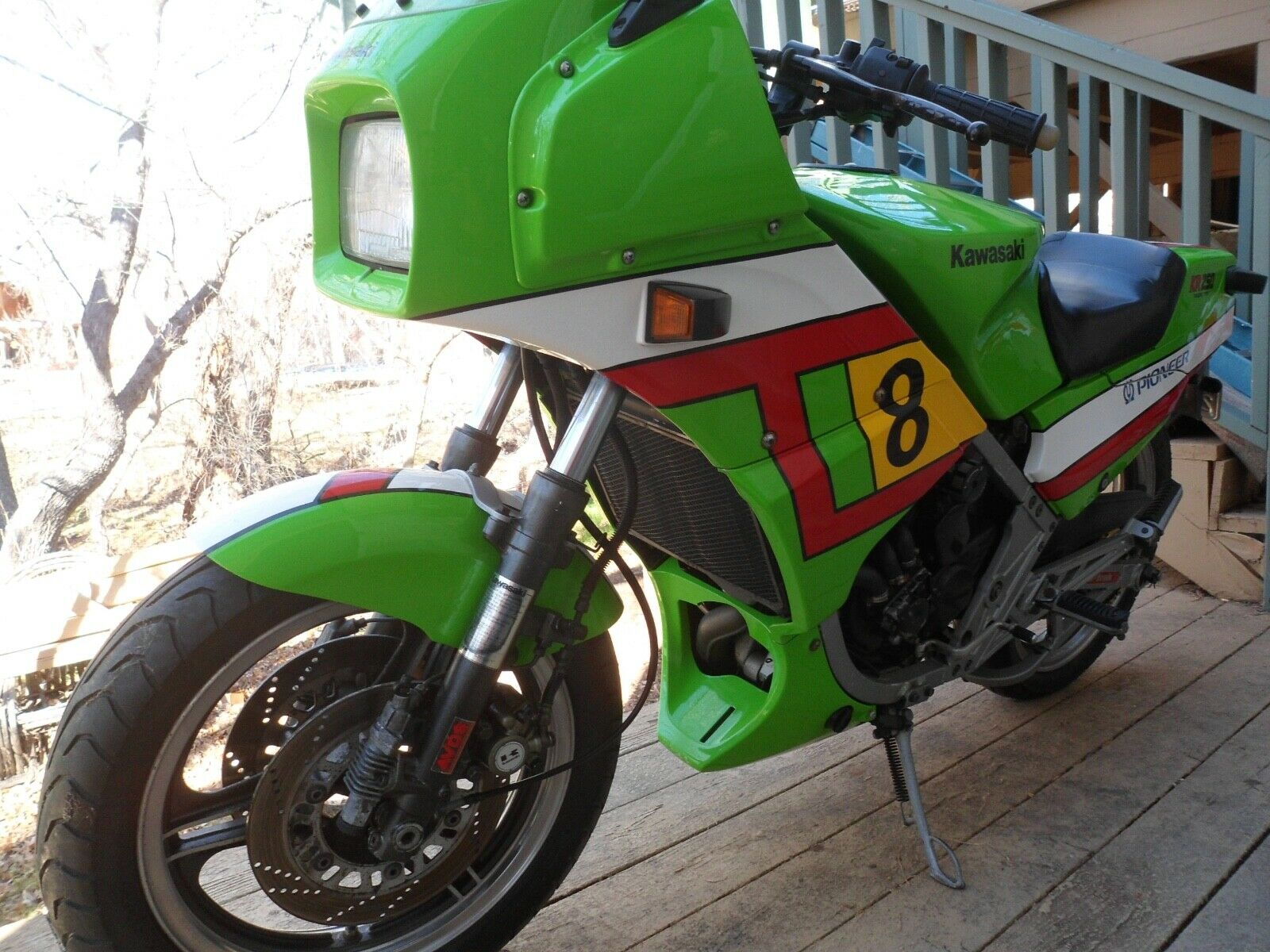 MI