On the air-cooled side of the 1995 Ducati showroom, possibly back in a corner, was the 900 SS/CR.  Not leading edge like the 916 or 748, not as racy as the 900 Superlight, not a new naked Monster, a nice bargain but not like the 600 or 750, the 900 SS/CR had its own gap to fill.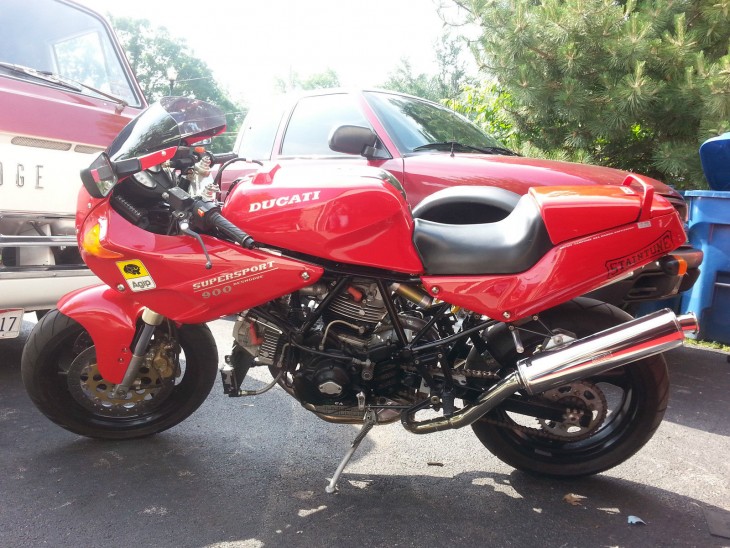 A nice handler with 84 hp, the SS/CR was the basis for many owner upgrades.  The basics were there, reliable oversquare desmodue, dry clutch, 6-speed, 41 mm inverted forks, big triple disk brakes, monoshock, and sweet half-fairing showing off that neat engine.
Subject to a recall, the frame on this machine was evidently replaced under warranty.  While apart, the owner of this machine had the frame and swingarm powder-coated black, as well as the distinctive side cases, all normally silver.
Just getting started with the upgrades, the dampers were upgraded to fully adjustable, along with steering stabilizer and Staintune exhaust.  The engine was overhauled with Ferracci pistons, oversized valves in the ported and polished heads.  A nice list of recent maintenance as well.
The time has come to part with my prized Ducati 900SS/CR. This 1995 Ducati 900SS/CR features SP adjustable forks, 2000 Super sport rear shock. Ferracci High Compression pistons, Ported and polished heads w 1 mm over sized valves, Khien 41 mm flat slide carbs, Dyna coils, Staintune stainless full high pipe system. LSL steering stabilizer Those are real Super light exhaust hangers sprayed gloss black. Exhaust sounds amazing and is no longer in production. Brand new Anti- gravity Lithium Ion battery, custom fabricated stainless steel fender eliminator (uses 996 signals), and light weight barnett clutch and a 999 clutch basket. Frame was replaced under warranty, infamous cracked neck. While the bike was down frame and swing arm were powder coated gloss black. Wheels and engine side cases are satin black. Clutch pressure plate high gloss red. Valve adjustment, new belts, fork seals, carbs rebuilt, new starter clutch all within the last 500 miles.
Nicely modified, this is a CR is name only, up to SP specs or better.  This SS/CR is likely to make the next owner very happy…
-donn