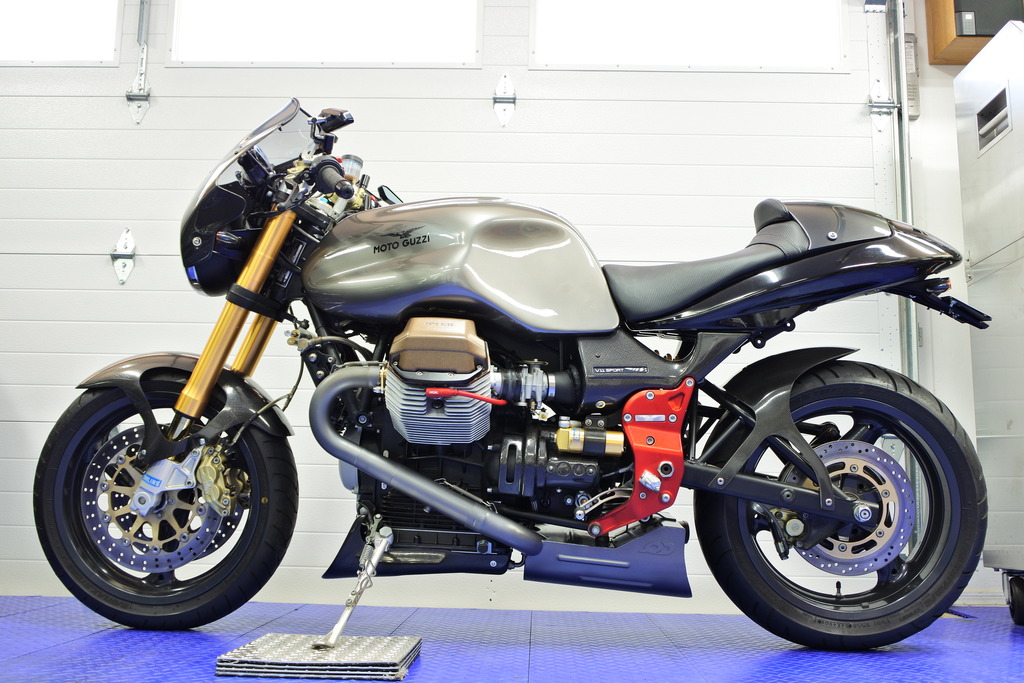 While we here on RSBFS tend to favor the original over the modified, sometimes there is a clean enough project bike that deserves some attention. I believe this V11 is one such bike, and I think you will by the time you get to the bottom of this post. Pull up a chair, grab some coffee (or something stronger) and read on!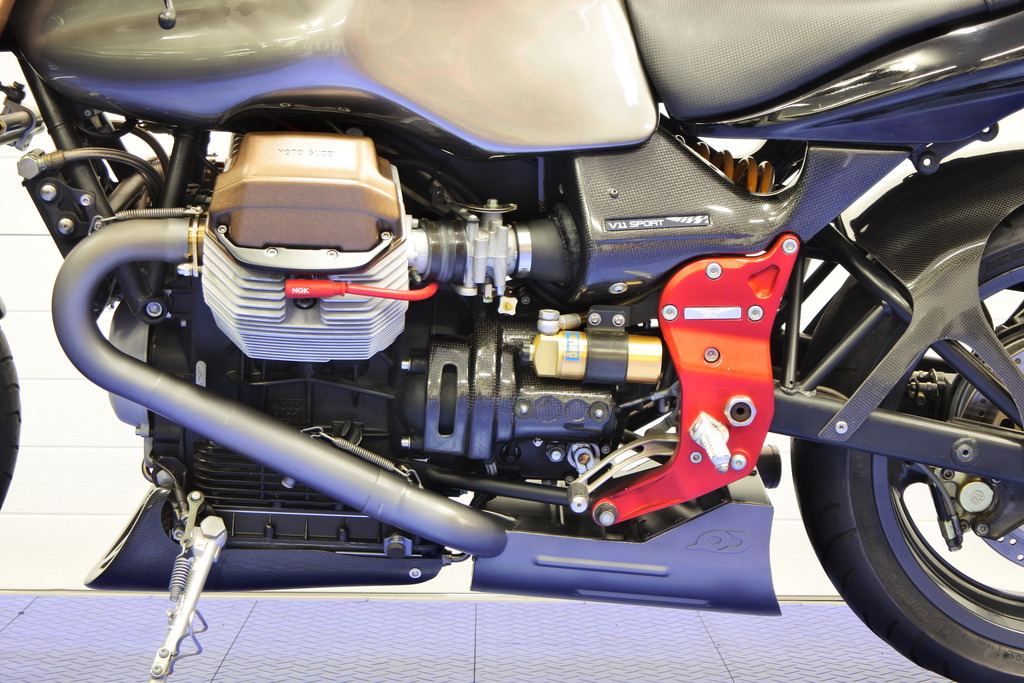 While we tend to see major dollars thrown at the odd Ducati or custom two stroke, it is not often we come across a Moto Guzzi bestowed with such a lavish wardrobe. Guzzis are relatively rare enough in the US and a V11 would find itself on these pages if in decent condition, but when somebody takes the time and money to bridge the stocker into something more while retaining nearly all the stock pieces, you see a potential collection in the making. After all, there are nearly enough parts here to build a second bike!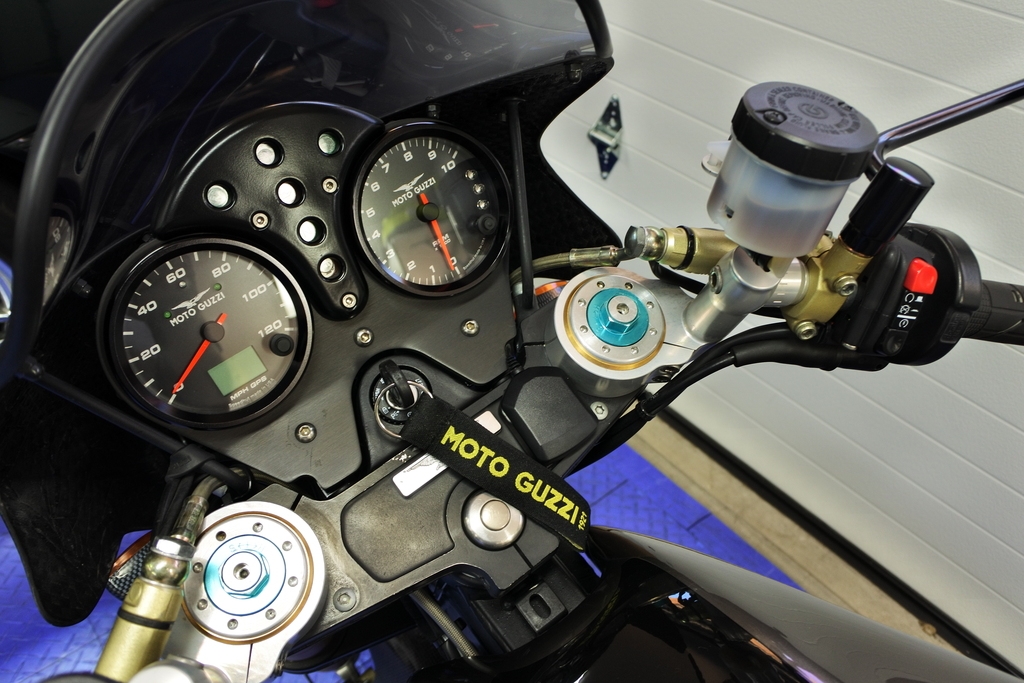 The V11 is as straightforward a Guzzi as you can imagine: The big V twin is situated across the chassis. Displacing 1064cc and with valves actuated with pushrods, the focus is more on torque than outright, high RPM power. Still, there are over 90 ponies at your disposal in stock form, which ensures respectable performance. Modern touches such as fuel injection and a six speed gearbox bring the Italian relic to the current century. Evolution is a good thing, and Guzzi took advantage of a solid foundation to provide minor improvements to the lineup: a lighter clutch made engagement easier (and reduced the torque roll), enhanced swing arm / driveshaft geometry reduces shaft jacking, and revised chassis rake/trail numbers enhance handling. If you ever drooled over a 1970s or early 80s LeMans, the V11 line offered the same great bones with far greater refinement and reliability. Better yet, the V11 was offered in several guises, including Naked, Sport and LeMans formats along with a few limited specials.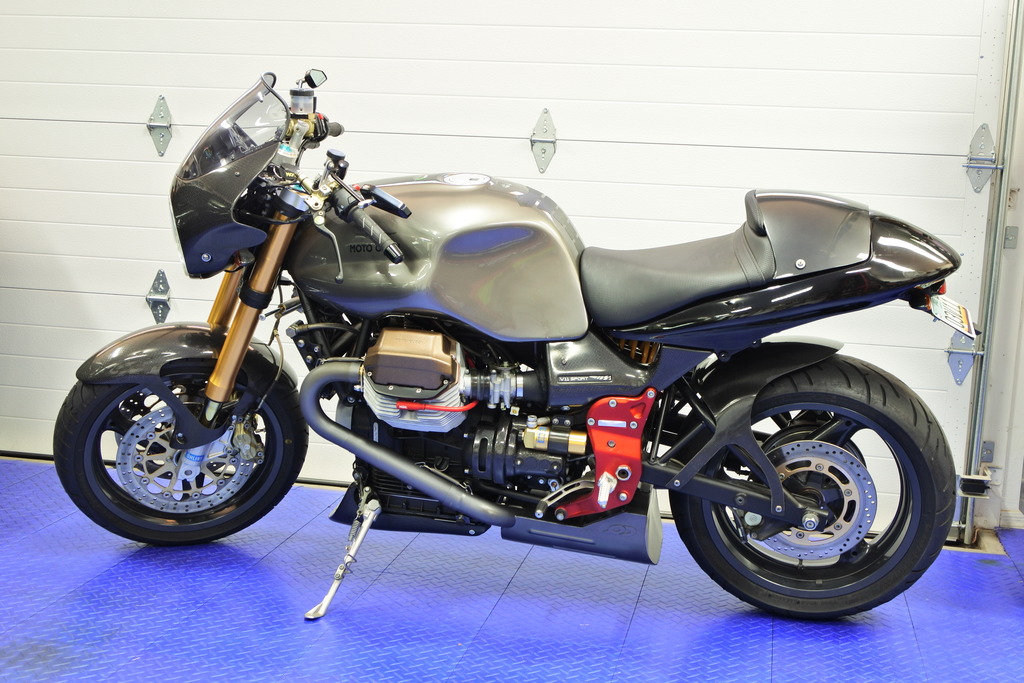 From the seller:
After 5 years of ownership and countless dollars and hours spent on restoring and modifying this Moto Guzzi V11 Sport (serial #1 for the 2003 model year), I have decided to part ways with this fantastic motorcycle. My BMW car hobby has overgrown the garage, and I haven't rode any motorcycles in a few years now. I've sold off all my other bikes and this is the last one I was hanging on to. I've only ridden this one about 64 miles since I completed the resto-mod. There's still a few things I'd like to do to be fully complete to my satisfaction, but I will have to leave those items to the new owner. I'd be happy to discuss all the details with potential buyers.

As a brief overview, I purchased the bike in 2013 from a local seller here in Tucson. Although it had fairly low miles, it had seen some sun exposure and needed some serious TLC. Being serial number 1 for the 2003 model year (the very first bike with all of the Piaggio group updates), I had to save this bike, and also put my flare into it. About 9 months later and thousands of dollars later, I had created a wanna-be Cafe Sport model, with actual Ohlins suspension from a Le Mans (sourced from The Netheralands), a brand new Quat-D exhaust, and custom SpeedHut digital gauges with GPS speedometer (to name a few mods). Lots of OEM and Italian carbon fiber bits too, along with a Power Commander III. Tons of brand new parts from Italy, including a new gas tank and hand controls just to name a few parts. Including the purchase price of the bike, I probably have close to $15K wrapped up in this restoration.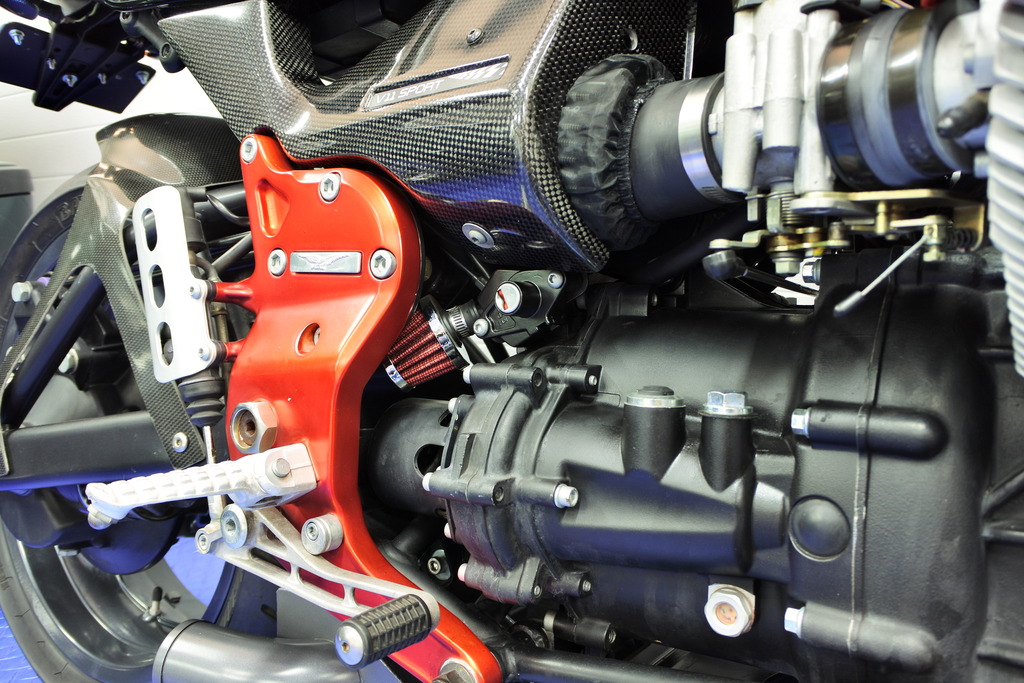 More from the seller:
I will consider getting the old Odyssey battery I have installed and try to get the bike started for interested parties, but I may not have the opportunity during this holiday season. The tank has been drained and not run for a few years now, as it's just been on display in my garage (sad I know). It was running fantastically before putting it away, as I had adjusted the valves and balanced the throttle bodies with the special adapter cable and multi-meter, as well as a digital differential pressure gauge I borrowed from work. That said, I would highly recommend that the bike be gone over thoroughly by a Moto Guzzi expert before taking to the streets. The tires are old now and should be replaced, even though the tread is still within spec. Again please remember that this has been sitting un-ridden in a climate controlled garage for at least 3 years. The engine oil, trans oil, and final drive oils are 4 years old, but only have 64 miles on them.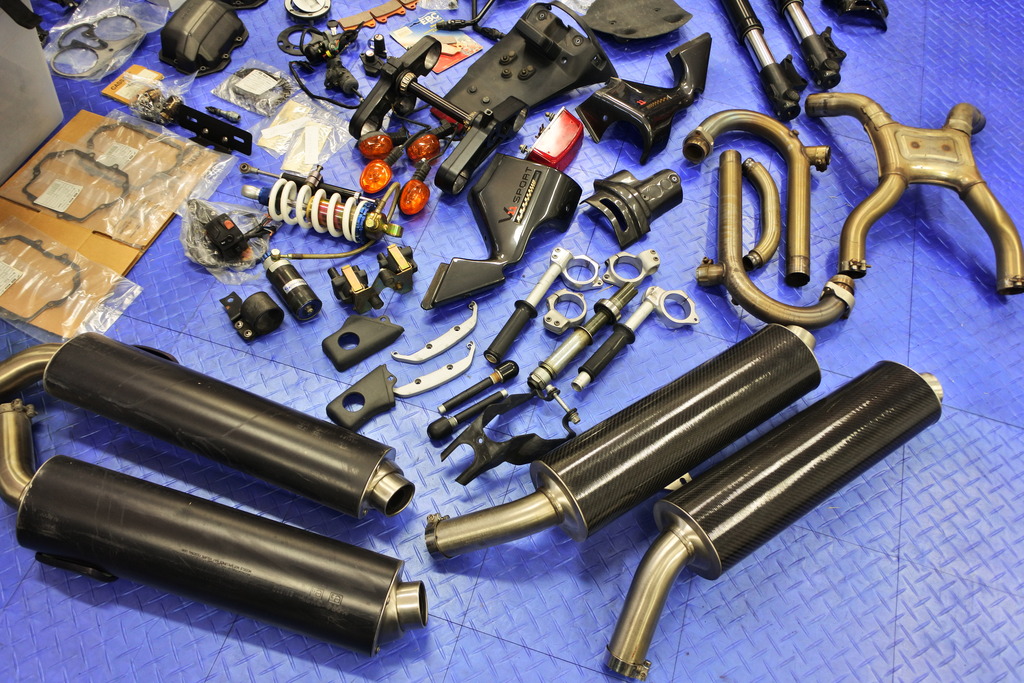 More from the seller:
In the pictures below, please note that I am selling ALL of the spare parts with the bike, so if you are the lucky winner, please plan on arranging for transport of the motorcycle as well as the huge spread of parts as shown. There's probably $3000 in spare parts alone. On that note, please do not ask me to part out the Quat-D exhaust, carbon fiber pieces, etc. At this time, the winning bidder will be rewarded with a large collection of rare OEM and aftermarket parts to which he or she can part out as they see fit. I truly think this resto-mod is a great 'sum of its parts' motorcycle, but I understand if it appeals to some people as a source for parts and profit; however I will not be tearing the bike down for that purpose.

Selling as shown in the photos, no warranties expressed or implied. Happy to work with your moto-shipping company for transport. The bike is located in Tucson Arizona. I will be keeping the personalized license plate!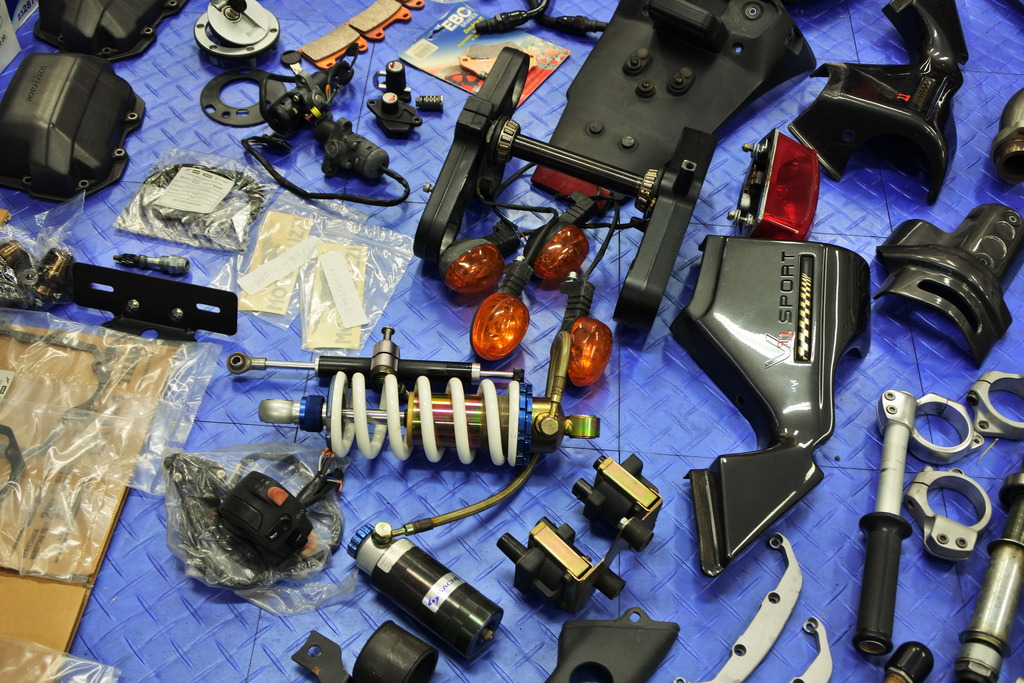 Not only is this a gorgeous build full of some awesome parts, it has been chronicled in a few different formats. First off, there is an extensive thread in the Guzzi forums HERE. If you want to see a timeline, this is your chance. There is also a video of the bike in action, however it may not be in its final configuration:
As you can imagine, the seller has invested more into this V11 (with serial #1) than he is likely to get back out of it. Bespoke items for Italian hardware do not come cheap, and modified machines rarely recoup the purchase price (or labor) of the upgrades. And at the heart of it, the base V11 Sport is not exactly rocketing up the charts when it comes to valuation. That makes this auction extra interesting: with a $7,500 opening ask there is a lot of value here, even if that is on the high side for this make/model. Check it out here – there are many more pictures available. Enjoy the fruits of someone else's labor and obsession, and if you play your cards right you might end up with an Italian steed with a boatload of spares for a decent sum. Viva Italia!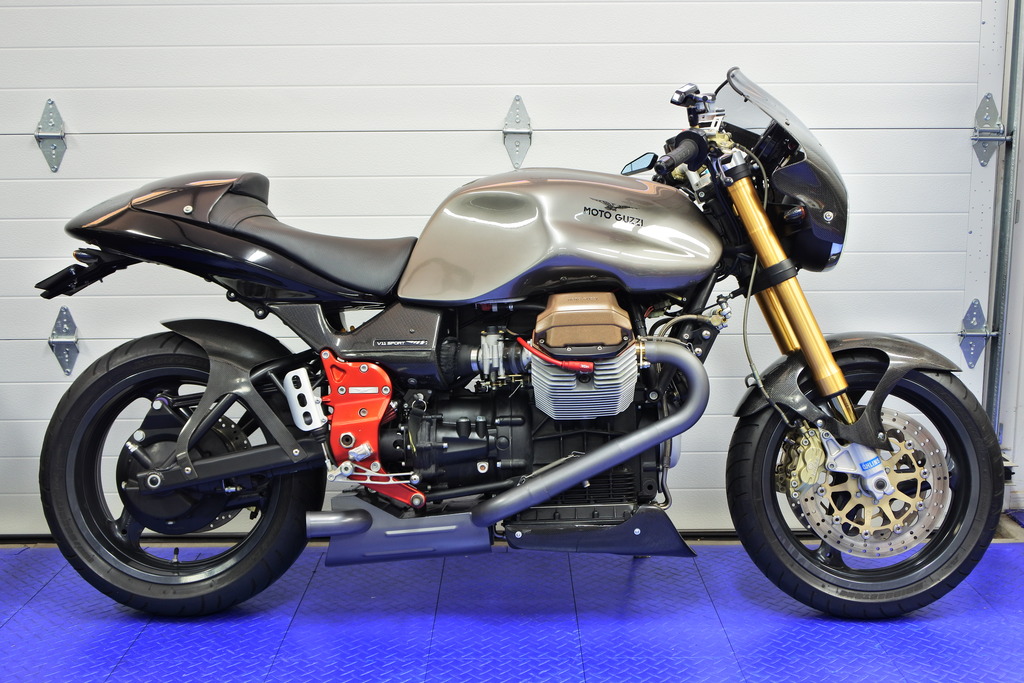 MI