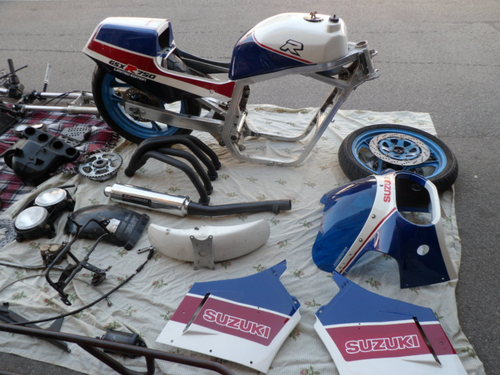 Looks like the winter project just became a spring project.  Limited's are rare but how daring are you? 
Lets get to the story from the seller:
So the story goes. The bike fell into my lap through a friend of mine. I got it about 6 months ago. I started to dump money over 2000.00 and paid 5000.00 for the motorcycle all in parts as it sat like that in the guys garage for over decade.  I have the original title.
The motorcycle has 38,000 miles on it. About 98% bike is there. Its only missing some mirrors , signals, fairing trim and center upper fairing headlight cover. All the other parts are there. The motorcycle was taking apart for single swing arm coversion. The owner filed the sides frame down then quickly abandoned that idea. The frame was fixed by long time fabricator in the motorcycle business. I have his name and number for verification. The frame has no problems and is very clean looking no scratches. Swing arm is clean looking as well. All parts are original. The fairings have been repainted and will need some more work. The lowers and the seat I bought on ebay. Im throwing in extra front end and Nice full Yoshimura period correct exhaust. All parts are very nice condition. Not all scratched up and rusted. You will to need powder coat the wheels get the seat reupholstered. The lowers need work as they were really rough. You will need a new chain and battery. All hardware and small parts are in a bag. Very complete build. A very strong foundation for restore. You see for the price its negotionable but not much.
A single side swing arm conversion?  Isn't that against the law on a classic like this?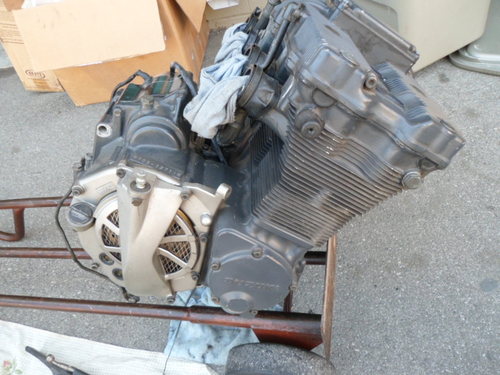 That is what you are after, isn't it?  In or out of the frame, it looks good.
Like the Honda NSR250 last week, if you have the patience and like the thrill of the search, then this could be a great project.  If not;  buy a model instead.  The bike has been on Ebay a few days now with no takers on the BIN price.  I'm guessing buyers are seeing a little too much work there for the asking price of $6,500, which is basically half of what you would pay for a nice example.  The seller did mention though, he is open to a little negotiation.  Shoot him an offer and clear some garage space.
Here is the classified on Ebay.
Ian