Warning!
This post is in our archives. Links in this post have been updated to point to similar bikes available to bid on eBay.

SmokinJoe's Stroker Roundup: Two 1987 Yamaha TZR 250's And A 1989 Kawasaki KR-1
---
I guess I picked a bad day to take an extended gin and tonic lunch break.  I came back to the plush and dimly lit RSBFS offices to be greeted with an email about all the strokers RSBFS reader SmokinJoe439 had found.
I think most readers will be pleased that these are all Craigslist bikes.  One of our new years resolutions was to make an effort to add more CL bikes back to the RSBFS pages.  They never went away but we had been posting them more on our Facebook page.
---
SmokinJoes' first find is a nice one: a clean and titled 1987 TZR250.   It has obviously had some loving owners during its' life.  Remember these are pre-V twin days so that is an inline twin hiding under the bodywork.
And there is said twin.  As you can see it is also pre-double front disc as well.  It is hard to find a bike this old,  that is this clean and in stock condition.  Oh yeah, and California titled.
I sure like what I see.  If you need any more convincing here is what the seller had to say:
1987. 2MA. Stock. Very good condition. Only 11k miles. Runs very well and is surprisingly quiet. Sounds awesome when it comes on the pipe though. OEM plastics in good condition. Original red/white paint in good condition.
New tires. New carb internals. New intake manifold. Fresh coolant and oil change. Service Manual included.
The bad: Windscreen has 4″ crack but is in one piece. Gustaffson has replacement. Tach not working – comes in and out. Other minor blemishes due to bike is 24 years old.
California plates good thru April 2012. Clean title
Location: San Diego
Asking Price: $4,200
---
Next up is a 1989 KR-1.  If you really want to stand out in the two stroke crowd this might be the  bike to have.  It is rare but it also claimed to be one of the strongest running 250 street bikes to come out of Japan.
Yep, another parallel twin.
There is no mention of a title in the ad.  I'm noticing some after market chambers and a lack of switch gear and turn signals;  possibly a track bike.  The asking price is not track bike like though.  It is actually in KR-1S or KR1-R territory:  $6,000.
Location:  Portland, OR
Asking Price: $6,000
———————————————————————————————-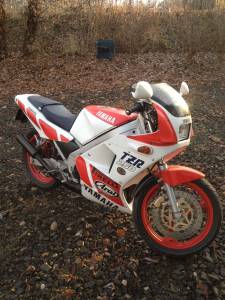 Que the potato jokes.  This 1987 TZR250 is located in Idaho.  What is vastly more interesting though is the lack of KM's on this bike.  The odometer is showing under 4000 KM's.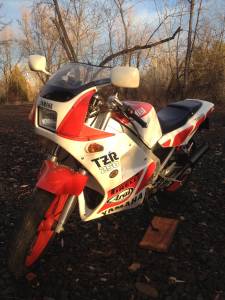 No title with this TZR but you do get four bags of Idaho's finest.  That is accurate except for the part about the potatoes.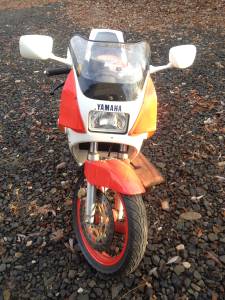 Location:  Idaho
Asking Price: $4,995
Ian