For some people, a race replica just isn't enough. And if you want the real thing, a genuine racebike can be very pricey to run, and parts might be literally, not just figuratively, impossible to find. Sure, you can occasionally buy an NSR500V, but can you find parts to rebuild the engine? No, you cannot. Sometimes not at any price. But unlike the NSR500V or even the much more widely-produced RS250, Honda's RS125 is an over-the-counter, full-on racebike that manages to be affordable, at least in the world of zero-percent-bodyfat racing machines.
Why are they so much less expensive? Well, they were always meant as entry-level racers, so costs were lower to begin with, and they made more of them. There are fewer parts involved as well, and those parts are less likely to be made of unobtanium. Ultimately, part of the reason the RS125 is so light is that there's really not much there: the tiny, 124.4cc two-stroke single and six-speed gearbox are dwarfed by the aluminum frame that appears to be welded up from cast and extruded sections like a bit of industrial art. Hell, the engine is basically dwarfed by the airbox on later models. The whole thing is draped in raw, lightweight bodywork, and a primitive electrical system complete the package for an all-in dry weight of under 160lbs.
Basically, an RS125 weighs about 40lbs less than an average adult male. Which means that, if you've ever half-carried, half-dragged a drunk buddy into his apartment, you should have no problem whatsoever loading an RS125 into a van or truck, ramp or no ramp.
Keep in mind that, while the RS125 might spec out like some sort of dinky learner bike or a hopped-up moped, it's serious stuff: that incredibly low weight and highly-strung engine producing 40hp mean the power-to-weight ratio on it is fairly shocking. The heritage is there as well, since both Loris Capirossi and Dani Pedrosa both won 125 championships on RS125s. From what I've read, it's so light it even crashes differently than larger machines: once they go down, they tend to skim along instead of tumbling, minimizing damage. Which is nice because whether you're using this for track days or actual competition, you're going to need to wring its goddamn neck, everywhere, all the time.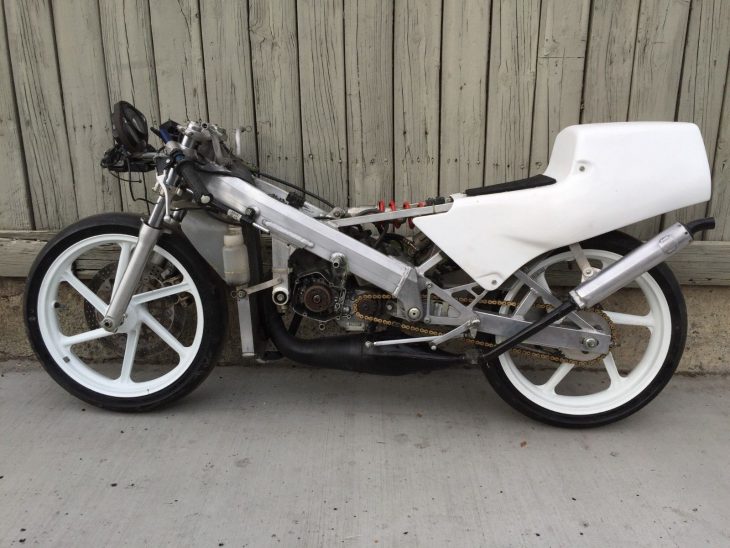 From the original eBay listing: 1991 Honda RS125 for Sale
Honda RS125. Very nice very original bike in excellent condition. The bike was stored for many years so it has very low hours. Small but mighty she will hit 130mph and will lap a GSX-R1000 on a tight track. Most track bikes have a hard life but this one is in fantastic shape with no damage at all other than a scrape on the clutch cover and that is about it . All the brakes work well and the motor starts straight up and runs like a banshee. The motor picks up on the throttle so fast it's frightening. I actually have a pair of RS125s and will be selling the other one after this one to save confusion. The  opportunity to buy a real factory race bike doesn't come along often so make the most of it now. There is  obviously no tile with this bike as it's a race bike. No title. 

I can ship all over the world at good rates.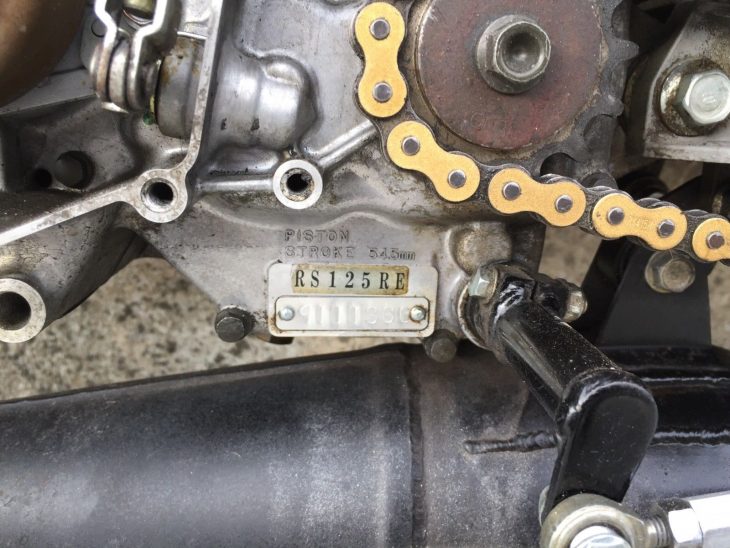 So the downside is you need to pretty much be an wiry teenager or a waifish supermodel to ride an RS125 in the first place. The upside is that, if you are a wiry teenager or a waifish supermodel, or are just built like one, parts aren't impossible to find. And many bikes come with huge spares collections, since actively raced two-stroke 125s tend to accumulate those things, and spare parts don't make much sense to keep when you're selling on the bike they fit. The Buy It Now price for this example is $5,999 although it doesn't indicate if any spares are included, or are even available.
-tad