Six Cylinder Madness:  1983 Benelli 900 SEI
Start counting those pipes, now switch hands and keep counting!  This thing must be an absolute riot to do a valve job on.  If you equate the number of cylinders with testosterone then this is as manly as it gets.  Benelli produced this monster from 1983-1988.   If I get the story correct, this bike was produced during the period when Benelli and Moto Guzzi were both owned by an Argentinian business man.  From the sound of it, the six cylinder 900 was the pinnacle of Benelli during this period.  It got high marks for technology and performance but low marks for reliability.
The 900 SEI is said to produce some sweet music courtesy of those six cylinders pumping gases through a 6 into 2 exhaust system.  This clean 1983 model has only 7,100 miles on it. 
This bike has some different pipes on it so I don't know how much that effects the sound but it sounds just plain nasty and I mean that in the absolute best possible way.  The vid is of a nice rebuild with sound at the end.  I can honestly say I've never heard a rumble similar to that.
Details on the bike for sale:
This is a duplicate from my collection. The bike is in original unrestored condition, has been very well maintained and everything works. The tires are the original Pirelli Phantoms, good for having the bike on display but not for riding. The brakes and all lights and switches work fine. The special duplex chain and the sprockets are like new. No cracks in the fiberglass bodywork, paint is excellent. The correct original exhaust system (6 into 2) is also in excellent condition, only the number one header has some roughness and discoloring as can be seen in the picture. I do not have any manual or tools. There is no battery included in the sale. In the last few years the bike has only occasionally been used and it will benefit from a full service (cleaning carbs, changing fluids, etc.) and new tires before being put in service again.   

The bike has Georgia registration in my name and comes with a Bill of Sale (Georgia does not issue titles for bikes of this age).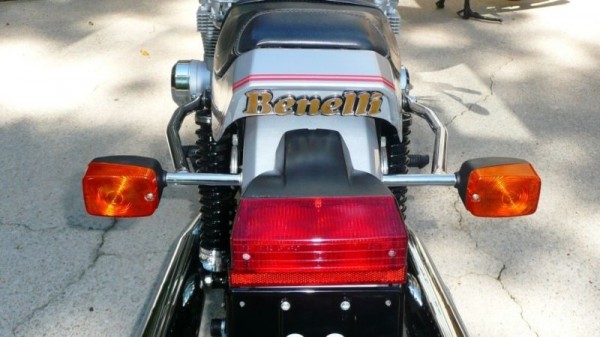 No stickers allowed, just real badges.  I love it, just a really cool, unique bike.  Yeah, you aren't going to tear up the track and you aren't even going to be the fastest guy in  a straight line  but that isn't the point.  This is about style points and sound and I think the big Benelli fits in perfectly here.  Some Benelli fans have already found the auction and have bid it up over $4,000.  The seller has a buy it now price of $11,000.  The only comparison I can give you is one that was for sale earlier this year.  It had under 100 miles on it and had a buy it now price of $18,000.  I do not know if it sold or not.
If you'd like to make your neighbors cringe as you ride by, .
IK