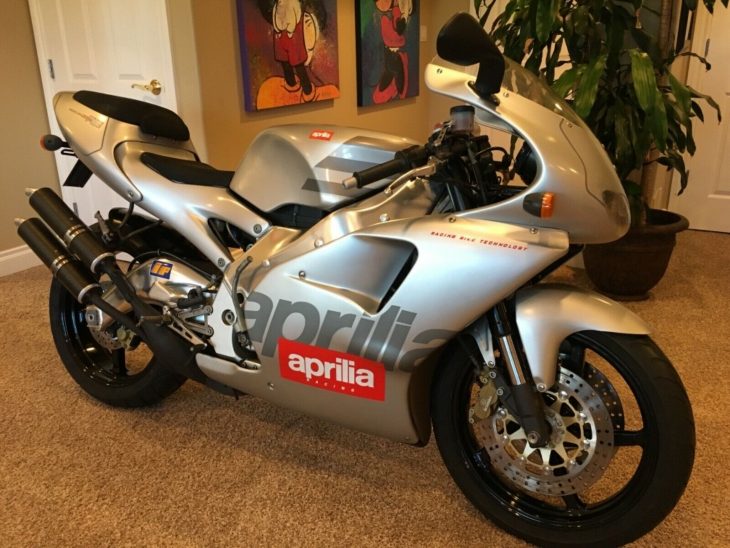 Two-strokes are among the purest expression of the sports motorcycle. They're incredibly light, packed with innovative technology, and have none of the electronic frippery of today's cutting edge machines. That's not to say I don't appreciate ABS and traction control and rain-modes and a dozen different throttle maps and ride-by-wire, it's just that those bike need them to harness the excess power they make. There's not much excess of any kind on a two-stroke sportbike like this Aprilia RS250.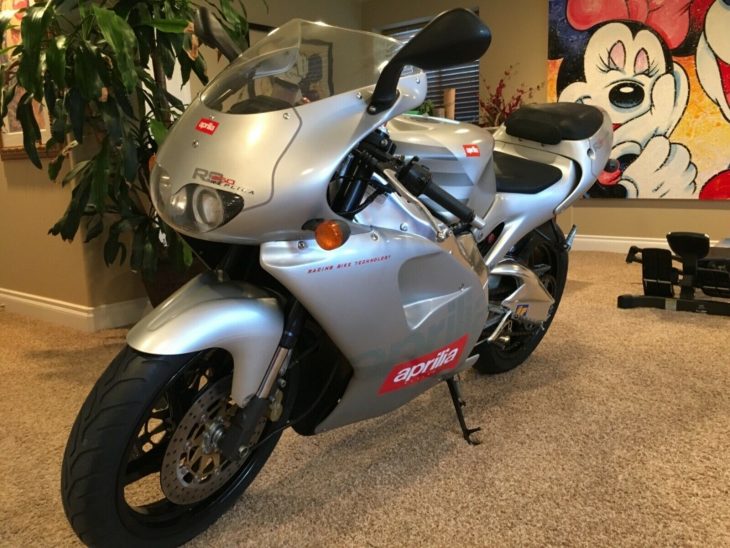 Aprilia didn't design their own engine, they simply rebadged and slightly modified Suzuki's excellent RGV250 engine and slotted it into their gorgeous aluminum frame, with an asymmetrical "banana" swingarm to match. As with most other bikes in the class, it was liquid-cooled, two-stroke, 249cc 90° v-twin. At 56×50.6mm, the bore and stroke were much more oversquare than rival Honda's 54×54.5mm. Unfettered by the government regulations that strangled Japanese-market bikes, Aprilia claimed some possibly unrealistic crankshaft power figures. But a well-tuned bike should make very similar power to an unrestricted and properly set up RGV, NSR, or TZR.
Forgoing the wild graphics of Japanese competitors, the RS250 was pretty simple, and even their race-replica designs were surprisingly classy and subdued. It doesn't have any distinguishing stylistic flourishes, other than that sensual frame, it just looks right, the epitome of 90s sportbike-ness, stretched over smaller, leaner mechanical components.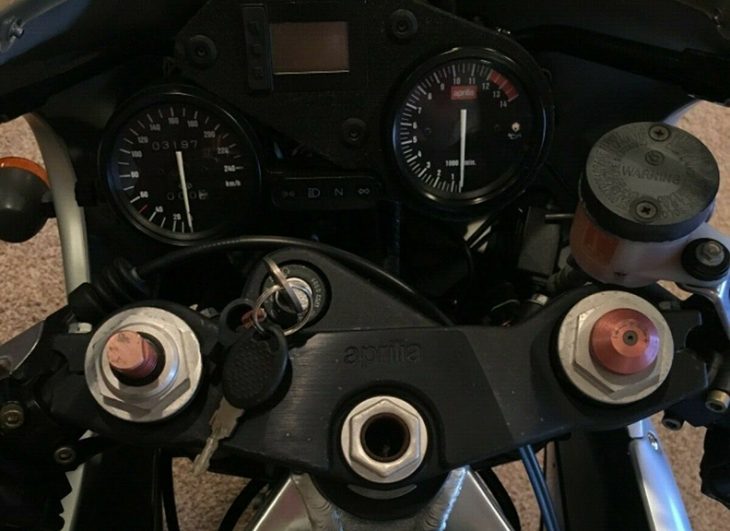 From the original eBay listing: 1996 Aprilia RS250 for Sale
Nearly flawless 1996 Aprilia RS250 with only 3,197 kilometers (1,986 miles). Purchased from the original owner, who meticulously cared for it and it shows. Bike is ultra clean. Bike runs as good as it looks and comes with fresh tires front and rear. Bike will come with new fluids and fresh carb cleaning. Bike is completely stock except for the HID headlight system. All fairings are 100% genuine Aprilia factory OEM. This RS250 will come with a Utah state title and is titled as a street bike for road use. 17 digit VIN.  Please text 801-358-6537 for more pictures and questions.
As the seller says, the bike really does look "ultra clean." And it should, with just under 2,000 miles on it! I'm a huge fan of the silver color. Silver can be kind of bland, but the RS250 is such a good-looking bike, it seems a shame to cover it up with garish graphics. The HIDs may not be to everyone's taste, but do improve the bike's visibility to other, often highly distracted drivers. First generation bikes seem pretty hard to find, and the price on this one is just $9,500! But move fast, since there are just a few hours left on the auction…
-tad